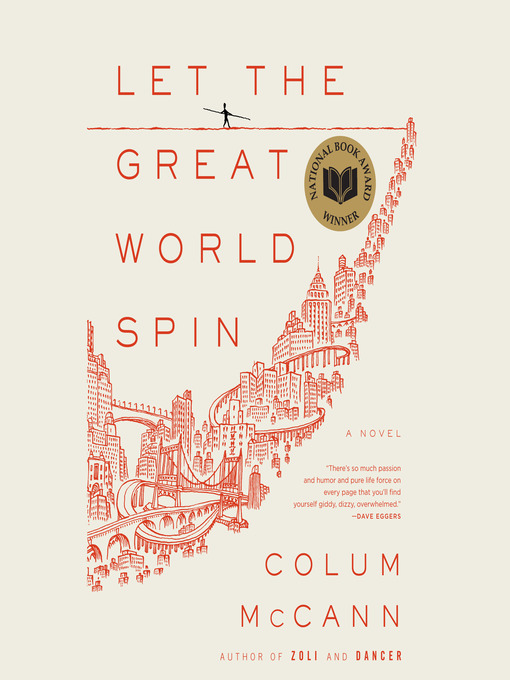 Let the great world spin a novel
Format:

OverDrive MP3 Audiobook

2015

2015

OverDrive Listen

Availability:

Available from OverDrive

1 of 2 copies
1 person on waitlist
Summary
A rich vision of the pain, loveliness, mystery, and promise of New York City in the 1970s. A radical young Irish monk struggles with his own demons as he lives among the prostitutes in the middle of the burning Bronx. A group of mothers gather in a Park Avenue apartment to mourn their sons who died in Vietnam, only to discover just how much divides them even in grief. A young artist finds herself at the scene of a hit-and-run that sends her own life careening sideways. A 38-year-old grandmother, turns tricks alongside her teenage daughter, determined not only to take care of her family but to prove her own worth. Weaving together these and other seemingly disparate lives, McCann's allegory comes alive in the voices of the city's people, unexpectedly drawn together by hope, beauty, and the "artistic crime of the century"--a mysterious tightrope walker dancing between the Twin Towers.--From publisher description.

Published Reviews
Booklist Review:
"*Starred Review* After the rigors of Zoli (2007), his historical tale of Romani life, best-selling literary novelist McCann allows himself more artistic freedom in his shimmering, shattering fifth novel. It begins on August 7, 1974, when New Yorkers are stopped in their tracks by the sight of a man walking between the towers of the World Trade Center. Yes, it's Philippe Petit, the subject of the Academy Award-winning documentary Man on Wire and one of McCann's many intense and valiant characters. The cast also includes two Irish brothers: Corrigan, a radical monk, and Ciaran, who follows him to the blasted Bronx, where he encounters resilient prostitute Tillie and her spirited daughter Jazzlyn. Gloria lives in the same housing project, and she befriends Claire of Park Avenue as they mourn the deaths of their sons in Vietnam. McCann's hallucinatory descriptions of a great city tattooed and besmirched with graffiti, blood, and drugs in the midst of a financial freefall are eerie in their edgy beauty, chilling reminders of how quickly civilization unravels. Here, too, are portals onto war, the justice system, and the dawning of the cyber age. In McCann's wise and elegiac novel of origins and consequences, each of his finely drawn, unexpectedly connected characters balances above an abyss, evincing great courage with every step.--Seaman, Donna Copyright 2009 Booklist"
From Booklist, Copyright (c) American Library Association. Used with permission.
Publisher's Weekly Review:
"McCann's sweeping new novel hinges on Philippe Petit's illicit 1974 high-wire walk between the twin towers. It is the aftermath, in which Petit appears in the courtroom of Judge Solomon Soderberg, that sets events into motion. Solomon, anxious to get to Petit, quickly dispenses with a petty larceny involving mother/daughter hookers Tillie and Jazzlyn Henderson. Jazzlyn is let go, but is killed on the way home in a traffic accident. Also killed is John Corrigan, a priest who was giving her a ride. The other driver, an artist named Blaine, drives away, and the next day his wife, Lara, feeling guilty, tries to check on the victims, leading her to meet John's brother, with whom she'll form an enduring bond. Meanwhile, Solomon's wife, Claire, meets with a group of mothers who have lost sons in Vietnam. One of them, Gloria, lives in the same building where John lived, which is how Claire, taking Gloria home, witnesses a small salvation. McCann's dogged, DeLillo-like ambition to show American magic and dread sometimes comes unfocused-John Corrigan in particular never seems real-but he succeeds in giving us a high-wire performance of style and heart. (June) (c) Copyright PWxyz, LLC. All rights reserved"
(c) Copyright PWxyz, LLC. All rights reserved
Additional Information