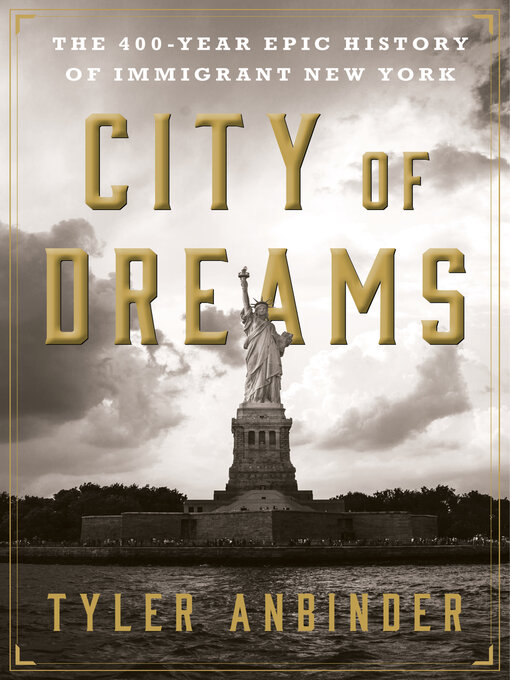 City of dreams the 400-year epic history of immigrant New York
Format:

Kindle Book

2016

2016

Adobe EPUB ebook

OverDrive Read

Availability:

Available from OverDrive

1 of 1 copy
Summary
"A richly detailed history of immigration in New York shares the poignant stories of individuals ranging from bodybuilder Charles Atlas to couture artist Oscar de la Renta to trace the essential role of foreign-born innovators and revolutionaries in the city's evolution."--Provided by publisher.

Contents
Front Cover
Front Flap
Front Matter
Half Title
Other Books by this Author
Title
Copyright
Acknowledgments
Dedication
Contents
Maps
Prologue
1. Settlement
2. Rebellion
3. Anglicization
4. Americanization
5. Revolution
6. Republic
7. Famine
8. Irish Metropolis
9. Kleindeutschland
10. Politics
11. War
12. Uprising
13. Transition
14. Liberty
15. Ellis Island
16. The Lower East Side
17. Little Italys
18. Reform
19. Restriction
20. Refuge
21. Renaissance
22. Today
Back Matter
Appendix Acknowledgments
Notes
Select Bibliography
Illustration Credits
Index
Back Flap
Back Cover
Spine
Published Reviews
Booklist Review:
"*Starred Review* New York City is unique, and it was made that, in large part, by being a city of immigrants. There were more immigrants living in New York in 1950 than the full population in all but two other American cities. This superb book may not quite live up to its subtitle (it emphasizes only the largest immigrant group in each era), but it is full of fascinating, rock-solid history and provides compelling texture behind the larger trends. Although it starts with conflicts between the English and Dutch, it quickly goes on to the huge German (John Jacob Astor and others) and Irish immigrations (many, especially after the potato blight began in 1847). Though groups are well handled in the aggregate, Anbinder also covers important individuals (Scotsman Cadwallader Colden, Samuel Gompers, the Steinways, and many lesser others). His coverage of the Italians and his own precursors, the Jews, is balanced and excellent. Among the book's most powerful sections are those dealing with the horrendous living conditions for most immigrants in New York and the even-more-horrific transatlantic journey. Along with immigration, of course, came nativism, Know Nothing-ism, and restrictions of multiple kinds all addressed thoroughly. The well-chosen photographs help illustrate the fine narrative, as do the maps and charts.--Levine, Mark Copyright 2016 Booklist"
From Booklist, Copyright (c) American Library Association. Used with permission.
Publisher's Weekly Review:
"Anbinder (Five Points), a professor of history at George Washington University, traces the history of New York City's immigrant groups from the earliest Dutch settlers to the waves of Caribbean and Chinese immigrants who have more recently made their mark on the city, spinning a tale of tragedy and triumph that comes with political teeth. Anbinder adeptly shows that the same fears that dominate 21st-century debates on immigration were alive and well in earlier eras, arguing persuasively that 19th-century immigrant communities were far more insular and impregnable than their present-day counterparts. In fact, so discrete were these ethnic neighborhoods that a Jew leaving the familiar confines of the Lower East Side or an Italian venturing north of Washington Square was said to be "going to America." Anbinder is a master at taking a history with which many readers will be familiar-tenement houses, temperance societies, slums-and making it new, strange, and heartbreakingly vivid. The stories of individuals, including those of the entrepreneurial Steinway brothers and the tragic poet Pasquale D'Angelo, are undeniably compelling, but it's Anbinder's stunning image of New York as a true city of immigrants that captures the imagination. Agent: Jill Grinberg, Jill Grinberg Literary. (Oct.) © Copyright PWxyz, LLC. All rights reserved."
(c) Copyright PWxyz, LLC. All rights reserved
Additional Information