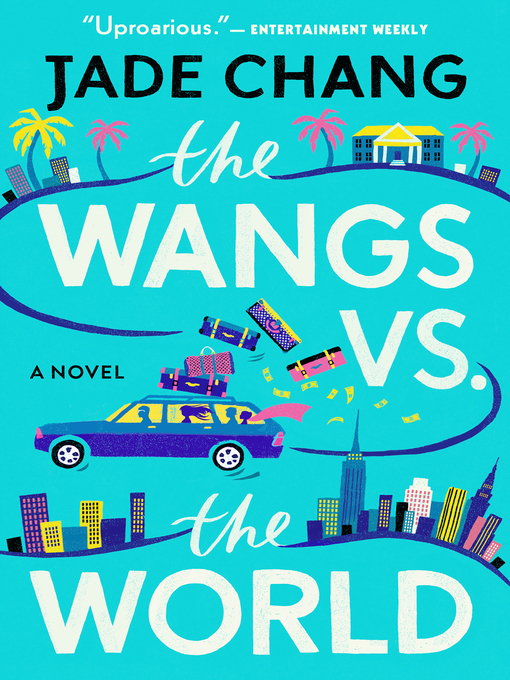 The Wangs vs. the world
Format:

Kindle Book

2016

2016

Adobe EPUB ebook

OverDrive Read

Availability:

Available from OverDrive

6 of 7 copies
Summary
"A hilarious debut novel about a wealthy but fractured Chinese immigrant family that had it all, only to lose every last cent--and about the road trip they take across America that binds them back together. Charles Wang is mad at America. A brash, lovable immigrant businessman who built a cosmetics empire and made a fortune, he's just been ruined by the financial crisis. Now all Charles wants is to get his kids safely stowed away so that he can go to China and attempt to reclaim his family's ancestral lands--and his pride. Charles pulls Andrew, his aspiring comedian son, and Grace, his style-obsessed daughter, out of schools he can no longer afford. Together with their stepmother, Barbra, they embark on a cross-country road trip from their foreclosed Bel-Air home to the upstate New York hideout of the eldest daughter, disgraced art world it-girl Saina. But with his son waylaid by a temptress in New Orleans, his wife ready to defect for a set of 1,000-thread-count sheets, and an epic smash-up in North Carolina, Charles may have to choose between the old world and the new, between keeping his family intact and finally fulfilling his dream of starting anew in China. Outrageously funny and full of charm, The Wangs vs. the World is an entirely fresh look at what it means to belong in America--and how going from glorious riches to (still name-brand) rags brings one family together in a way money never could"--

Contents
Front Cover; Front Flap; Front Matter; Half Title; Title; Copyright; Dedication; Epigraph; 1. Bel-Air, CA; 2. Helios, NY; 3. Santa Barbara, CA; 4. Bel-Air, CA; 5. Bel-Air, CA; 6. Bel-Air, CA; 7. Santa Barbara, CA; 8. Phoenix, AZ; 9. Helios, NY; 10. Santa Barbara, CA; 11. Grand Canyon National Park, AZ; 12. Vernon, CA; 13. I-10 East; 14. Twentynine Palms, CA; 15.; 16.; 17. Phoenix, AZ; 18.; 19. Helios, NY; 20. Phoenix, AZ; 21. El Paso, TX; 22. I-10 East; 23. I-10 East; 24. Austin, TX; 25. Helios, NY; 26. I-10 East; 27. New Orleans, LA; 28. New Orleans, LA; 29. New Orleans, LA; 30. Helios, NY 31. Opelika, AL32. Atlanta, GA; 33. I-85 North; 34. High Point, NC; 35. Helios, NY; 36. New Orleans, LA; 37. High Point, NC; 38. US 29 North; 39. Helios, NY; 40. Helios, NY; 41. Helios, NY; 42. Beijing, China; 43. New Orleans, LA; 44. Helios, NY; 45. Beijing, China; 46. Gaofu, China; 47. Helios, NY; 48. Gaofu, China; 49. ; Back Matter; Acknowledgments; Additional Thanks; Back Flap; Back Cover; Spine
Published Reviews
Booklist Review:
"Chang throws the immigrant journey on its head in this offbeat debut. Charles Wang built a hugely successful cosmetics company after coming to the U.S. from China. After some poor business choices, however, multiplied by the bottom dropping out of the economy, he is officially bankrupt. The only thing to do? Round up his family and return to China to claim his ancestral lands. The first stop is his oldest daughter's house in rural New York, prompting a cross-country road trip involving Charles, second-wife Barbra, and his two other children, college-age Andrew (a would-be stand-up comedian) and teenager Grace, who thinks this all might be a joke. It turns out that the Wangs can't function without the trappings of their now-lost lavish lifestyle, a situation that gives the road trip a decidedly wacky bent and infuses the novel with humor. Although the story strains credulity at times, readers with a taste for outsize family dysfunction, à la Cynthia D'Aprix Sweeney's The Nest (2016) and Emma Straub's The Vacationers (2014), will whip through this one with smiles on their faces.--Sexton, Kathy Copyright 2016 Booklist"
From Booklist, Copyright (c) American Library Association. Used with permission.
Publisher's Weekly Review:
"In Chang's sparkling debut novel, a family whose fortune has been lost in the 2008 financial crisis takes a cross-country road trip in an effort to regroup. Bouncy patriarch Charles Wang, who immigrated to Los Angeles from China by way of Taiwan when he was a young man and made a fortune manufacturing makeup, drives his daughter, teenage Grace, an avid fashion blogger, and his son, Andrew, an aspiring stand-up comic, across the country with Barbra, their stepmother. Their destination is a little town in the Catskills, where his oldest daughter, Saina, a conceptual artist who has retired in shame from the New York City art world, lives. The family stops in New Orleans, where virginal Andrew becomes temporarily involved with an older woman, and in Alabama, where Charles attempts to deliver a U-Haul full of custom makeup to a boutique country store. Various small crises, notably Saina's attempt to decide between a sweet new lover and an unreliable older one, keep the plot percolating. Chang's charming and quirky characters and comic observations make the novel a jaunty joy ride to remember. (Oct.) © Copyright PWxyz, LLC. All rights reserved."
(c) Copyright PWxyz, LLC. All rights reserved
Additional Information