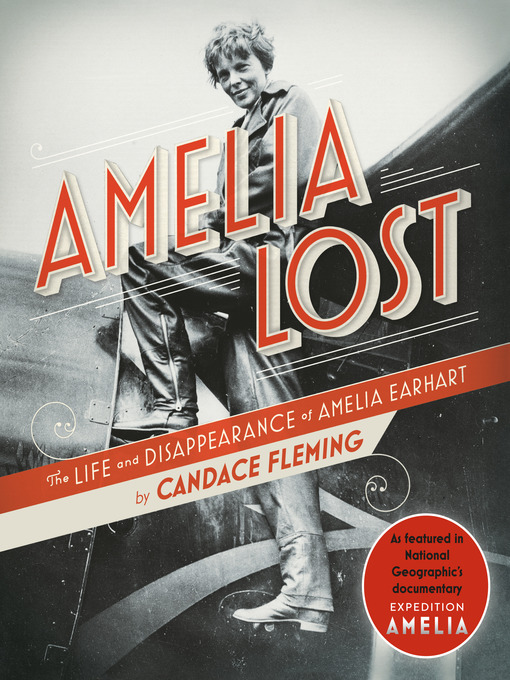 Amelia lost the life and disappearance of Amelia Earhart
Format:

Kindle Book

2012

2012

Adobe EPUB ebook

OverDrive Read

Availability:

Available from OverDrive

1 of 2 copies
Summary
From the acclaimed author of The Great and Only Barnum—as well as The Lincolns, Our Eleanor, and Ben Franklin's Almanac—comes the thrilling story of America's most celebrated flyer, Amelia Earhart. In alternating chapters, Fleming deftly moves readers back and forth between Amelia's life (from childhood up until her last flight) and the exhaustive search for her and her missing plane. With incredible photos, maps, and handwritten notes from Amelia herself—plus informative sidebars tackling everything from the history of flight to what Amelia liked to eat while flying (tomato soup)—this unique nonfiction title is tailor-made for middle graders.Amelia Lost received four starred reviews and Best Book of the Year accolades from School Library Journal, Kirkus Reviews, Horn Book Magazine, the Washington Post, and the New York Times.

Published Reviews
Booklist Review:
"Drawing on her training as a historian and her considerable writing talents, Fleming (The Great and Only Barnum, 2009) offers a fresh look at this famous aviatrix. Employing dual narratives straightforward biographical chapters alternating with a chilling recounting of Earhart's final flight and the search that followed Fleming seeks to uncover the history in the hype, pointing out numerous examples in which Earhart took an active role in mythologizing her own life. While not disparaging Earhart's achievements, Fleming cites primary sources revealing that Earhart often flew without adequate preparation and that she and her husband, George Putnam, used every opportunity to promote her celebrity, including soliciting funds from sponsors. The use of a gray-tone background for the disappearance chapters successfully differentiates the narratives for younger readers. Frequent sidebars, well-chosen maps, archival documents, and photos further clarify textual references without disturbing the overall narrative flow. Appended with a generous bibliography and detailed source notes, this is a book most libraries will want both for its fascinating story and as an illustration of how research can alter historical perspective.--Weisman, Kay Copyright 2010 Booklist"
From Booklist, Copyright (c) American Library Association. Used with permission.
Publisher's Weekly Review:
"In a stirring account of an American icon, Fleming (The Great and Only Barnum) seeks to portray the Amelia behind the mythology-some of which, she explains, was perpetuated by Earhart herself. Chapters alternate between the tense search for the pilot's missing plane and a chronological progression through her life, complemented by b&w photographs and other materials smoothly incorporated into the book's crisp Art Deco-inspired design. Readers learn about Earhart's free-spirited early childhood, first inclinations toward flying, and other pursuits, which included medicine, writing, and fashion. An overview of the era's social and political climate, particularly as it pertained to women, should help readers grasp the significance of Earhart's accomplishments. Some anecdotes evidence a cutthroat nature (after Earhart and her husband have a fellow aviator's lecture tour canceled, the aviator recalls, "my friendship for Amelia quickly waned"). This honest depiction of Earhart's professional and personal life forms a complete portrait of a complex woman, making her final doomed flight (and a reproduction of a teenager's notebook transcription of what may have been Earhart's last radio transmission) all the more affecting. Ages 8-12. (Mar.) (c) Copyright PWxyz, LLC. All rights reserved."
(c) Copyright PWxyz, LLC. All rights reserved
Additional Information