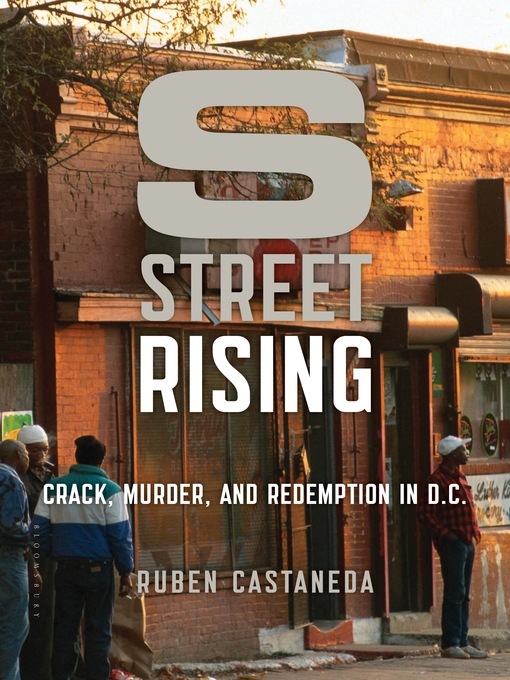 S street rising crack, murder, and redemption in D.C
Format:

Kindle Book

2014

2014

Adobe EPUB ebook

OverDrive Read

Availability:

Available from OverDrive

1 of 1 copy
Summary
"During the height of the crack epidemic that decimated the streets of D.C., Ruben Castaneda covered the crime beat for the Washington Post. The first in his family to graduate from college, he had landed a job at one of the country's premier newspapers. But his apparent success masked a devastating secret: he was a crack addict. Even as he covered the drug-fueled violence that was destroying the city, he was prowling S Street, a 24/7 open-air crack market, during his off hours, looking for his next fix. S Street Rising is more than a memoir; it's a portrait of a city in crisis. It's the adrenalin-infused story of the street where Castaneda quickly became a regular, and where a fledgling church led by a charismatic and streetwise pastor was protected by the local drug kingpin, a dangerous man who followed an old-school code of honor. It's the story of Castaneda's friendship with an exceptional police homicide commander whose career was derailed when he ran afoul of Mayor Marion Barry and his political cronies. And it's a study of the city itself as it tried to rise above the bloody crack epidemic and the corrosive politics of the Barry era. S Street Rising is The Wire meets the Oscar-winning movie Crash. And it's all true"--

Published Reviews
Booklist Review:
"When D.C. mayor Marion Barry was arrested for smoking crack, journalist Castaneda was in that hotel's lobby, phoning in the details to the Washington Post, where he'd recently landed a job, moving from L.A.'s now defunct Herald-Examiner. What Castaneda also brought to D.C. back then was his own crack addiction, and it is a nonchalantly and honestly detailed part of his memoir. While he's running down the stories and writing them well, he is also getting wasted. D.C.'s S Street is where the drug-selling action takes place, and Castaneda parallels his story with that of pastor Jim, who promises not to rat on the dealers but invites them to church, and that of honest, tough homicide cop Lou. There are scenes in this book that depict people acting in ways that are as low as one can humanly go, but they are related matter-of-factly, almost impersonally. There are also instances of incredible goodness, but the good guys don't always win. Castaneda's page-turner, told with easygoing charm and great skill, is an unstinting unveiling of who got away with what and when and how Castaneda followed the action and found himself.--Kinney, Eloise Copyright 2010 Booklist"
From Booklist, Copyright (c) American Library Association. Used with permission.
Publisher's Weekly Review:
"A streetwise reporter takes a walk on Washington's wild side in this gritty but unfocused memoir. Castaneda began his career as a Washington Post metro reporter at the height of the city's crack cocaine and murder epidemics of the late 1980s and early 1990s, covering countless drug-related homicides and the city's notorious mayor Marion Barry, who was arrested on narcotics charges while in office. Going a little too far with his research, Castaneda became a crack addict, binging away his money while fretting that dealers might recognize him at crime scenes and blackmail him. He paints an engrossing portrait of this woozy, lubricious demimonde and of the S Street ghetto where he scored, with vivid portraits of crack-addicted prostitutes he befriended, a pastor who was also a drug kingpin, and of a charismatic police captain trying to reform the department and stem Washington's chaos. Once Castaneda gets clean, the episodic narrative sputters unevenly; he recounts tense crime set pieces, including a bloody shooting spree at police headquarters, but also much feckless office politics as he tussles with editors over assignments and raises. At his best, Castaneda writes movingly of the unlikely wellsprings of solidarity and hope in communities that society has written off. (July) (c) Copyright PWxyz, LLC. All rights reserved."
(c) Copyright PWxyz, LLC. All rights reserved
Additional Information