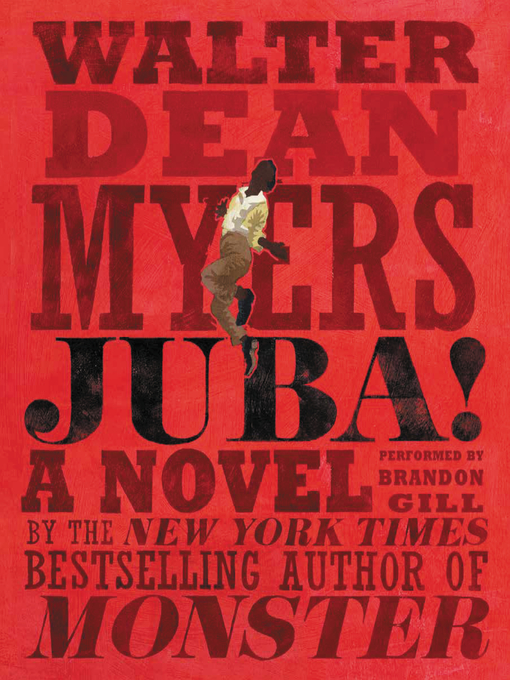 Juba! a novel
Format:

OverDrive MP3 Audiobook

2015

2015

OverDrive Listen

Availability:

Available from OverDrive

1 of 1 copy
Summary
New York City's Five Points district in 1846 is a volatile mixture of poor blacks and immigrants from Europe. William Henry Lane is a teenager working odd jobs to make ends meet, but he really loves to dance. Watching the other dancers in Five Points, and practicing when he can, he gets so good that he begins to call himself "Master Juba."Master Juba is just another entertainer, dancing in return for supper money, until he is brought to the attention of Charles Dickens, the great English novelist. Dickens writes about Juba and his dancing in his book American Notes, and it is as "Boz's Juba" (Boz was Dickens's nom de plume) that Juba performs in England with the Pell Serenaders. Juba quickly finds that, in London, he's turning heads and taking the city by storm with his dancing skills and sense of rhythm.But what will Juba do when the Serenaders have to return to the United States? Slavery has been abolished in England; in the U.S., it still exists in all its ugliness. Free black men and women are often captured in the North and sent down South as slaves. England offers freedoms that Juba could only dream of in the States, and returning home may prove a dangerous decision.This novel is based on a true story, the intricacies of Juba's meteoric rise as an explosive young black dancer brought to life by Walter Dean Myers through meticulous and intensive research.

Published Reviews
Booklist Review:
"Having plumbed the archives for information about the nineteenth-century dancing sensation known as Juba, Myers pieces together a fictionalized account of his extraordinary life in this posthumous novel. Set in the Five Points district of New York City, the story begins with teenager William Henry Lane's dream of becoming a dancer. At a time when slavery is still practiced and black entertainers are expected to clown in minstrel shows, Juba, as he is called, wants to be known for his talent. Dancing with the speed and inventiveness of a young man possessed, he earns a reputation that eventually allows him the opportunity to tour Britain. Juba's passion, determination, and optimism and position as a free man during a time rife with racial injustice make his story unique. (Note that period-appropriate use of the n-word may prompt classroom or dinner-table discussion.) Vintage illustrations and news clippings, and the incorporation of historic figures, further help to bring him to life. Though Juba meets a sad and premature end, his story offers an intriguing glimpse into America's past. HIGH-DEMAND BACKSTORY: Among the last books written by the award-winning Myers, who died in 2014, this will surely receive substantial attention and interest from his many fans.--Smith, Julia Copyright 2015 Booklist"
From Booklist, Copyright (c) American Library Association. Used with permission.
Publisher's Weekly Review:
"Published posthumously, Myers's final novel is based on the life of Master Juba, born William Henry Lane in Providence, R.I., around 1825, who became a highly successful performer. Peopled by both historical and fictional characters, the book tells the unusual story of a free black man in the 19th century with a gift and passion for dance. So noteworthy that Charles Dickens interviewed and wrote about him, Juba is presented as a thoughtful, proud young man who means well and works hard; Myers gives him a direct and sympathetic voice, depicting the struggles and successes of his short life in the Five Points neighborhood of New York City, and later in London, with warmth and convincing detail. Relationships between blacks and whites are sensitively portrayed, and issues of race are treated frankly, both in dialogue and in Juba's reflections. Photographs, reproductions of advertisements and reviews of Juba's performances, and documents such as Juba's death certificate add atmosphere and authenticity to this rich story; a closing note by Myers's wife provides background on the author's research process and distinguishes the historical characters from the fictional. Ages 13-up. Agent: Miriam Altshuler, Miriam Altshuler Literary Agency. (Oct.) © Copyright PWxyz, LLC. All rights reserved."
(c) Copyright PWxyz, LLC. All rights reserved
Additional Information