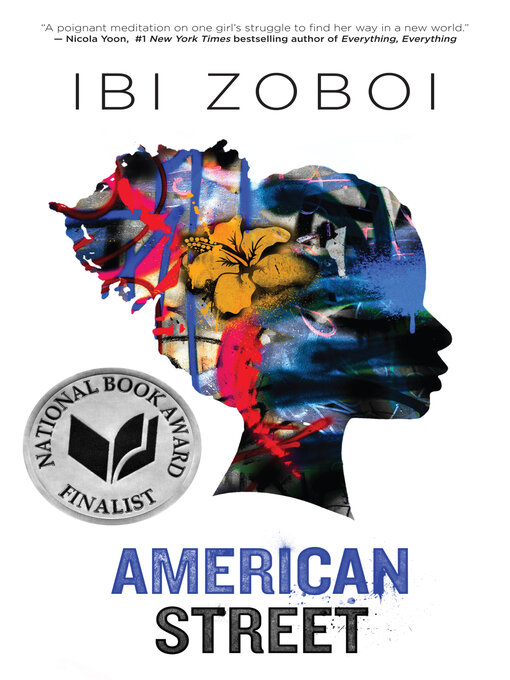 American street
Format:

Kindle Book

2017

2017

Adobe EPUB ebook

OverDrive Read

Availability:

Available from OverDrive

1 of 3 copies
Summary
When Fabiola's mother is detained upon their arrival to the United States, Fabiola must navigate her loud American cousins, the grittiness of Detroit's west side, a new school, and a surprising romance all on her own.

Published Reviews
Booklist Review:
"*Starred Review* Zoboi's stunning debut intertwines mysticism and love with grit and violence to tell the story of Fabiola Toussaint, a Haitian teen adjusting to her new life in Detroit. Fabiola's dream of a better life with her aunt and cousins in America snags when her mother is detained at the U.S. border. Forced to continue alone, she must also confront the reality that her new neighborhood is every bit as dangerous as the one she left behind in Port-au-Prince. Drugs, gangs, and violence pervade the status quo, but thanks to her cousins' tough reputations, Fabiola can find her footing. Zoboi, who emigrated to the U.S. from Haiti, brings a nuanced portrayal of that culture to the narrative. Evocative prose, where Fabiola calls on voodoo spirits, informs and enriches her character, while standing in counterpoint to her hard-as-nails cousins. Zoboi pulls no punches when describing the dangerous realities of the girls' lives, but tender moments are carefully tucked into the plot as well. This story is many things. It is a struggle for survival. It is the uncovering of one's bravest self. And, most significant, it is the coming together of a family. One or two scenarios strain credibility, but the characters' complexities ultimately smooth over any bumps. Fierce and beautiful.--Smith, Julia Copyright 2016 Booklist"
From Booklist, Copyright (c) American Library Association. Used with permission.
Publisher's Weekly Review:
"Zoboi's powerful debut, set in current-day Detroit (but based on the author's experience as a Haitian immigrant in 1980s Bushwick, Brooklyn), unflinchingly tackles contemporary issues of immigration, assimilation, violence, and drug dealing. Although born in America, teenage Fabiola has grown up with her mother in Port au Prince, dreaming of a better life with her aunt and cousins in Detroit. Upon arriving in New York City, Fabiola's mother, lacking proper documents, is sent to a detention center while Fabiola must go on alone to Detroit. Shocked by the rough urban environment, her pugnacious cousins, her aunt's lethargy, and her cousin Donna's physically abusive, drug-dealing boyfriend, Dray, Fabiola turns to her Haitian spirits (lwas)-as well as a mysterious street man-for guidance, while embarking on a tentative romance with Dray's friend Kasim. When she strikes a deal with a police detective to set up Dray for arrest in exchange for her mother's release, it results in a dangerous situation with devastating results. Mixing gritty street life with the tenderness of first love, Haitian Vodou, and family bonds, the book is at once chilling, evocative, and reaffirming. Ages 14-up. Agent: Ammi-Joan Paquette, Erin Murphy Literary. (Feb.) © Copyright PWxyz, LLC. All rights reserved."
(c) Copyright PWxyz, LLC. All rights reserved
Additional Information