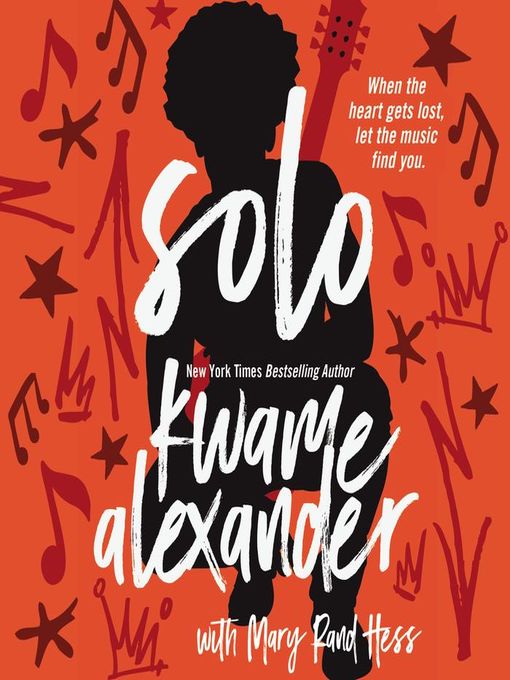 Solo
Format:

OverDrive MP3 Audiobook

2017

2017

OverDrive Listen

Availability:

Available from OverDrive

4 of 4 copies
Summary
Seventeen-year-old Blade Morrison knows the life of a rock star isn't really about the glitz and glamour. All the new cars and money in the world can't make up for the scathing tabloid covers or the fact that his father is struggling with just about every addiction under the sun--including a desperate desire to make a comeback and regain his former fame. Haunted by memories of his mother--who died when Blade was nine--and the ruin his father's washed-up legacy and life have brought to the family, Blade is left to figure out life on his own. But, he's not all alone: He's got the friendship of a jazz-musician mentor, Robert; the secret love of a girlfriend, Chapel; and his music. All may not be well in the Morrison home, but things are looking up for Blade, until he discovers a deeply protected family secret--one that further threatens his relationship with his family and has him questioning his own identity. Thrown into a tailspin, Blade decides the only way he will understand his past and begin his future is to find out the truth behind the music and himself. He soon sets out on a journey that will change everything he thought to be true. His quest lands him in Ghana, stuck in a village just shy of where answers to the secret can be found. There, Blade discovers a friendship he couldn't have imagined, a people founded in family and community, and a reconciliation he never expected.With his signature intricacy, intimacy, and poetic style, Kwame Alexander explores what it means to finally come home.

Published Reviews
Booklist Review:
"*Starred Review* Blade Morrison begins his story by disclosing, I am / the wretched son / of a poor / rich man. Master storytellers and poets Alexander (The Crossover, 2014) and Hess (The Day I Met the Nuts, 2009) have joined forces to pen a rhythmic, impassioned ode to family, identity, and the history of rock and roll. The only things 17-year-old Blade can count on as the wealthy but neglected son of famously erratic rock god Rutherford Morrison are his soulful guitar ballads and his girlfriend, Chapel. When Rutherford disappoints Blade one time too many and they end up fighting, Blade's sister reveals a long-guarded family secret. Suddenly the music leaves him; when Chapel is no longer there to anchor him either, Blade sets out to discover more about his own past. A mix tape of classic rock hits guides him from Los Angeles all the way to the small village of Konko, Ghana, where a delay in his journey brings him unexpected fulfillment. Scattered throughout the novel in verse are some of Blade's original rock ballads, though every poem feels like a song, pulsing with Alexander's signature lyrical style. Blade ends up finding much more than what he expects: self-discovery, community, and a deeper understanding of what family means. HIGH-DEMAND BACKSTORY: Alexander has a history of appealing to teens of all sorts, and a Newbery to his name; don't expect this collaboration to stay on shelves long.--Kling, Caitlin Copyright 2017 Booklist"
From Booklist, Copyright (c) American Library Association. Used with permission.
Publisher's Weekly Review:
"Betrayed by those closest to him and stunned by a family secret, 17-year-old Blade Morrison flees his comfortable but chaotic life as the son of a drug-addicted rock star. Seeking answers and closure, Blade travels to the Ghanaian village of Konko, where he gains new perspective on family and belonging. Writing in free verse, Alexander and Hess, who recently collaborated on Animal Ark, strongly communicate Blade's frustration and disappointment ("I have taken for granted/ the palm trees of Cali... planted by Spanish missionaries/ in the 18th century.... They don't belong here./ And neither do I"). Lyrics from Blade's songs (and interspersed references to songs from Lenny Kravitz, Metallica, and others) emphasize the importance of music in his life, both as a link to his family and as a way to express himself. Blade's interactions with his father, a Ghanaian young woman named Joy, and a child named Sia are especially poignant, so much so that these secondary characters can draw focus. But many readers will identify with Blade's struggle to find his place in a family where he feels like an outsider. Ages 13-up. Agent: Arielle Eckstut, Levine Greenberg Rostan. (Aug.) © Copyright PWxyz, LLC. All rights reserved."
(c) Copyright PWxyz, LLC. All rights reserved
Additional Information