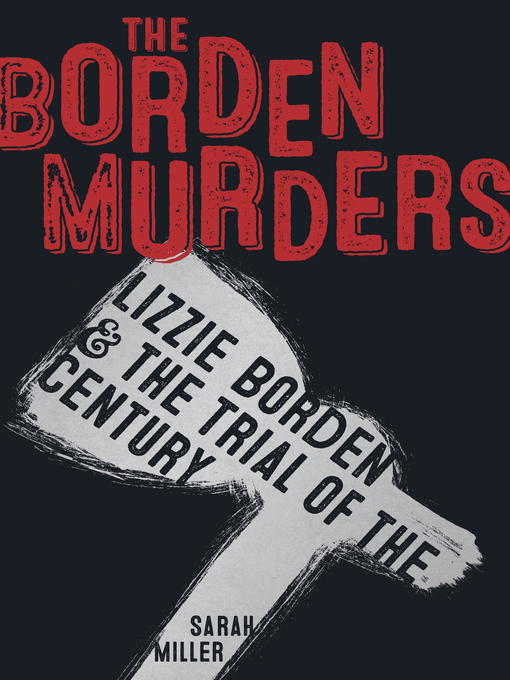 The Borden murders Lizzie Borden & the trial of the century
Format:

Kindle Book

2016

2016

Adobe EPUB ebook

OverDrive Read

Availability:

Available from OverDrive

1 of 2 copies
Summary
Examines the Borden murders, using newspaper articles to recreate the events and the trial and acquittal of Lizzie Borden and exploring Lizzie's story to theorize on what may have happened.

Contents
Who's who
Lizzie Borden took an axe
Murder!
The Bordens
Investigation
Inquest
Arrest
Preliminary hearing
The waiting time
Trial of the century
Aftermath
Epilogue
Researching the Bordens
Sources
Acknowledgements.
Published Reviews
Booklist Review:
"Lizzie Borden's trial for the murders of her father and stepmother captivated her contemporaries, and her story became fodder for salacious gossip and fanatic newspaper coverage. In this even-handed account, Miller sifts through misinformation to deliver the facts, scant as they are, and recount the intricacies of the court case that drew thousands to tiny Fall River, Massachusetts. Beginning with the morning of the murders, Miller pieces together the events from sworn testimonies and the more reputable articles from the period. Since the most reliable information came from court records, most of Miller's account takes place in the court room, which can occasionally become dry, particularly given the obtuse nature of nineteenth-century writing. Nevertheless, Miller frequently uses the case to clarify sometimes-muddy details about the law, such as the difference between an inquest and grand jury. Gory details abound, but Miller is careful not to take a side. Plenty of photos, informative inset boxes, and an extensive bibliography round out this well-researched resource, which invites students to think critically about an infamous story.--Hunter, Sarah Copyright 2015 Booklist"
From Booklist, Copyright (c) American Library Association. Used with permission.
Publisher's Weekly Review:
"Miller (The Lost Crown) presents an exhaustive look at the famous unsolved murders of August 1892, in which Abby and Andrew Borden were found killed by axe in their home in Fall River, Mass., and of which Andrew's daughter (and Abby's stepdaughter), Lizzie, was accused. Starting with the morning of the murders, the narrative traces the events leading to Lizzie's arrest, then details her time in prison and her trial. Miller relies on newspaper accounts and court transcripts to create lively scenes filled with authentic dialogue, making for a suspenseful crime story, which is all the more intriguing for its lasting doubt. Numerous sidebars provide background on subjects like legal proceedings and mourning dress, point out the differences between newspaper coverage of a testimony and the testimony itself, and explore topics of side interest, like what the Bordens ate for breakfast-all of which immerse readers in the life of that era. Photos, diagrams, and Miller's thoughtful note on researching the book combine with the energetic text to engage readers in their own debate as to Lizzie Borden's guilt or innocence. Ages 10-up. Agent: Wendy Schmalz, Wendy Schmalz Agency. (Jan.) © Copyright PWxyz, LLC. All rights reserved."
(c) Copyright PWxyz, LLC. All rights reserved
Additional Information