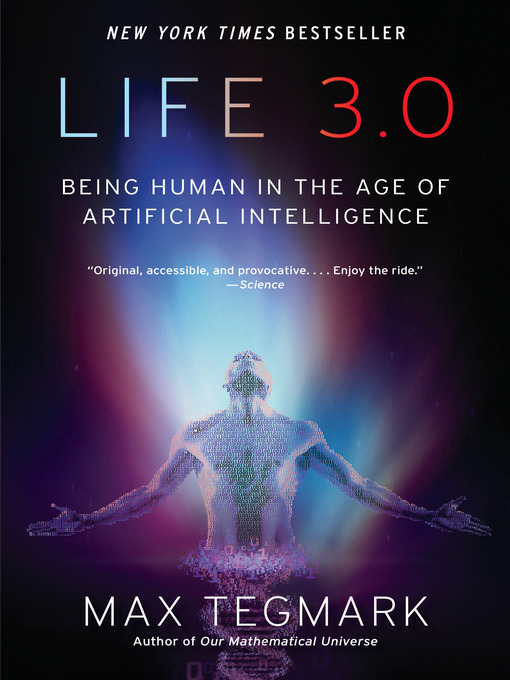 Life 3.0 being human in the age of artificial intelligence
Format:

Kindle Book

2017

2017

Adobe EPUB ebook

OverDrive Read

Availability:

Available from OverDrive

1 of 3 copies
Summary
"What jobs should be automated? How should our legal systems handle autonomous systems? How likely is the emergence of suprahuman intelligence? A.I. is the future of science, technology, and business--and there is no person better qualified or situated to explore that future than Max Tegmark. What has A.I. brought us? Where will it lead us? The story of A.I. is the story of intelligence--of life processes as they evolve from bacteria (1.0) to humans (2.0), where life processes define their own software, to technology (3.0), where life processes design both their hardware and software. We know that A.I. is transforming work, laws, and weapons, as well as the dark side of computing (hacking and viral sabotage), raising questions that we all need to address: What jobs should be automated? How should our legal systems handle autonomous systems? How likely is the emergence of suprahuman intelligence? Is it possible to control suprahuman intelligence? How do we ensure that the uses of A.I. remain beneficial? These are the issues at the heart of this book and its unique perspective, which seeks a ground apart from techno-skepticism and digital utopia"--

Contents
Prologue: The tale of the Omega Team
Welcome to the most important conversation of our time. A brief history of complexity ; The three stages of life ; Controversies ; Misconceptions ; The road ahead
Matter turns intelligent. What is intelligence? ; What is memory? ; What is computation? ; What is learning?
The near future: breakthroughs, bugs, laws, weapons and jobs. Breakthroughs ; Bugs vs. robust AI ; Laws ; Weapons ; Jobs and wages ; Human-level intelligence?
Intelligence explosion?. Totalitarianism ; Prometheus takes over the world ; Slow takeoff and multiple scenarios ; Cyborgs and uploads ; What will actually happen?
Aftermath: the next 10,000 years. Libertarian utopia ; Benevolent dictator ; Egalitarian utopia ; Gatekeeper ; Protector God ; Enslaved God ; Conquerors ; Descendants ; Zookeeper ; 1984 ; Reversion ; Self-destruction ; What do you want?
Our cosmic endowment: the next billion years and beyond. Making the most of your resources ; Gaining resources through cosmic settlement ; Cosmic hierarchies ; Outlook
Goals. Physics: the origin of goals ; Biology: the evolution of goals ; Psychology: the pursuit of and rebellion against goals ; Engineering: outsourcing goals ; Friendly AI: aligning goals ; Ethics: choosing goals ; Ultimate goals?
Consciousness. Who ares? ; What is consciousness? ; What's the problem? ; Is consciousness beyond science? ; Experimental clues about consciousness ; Theories of consciousness ; Controversies of consciousness ; How might AI consciousness feel? ; Meaning
Epilogue: The tale of the FLI Team.
Published Reviews
Booklist Review:
"What's the most important issue of our time? In the view of MIT physicist Tegmark (Our Mathematical Universe, 2014), it's not nuclear weapons, climate change, terrorism, or pestilence and poverty. It's the possibility of superhuman artificial intelligence (AI). Tegmark's brainstorming survey opens with a sci-fi-like scenario in which a computer intelligence named Prometheus takes over the world. Tegmark then summarizes the opinions of researchers about whether such a thing is possible or desirable. Assuring readers that it could happen, Tegmark sketches 12 conceivable types of superhuman intelligence that might arise, bestowing such names as libertarian utopia, benevolent dictator, and conqueror, the latter an AI that destroys humanity. How to safely control an AI is thus critical to the future, and apparently, this is a common topic of discussion among scientists and tech-industry moguls, given Tegmark's accounts of conferences he has attended or organized. Stretching the superhuman AI idea to intergalactic proportions by envisioning its colonization of the universe, Tegmark enthusiastically lays out concepts of AI, to the delight or disturbance of readers.--Taylor, Gilbert Copyright 2017 Booklist"
From Booklist, Copyright (c) American Library Association. Used with permission.
Publisher's Weekly Review:
"MIT physicist Tegmark explores the pivotal role that artificial intelligence will play in the future of humankind. From chores around the house and what employment will look like to how death might be rethought and even what it will mean to live among the stars, Tegmark considers what self-replicating and self-improving intelligent beings will mean for humans from many angles. Shapiro has a gentle and nonchalant voice that moves effortlessly through technical descriptions of AI technology and its potential upheaval of society. His steady but deliberate narration helps listeners maintain focus and feel comfortable with a variety of topics that Tegmark touches upon, such as how AI works and what it could mean for law enforcement, employment, and political organization. Even as Tegmark veers toward the philosophical, Shapiro keeps listeners attuned. A Knopf hardcover. (Aug.) © Copyright PWxyz, LLC. All rights reserved."
(c) Copyright PWxyz, LLC. All rights reserved
Additional Information