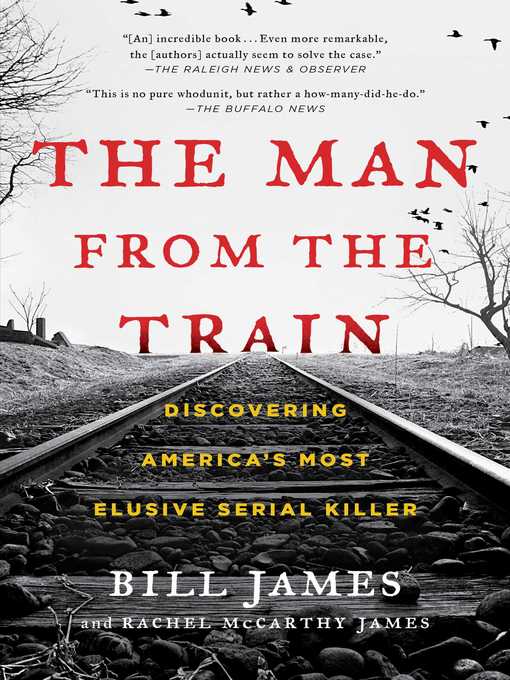 The man from the train the solving of a century-old serial killer mystery
Format:

Kindle Book

2017

2017

Adobe EPUB ebook

OverDrive Read

Availability:

Unavailable

0 of 2 copies
6 people on waitlist
Summary
"Using unprecedented, dramatically compelling sleuthing techniques, legendary statistician and baseball writer Bill James applies his analytical acumen to crack an unsolved century-old mystery surrounding one of the deadliest serial killers in American history. Between 1898 and 1912, families across the country were bludgeoned in their sleep with the blunt side of an axe. Jewelry and valuables were left in plain sight, bodies were piled together, faces covered with cloth. Some of these cases, like the infamous Villasca, Iowa, murders, received national attention. But few people believed the crimes were related. And fewer still would realize that all of these families lived within walking distance to a train station. When celebrated baseball statistician and true crime expert Bill James first learned about these horrors, he began to investigate others that might fit the same pattern. Applying the same know-how he brings to his legendary baseball analysis, he empirically determined which crimes were committed by the same person. Then after sifting through thousands of local newspapers, court transcripts, and public records, he and his daughter Rachel made an astonishing discovery: they learned the true identity of this monstrous criminal. In turn, they uncovered one of the deadliest serial killers in America. Riveting and immersive, with writing as sharp as the cold side of an axe, The Man from the Train paints a vivid, psychologically perceptive portrait of America at the dawn of the twentieth century, when crime was regarded as a local problem, and opportunistic private detectives exploited a dysfunctional judicial system. James shows how these cultural factors enabled such an unspeakable series of crimes to occur, and his groundbreaking approach to true crime will convince skeptics, amaze aficionados, and change the way we view criminal history"--

Contents
Preface
Villisca
Section I. 1909 to 1912
The bloody penny
Logan's turnpike
The scandalous Schultzes
Marshalltown
The New Orleans axeman
Which is not really a chapter
Martin City
The Casaways
Oregon
The double event
Monmouth
Ellsworth
Paola
Section II. Summer 1912
Villisca 2
Villisca 3
Villisca 4
Villisca 5
Dynamite Pfanschmidt
Section III. 1900 to 1906
Stepping backward
Trenton Corners
Standing by Henry
An uncertain set of names
Just when you thought this story couldn't possibly get any uglier
Hughes
The Christmas Day murders
West Memphis
Jacksonville
Cottonwood, Alabama
Murder in the cold
The worst one ever
The Lyerly family
Section IV
Hiatus
The crimes of 1908
Section V
Conversation with the reader
Hurley
Beckley and beyond
The Zoos and the Hubbells
Clementine Barnabet
Harry Ryan
The first crime
Brookfield and Villisca
Where the evening is spread out against the sky
Hinterkaifeck.
Published Reviews
Publisher's Weekly Review:
"Pioneering baseball analyst Bill James (he created the Sabermetrics statistical analysis system) successfully transfers his detail-oriented mind-set to true crime in this suspenseful historical account, cowritten with his daughter, Rachel McCarthy James. The authors' focus is a series of murders, perhaps as many as 100, committed by a killer they call "the man from the train," who slaughtered entire households, mostly in the Midwest, during the first two decades of the 20th century. Beginning with the best known of the crimes-the massacre of the Moore family in Villisca, Iowa, in 1912-the Jameses identify the signature elements of the crimes: the murderer struck near train tracks, used the blunt side of an axe, left valuables behind, covered his victims' heads with cloth, and displayed a sexual interest in prepubescent females. The authors, who culled data from hundreds of thousands of small-town newspapers of the era to identify crimes not initially thought connected, build their case with an innovative mix of statistical analysis and primary sources. They conclude with a plausible identification of the culprit, but the strength of the book hangs on their diligent research and analysis connecting crimes into the closing years of the 19th century. Even those skeptical at the outset that one man was responsible for so much bloodshed are likely to be convinced. (Aug.) © Copyright PWxyz, LLC. All rights reserved."
(c) Copyright PWxyz, LLC. All rights reserved
Additional Information