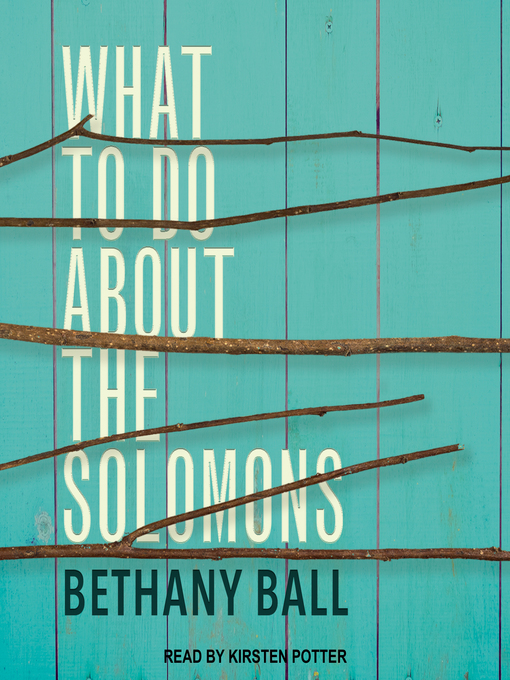 What to do about the Solomons
Format:

OverDrive MP3 Audiobook

2017

2017

OverDrive Listen

Availability:

Available from OverDrive

1 of 1 copy
Summary
"From a remarkable new voice in fiction, Bethany Ball, comes a transporting debut; a hilarious multigenerational family saga set in Israel, New York, and Los Angeles that explores the secrets and gossip-filled lives of a kibbutz community near Jerusalem. Meet Marc Solomon, an Israeli ex-Navy commando now living in L.A., who is falsely accused of money laundering through his asset management firm. As the Solomons' Santa Monica home is raided, Marc's American wife, Carolyn -- concealing her own dark past -- makes hopeless attempts to hold their family of five together. But news of the scandal makes its way from America to the rest of the Solomon clan on the kibbutz in the Jordan River Valley. There we encounter various members of the family and the community -- from Marc's self-absorbed movie actress sister, Shira, and her forgotten son Joseph; to his rich and powerful construction magnate father, Yakov; to his former star-crossed love, Maya; and his brother-in-law Guy Gever, a local ranger turned "artist." As the secrets and rumors of the kibbutz are revealed through various memories and tales, we witness the things that keep the Solomons together, and those that tear them apart. Reminiscent of Nathan Englander's For the Relief of Unbearable Urges and Jennifer Egan's A Visit from the Goon Squad, and told with razor-sharp humor and elegant acuity, What to Do About the Solomons is an exhilarating first book from a bright new star in fiction"--

Published Reviews
Booklist Review:
"The large Solomon clan spread out across the book's main settings, primarily Israel (a Hebrew glossary would have been useful) and Los Angeles is this unusual novel's unique subject. In her staccato style, cleverly tracking back and forth in time, Ball tells the story of the newly arrested (gambling, we are told) Marc Solomon; his wife (a former prostitute), Carolyn; varied siblings; Guy Gever, who is suffering some sort of breakdown back in Israel (and his wife, Keren, Marc's sister); and the mysterious Skymatsky brothers. Ball, with great humor, profound wit, and notable insight, vividly captures a singular family. The Solomons' patriarch is Yakov, whose death, funeral, and shiva provide the novel's climax. This novel from a most promising writer has been compared to the work of Isaac B. Singer and Grace Paley, as well as Nathan Englander and Jennifer Egan. Try Eudora Welty with sex and Jews.--Levine, Mark Copyright 2017 Booklist"
From Booklist, Copyright (c) American Library Association. Used with permission.
Publisher's Weekly Review:
"Respected leader at his kibbutz, founder of a thriving construction business, 75-year-old patriarch Yakov Solomon is fed up with his children in Ball's debut novel about a prosperous, beleaguered Israeli family. Yakov no longer speaks to eldest son Ziv, who lives in Singapore with another man; middle son Dror suffers from severe sibling envy; rich and successful Marc's California investment firm faces criminal investigation; daughter Keren's husband, Guy, cannot control his artistic impulses; and daughter Shira, whose acting career peaked with a bit part in a Harry Potter movie, leaves her 11-year-old son, Joseph, home alone while she visits Hollywood. Money can't solve their problems, and medication-prescribed or illegal-only makes them worse. Marc returns to the kibbutz, his wife stoned, his childhood sweetheart suicidal, his future uncertain, while Joseph assists his half-brother's attempt to run away from army service. Clearly, the Solomons have come a long way from the ideals of the kibbutz in early years. Ball switches points of view for a mosaic of family members and associates in crisis and adrift. Her terse, sharp-edged prose captures settings ranging from an American jail where highest bail is king to a French military post where they haven't won a war since Napoleon, but they sure know how to live. For all its humor, penetrating disillusionment underlies Ball's memorable portrait of a family, once driven by pioneer spirit, now plagued by overextension and loss of direction, unsure what to do with its legacy, teetering between resentment, remorse, and resilience. Agent: Duvall Osteen, the Aragi Agency. (Apr.) © Copyright PWxyz, LLC. All rights reserved."
(c) Copyright PWxyz, LLC. All rights reserved
Additional Information