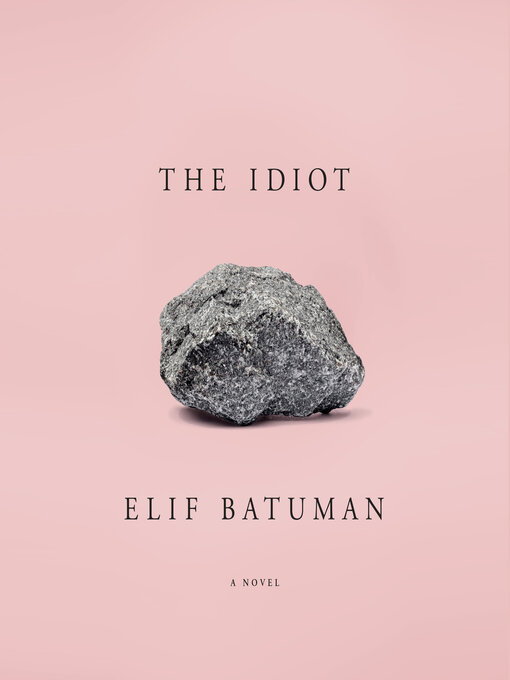 The idiot
Format:

OverDrive MP3 Audiobook

2017

2017

OverDrive Listen

Availability:

Available from OverDrive

2 of 3 copies
1 person on waitlist
Summary
"A portrait of the artist as a young woman. A novel about not just discovering but inventing oneself. The year is 1995, and email is new. Selin, the daughter of Turkish immigrants, arrives for her freshman year at Harvard. She signs up for classes in subjects she has never heard of, befriends her charismatic and worldly Serbian classmate, Svetlana, and, almost by accident, begins corresponding with Ivan, an older mathematics student from Hungary. Selin may have barely spoken to Ivan, but with each email they exchange, the act of writing seems to take on new and increasingly mysterious meanings. At the end of the school year, Ivan goes to Budapest for the summer, and Selin heads to the Hungarian countryside, to teach English in a program run by one of Ivan's friends. On the way, she spends two weeks visiting Paris with Svetlana. Selin's summer in Europe does not resonate with anything she has previously heard about the typical experiences of American college students, or indeed of any other kinds of people. For Selin, this is a journey further inside herself: a coming to grips with the ineffable and exhilarating confusion of first love, and with the growing consciousness that she is doomed to become a writer. With superlative emotional and intellectual sensitivity, mordant wit, and pitch-perfect style, Batuman dramatizes the uncertainty of life on the cusp of adulthood. Her prose is a rare and inimitable combination of tenderness and wisdom; its logic as natural and inscrutable as that of memory itself.The Idiot is a heroic yet self-effacing reckoning with the terror and joy of becoming a person in a world that is as intoxicating as it is disquieting. Batuman's fiction is unguarded against both life's affronts and its beauty--and has at its command the complete range of thinking and feeling which they entail"--Provided by publisher.

Published Reviews
Booklist Review:
"*Starred Review* Batuman, winner of a Whiting Award and The Paris Review's Terry Southern Prize for Humor, lifted a title from Dostoevsky for her first book, the superb essay collection, The Possessed (2010). She does it again with her debut novel, a droll, semiautobiographical tale set in 1995 and narrated by a high-strung freshman at Harvard. A tall Turkish American from New Jersey, Selin is at once enthralled and frustrated by language, while finding mundane aspects of life indecipherable. She takes a mishmash of classes; struggles to tutor adults trying to earn their GED; becomes friends with Svetlana, a cosmopolitan Serb; and obsesses over Ivan, a Hungarian mathematics major. Selin feels dangerously overwhelmed, yet declares, I wanted to be unconventional and say meaningful things. Ivan is similarly disassociated from the norm, and the two conduct a hilariously cryptic courtship that culminates with Selin spending the summer teaching English in a Hungarian village and enduring a sequence of alarming excursions. Batuman's brainy, polymorphously curious innocent, her idiot, ponders profound questions about how culture and language shape feelings and experiences, how differently men and women are treated, and how baffling love is. Selin is entrancing so smart, so clueless, so funny and Batuman's exceptional discernment, comedic brilliance, and soulful inquisitiveness generate a charmingly incisive and resonant tale of the messy forging of a self.--Seaman, Donna Copyright 2017 Booklist"
From Booklist, Copyright (c) American Library Association. Used with permission.
Publisher's Weekly Review:
"The mysterious relationship between language and the world" is just one of the questions troubling Selin Karadag, the 18-year-old protagonist of Batuman's (The Possessed) wonderful first novel, a bildungsroman Selin narrates with fluent wit and inexorable intelligence. Beginning her first year at Harvard in the fall of 1995, Selin is determined to "be a courageous person, uncowed by other people's dumb opinions"; she already thinks of herself as a writer, although "this conviction was completely independent of having ever written anything." In a Russian class, the Turkish-American Selin is befriended by the worldlier Svetlana, whose Serbian family has endowed her with capital and complexes, and the older Hungarian math major Ivan, who becomes Selin's correspondent in an exciting new medium: email. Their late-night exchanges inspire Selin more than anything else in her life, but they frustrate her, too: Ivan's intentions toward her are vague, perhaps even to himself. Traveling to Paris with Svetlana in the summer of 1996, Selin plans to continue on to Hungary, where she will teach English in a village school, and then to Turkey, where her extended family resides. Thus Batuman updates the grand tour travelogue just as she does the epistolary novel and the novel of ideas, in prose as deceptively light as it is ambitious. One character wonders whether it's possible "to be sincere without sounding pretentious," and this long-awaited and engrossing novel delivers a resounding yes. (Mar.) © Copyright PWxyz, LLC. All rights reserved."
(c) Copyright PWxyz, LLC. All rights reserved
Additional Information