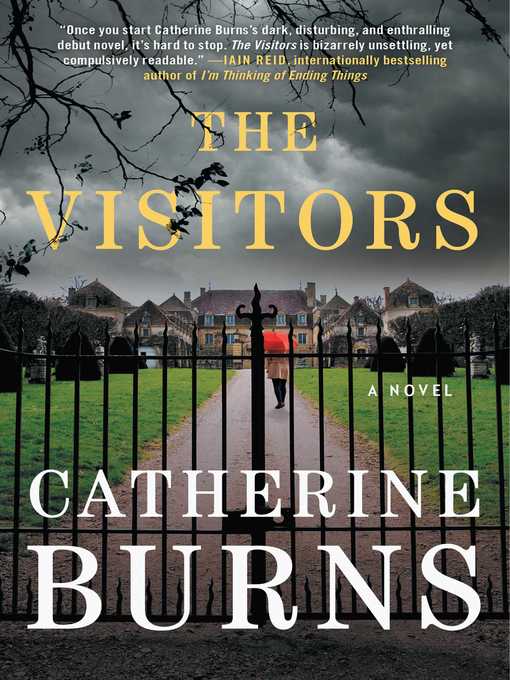 The visitors
Format:

Kindle Book

2017

2017

Adobe EPUB ebook

OverDrive Read

Availability:

Available from OverDrive

1 of 1 copy
Summary
"With the smart suspense of Emma Donoghue's Room and the atmospheric claustrophobia of Grey Gardens, Catherine Burns's debut novel The Visitors explores the complex truths we are able to keep hidden from ourselves and the twisted realities that can lurk beneath even the most serene of surfaces. "Once you start Catherine Burns's dark, disturbing, and enthralling debut novel, it's hard to stop. The Visitors is bizarrely unsettling, yet compulsively readable." --Iain Reid, internationally bestselling author of I'm Thinking of Ending Things. Marion Zetland lives with her domineering older brother John in a crumbling mansion on the edge of a northern seaside resort. A timid spinster in her fifties who still sleeps with teddy bears, Marion does her best to live by John's rules, even if it means turning a blind eye to the noises she hears coming from behind the cellar door . . . and turning a blind eye to the women's laundry in the hamper that isn't hers. For years, she's buried the signs of John's devastating secret into the deep recesses of her mind -- until the day John is crippled by a heart attack, and Marion becomes the only one whose shoulders are fit to bear his secret. Forced to go down to the cellar and face what her brother has kept hidden, Marion discovers more about herself than she ever thought possible. As the truth is slowly unraveled, we finally begin to understand: maybe John isn't the only one with a dark side..."--

Published Reviews
Booklist Review:
"Middle-age Marion Zetland lives a prosaic life in her family home in a British seaside resort town. Decades after her parents' deaths, she no longer has to kowtow to her mother's demands; instead, she must deal with her older brother, John, with whom she shares the house. Overweight, plain, and dull, she was called Manatee by the smart and pretty girls at her school, where she struggled to learn. John, however, graduated from Oxford and became a teacher until he was fired for misconduct with a female student. Now he builds model airplanes and gets affection from the visitors, whose screams occasionally come from the cellar, something Marion who is comforted only by her daydreams and the many stuffed animals on her bed tries to ignore. But circumstances eventually require Marion's attention to the cellar, a situation that reveals her true colors. The darkly depressing atmosphere Burns builds, as flashbacks describe the Zetland family in all its dysfunction, gradually becomes suspenseful as the plot takes some final twists. An assured debut by a promising author.--Leber, Michele Copyright 2017 Booklist"
From Booklist, Copyright (c) American Library Association. Used with permission.
Publisher's Weekly Review:
"British author Burns's disquieting debut focuses on Marion Zetland, a 54-year-old spinster who has never held a job, had a friend, or known love. She passes time by daydreaming, watching TV, and trying to please her cruel and imperious older brother, John, with whom she shares her dead parents' dilapidated Northport, England, home. John, a disgraced former schoolteacher, spends his days in the house's cellar, where he allegedly builds model airplanes, but that explanation doesn't account for the sobs and screams that occasionally escape the air vents. Marion tries not to dwell on what might actually be happening in the cellar-she's powerless to change the situation, so why bother?-but then John falls ill, forcing Marion to face some harsh truths. Burns blurs the line between crime fiction and horror in this relentlessly bleak tale of loneliness and neglect. Marion's emotional instability and proclivity for denial cause readers to question her reliability. Deliberate pacing, a claustrophobic setting, and vivid, wildly unsympathetic characters complement the twisted plot and grim conclusion. Agent: David Forrer, Inkwell Management. (Sept.) © Copyright PWxyz, LLC. All rights reserved."
(c) Copyright PWxyz, LLC. All rights reserved
Additional Information