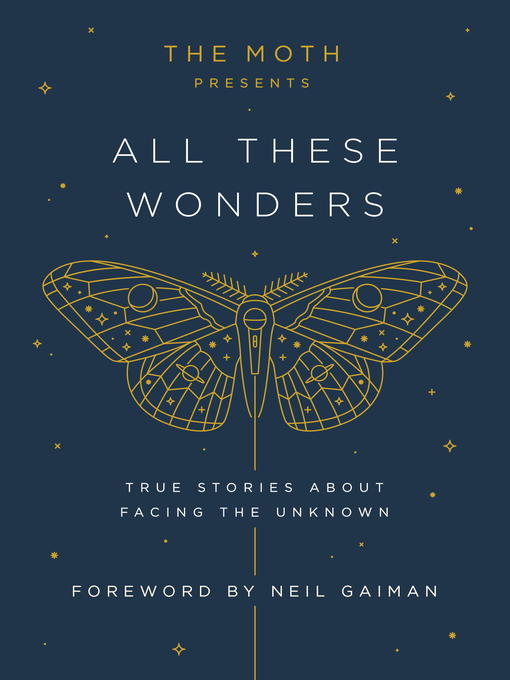 The moth presents all these wonders true stories about facing the unknown
Format:

Kindle Book

2017

2017

Adobe EPUB ebook

OverDrive Read

Availability:

Available from OverDrive

2 of 2 copies
Summary
"From storytelling phenomenon The Moth: a collection about risk, courage, and facing the unknown, drawn from the best stories ever told on their stages. All These Wonders features voices both familiar and new. Storytellers include Louis C.K., Tig Notaro, John Turturro, and Meg Wolitzer, as well as a hip hop "one hit wonder," an astronomer gazing at the surface of Pluto for the first time, and a young female spy risking everything as part of Churchill's "secret army" during World War II. They share their ventures into uncharted territory--and how their lives were changed forever by what they found there. These true stories have been carefully selected and adapted to the page by the creative minds at The Moth, and will encompass the very best of the 17,000+ stories performed in live Moth shows around the world."--

Contents
Foreword / Neil Gaiman
Introduction / Catherine Burns
The eternal music of the spheres
The moon and stars talks / Tara Clancy
Unusual normality / Ishmael Beah
The quest for Chad / Arthur Bradford
The house of mourning / Kate Braestrup
The girl from Beckenham / Suzi Ronson
God, death, and Francis Crick / Christof Koch
Things I've seen
Fog of disbelief / Carl Pillitteri
The two times I met Laurence Fishburne / Chenjerai Kumanyika
It matters a great deal / Kevin McGeehan
A tale of two dinners / Bliss Broyard ; Untitled / Louis C.K.
Walking with RJ / Stephanie Peirolo
Keeping the lid on. Go the % to sleep / Adam Mansbach
Panic on the road to Jericho / Nadia Bolz-Weber
Jenny / Samuel James
Déjà vu (again) / Cole Kazdin
Call me Charlie / Josh Bond
Modern family / Sara Barron
R2, where are you? / Tig Notaro
Grace rushes in
The shower / Tomi Reichental
Cut / Josh Broder
A phone call / Auburn Sandstrom
Who can you trust? / Mary-Claire King
A new home / Dori Samadzai Bonner
Greener grass / Jane Green
As if I was not there / Peter Pringle
Like a man does
Stumbling in the dark / John Turturro
Coming of age in a mausoleum / George Dawes Green
Downstairs neighbors / Shannon Cason
Undercover in North Korea with its future leaders / Suki Kim
My grandfather's shoes / Christian Garland
Leaping forward / Cybele Abbett
To face the fear
Prom / Hasan Minhaj
But also bring cheese / Kate Tellers
Tired, from New York / Jessi Klein
An impossible choice / Sasha Chanoff
Then you will know! / Moshe Schulman
The price of freedom / Noreen Riols
By every claim of love
Summer camp / Meg Wolitzer
The weight of a ring / Amy Biancolli
Light and hope / Bethany van Delft
Kidneys and commitments / Gil Reyes
On approach to Pluto / Cathy Olkin
Forgiveness / Hector Black
California gothic / Taylor Negron.
Additional Information