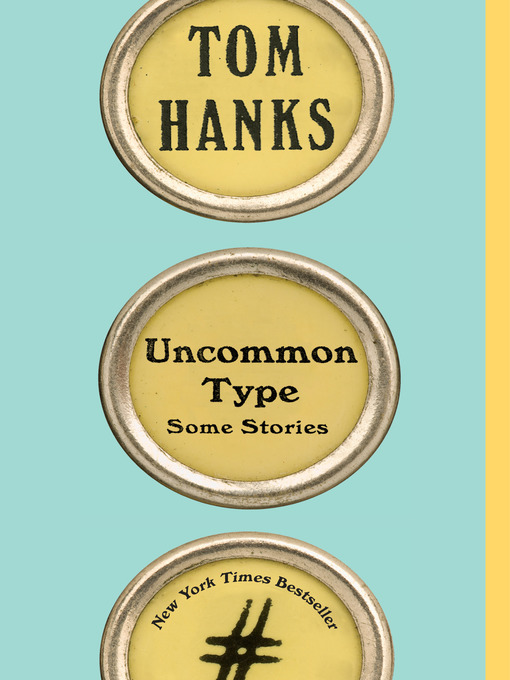 Uncommon type some stories
Format:

Kindle Book

2017

2017

Adobe EPUB ebook

OverDrive Read

Availability:

Available from OverDrive

29 of 35 copies
Summary
A collection of seventeen wonderful short stories showing that the legendary Tom Hanks is as talented a writer as he is an actor. "Reading Tom Hanks's Uncommon Type is like finding out that Alice Munro is also the greatest actress of our time." —Ann Patchett, bestselling, Pulitzer Prize–winning author of The Dutch HouseA gentle Eastern European immigrant arrives in New York City after his family and his life have been torn apart by his country's civil war. A man who loves to bowl rolls a perfect gameu2014and then another and then another and then many more in a row until he winds up ESPN's newest celebrity, and he must decide if the combination of perfection and celebrity has ruined the thing he loves. An eccentric billionaire and his faithful executive assistant venture into America looking for acquisitions and discover a down and out motel, romance, and a bit of real life. These are just some of the tales Tom Hanks tells in this first collection of his short stories. They are surprising, intelligent, heartwarming, and, for the millions and millions of Tom Hanks fans, an absolute must-have!

Published Reviews
Booklist Review:
"As an actor, Tom Hanks has an understated performance style; the hard work seems to get done under the surface, where we can't see it. All we see is the truth of the character. The same goes for the 17 short stories in this thoroughly engaging book, Hanks' fiction debut. Here are stories about friends who become lovers and then decide that wasn't a good idea; about old war buddies whose Christmas Eve conversation sparks some powerful memories; about a movie star enduring a press junket; about a billionaire and his assistant on the trail of acquisitions who find in America's heartland a humanity very different from their glass-tower world. The stories are brief and sometimes seem abbreviated, but they possess a real feel for character and a slice-of-life realism that combine to deliver considerable depth beneath the surface. A surprising and satisfying book from a first-time fiction writer. HIGH-DEMAND BACKSTORY: Hanks is both much loved and often criticized as an actor; his writing, however, may well cross that divide with its undeniable craft and plainspoken insight.--Pitt, David Copyright 2017 Booklist"
From Booklist, Copyright (c) American Library Association. Used with permission.
Publisher's Weekly Review:
"Oscar-winner Hanks's debut collection is a wide-ranging affair of 17 stories threaded together by the recurring image of typewriters-some stories, like the intriguing "These Are the Meditations of My Heart," build entire narratives around the machines, while others mention them in passing. In "Alan Bean Plus Four," one of the collection's best entries, four friends decide to build a backyard rocket and orbit the moon. These same characters star in two more stories, the enjoyable bowling yarn "Steve Wong Is Perfect," and the less noteworthy "Three Exhausting Weeks," which uses standard romantic comedy tropes in recollecting a wacky and doomed relationship. Hanks's stories sometimes lead to pat, happy endings, but not always-"Christmas Eve 1953" develops a simple holiday story into a rumination on war. Similarly, "The Past Is Important to Us" employs a sharp, unexpected conclusion to elevate a story of time travel and romance at the 1939 World's Fair. Hanks's narrators speak with similar verbal tics-multiple narrators say "Noo Yawk," for example-but the stories they tell generally charm. The only true misfires come when Hanks breaks away from traditional structure: the story-as-screenplay "Stay With Us" drags, and faux newspaper columns by man of the people Hank Fiset start clever but turn grating. 250,000-copy announced first printing. (Oct.) © Copyright PWxyz, LLC. All rights reserved."
(c) Copyright PWxyz, LLC. All rights reserved
Additional Information