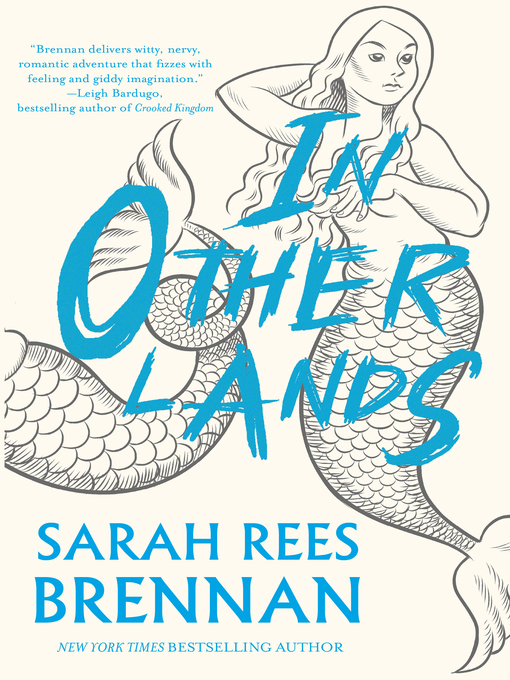 In other lands a novel
Format:

Kindle Book

2017

2017

Adobe EPUB ebook

OverDrive Read

Availability:

Available from OverDrive

1 of 2 copies
1 person on waitlist
Summary
Despite his aversion to war, work, and most people (human or otherwise), teenaged Elliott, a human transported to a fantasy world where he attends a school for warriors and diplomatic advisers, finds that two unlikely ideas, friendship and world peace, may actually be possbile.

Published Reviews
Booklist Review:
"Irritable and annoying, 13-year-old Elliot Schafer becomes the unlikely protagonist of Brennan's novel after receiving an invitation to attend a unique school in the magical realm, which is protected from the real world by an invisible wall that few can see. There he spends the next four years learning about elves, mermaids, trolls, treaties, and falling in love. This is a school story for older youth, with freewheeling (but not explicit) sexuality, a dedicated pacifist as a main character, and slightly cynical humor that masks great heart. Elliot is a disgruntled Harry Potter in a world where magic exists in enhanced mental and physical abilities rather than spell casting. Brennan turns stereotypes upside down: elves view men as the delicate flowers, and the shining blond hero is a shy, half-breed boy conflicted since birth. Elliot's coming-of-age is for Potter graduates, ready to move into the adult world. Try it with Terry Pratchett books for the unique tone, Maggie Stiefvater's Raven Cycle, or go retro with William Goldman's The Princess Bride (1973).--Welch, Cindy Copyright 2017 Booklist"
From Booklist, Copyright (c) American Library Association. Used with permission.
Publisher's Weekly Review:
"Elliot Schafer is a small-for-his-age 13-year-old who is prone to being bullied-largely due to his personality, which slots somewhere between insufferable know-it-all and sarcastic jackass. When Elliot's class travels to a "random field in Devon, England" for a supposed scholarship test, he instead winds up in a strange world known as the Borderlands, which are filled with elves, mermaids, and other creatures. So begins Brennan's hilarious, irreverent, and multilayered coming-of-age fantasy, set over several years. Elliot quickly befriends (and falls for) Serene, a fierce elven warrior, and arranges a reluctant truce with Luke Sunborn, the son of one of the Borderland's founding families. All three-along with every young person there-are training in war or as councilors, charged with protecting the fragile barrier with the human world. Amid shifting relationships, the threat of war, and substantial growth among the characters, Elliot's razor-edged wit and general inability to keep his mouth shut make for blissfully entertaining reading. Smart explorations of gender stereotypes, fluid sexuality, and awkward romance only add to the depth and delight of this glittering contemporary fantasy. Ages 13-up. Agent: Kristin Nelson, Nelson Literary. (Aug.) © Copyright PWxyz, LLC. All rights reserved."
Additional Information