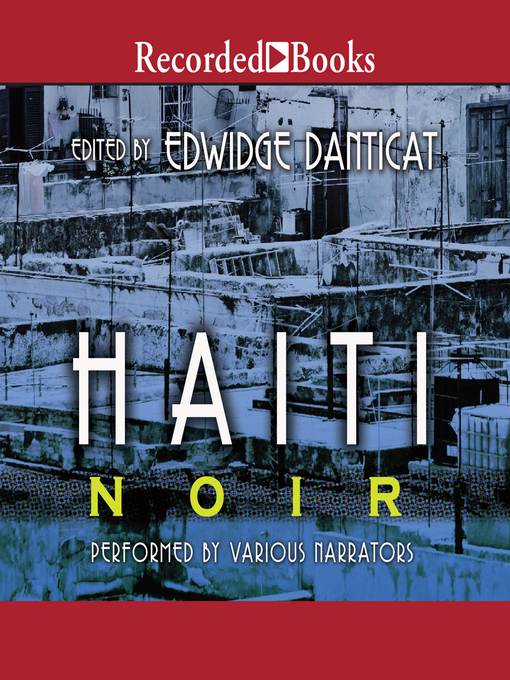 Haiti noir
Format:

OverDrive MP3 Audiobook

2011

2011

OverDrive Listen

Availability:

Available from OverDrive

1 of 1 copy
Summary
Presents a collection of crime and noir stories set in Haiti.

Published Reviews
Booklist Review:
"Eighteen authors who either live in Haiti or have connections to the country contribute stories of greed, love, lust, murder, and other traditional noir themes. Along with many others unfamiliar to North American readers, there are a couple of surprises, including Mark Kurlansky, an American writer known for nonfiction but who, as a newspaper reporter, covered Haiti and the Caribbean for nearly a decade. Most of the stories are written in English, but a couple have been translated from the French. A solid contribution to the series, especially for its showcasing of a setting not commonly portrayed in crime fiction.--Pitt, David Copyright 2010 Booklist"
From Booklist, Copyright (c) American Library Association. Used with permission.
Publisher's Weekly Review:
"As Danticat (Brother, I'm Dying) points out in her excellent introduction to this solid entry in Akashic's acclaimed noir series, most of its 18 stories were written before the devastating earthquake of January 2010. This natural tragedy lends a strong undercurrent to the fictional takes on a country that was already ravaged by the terrible human problems of poverty, violent crime, and political corruption. Powerful genre-benders include Katia D. Ulysse's "The Last Department," a stylish, Poe-inspired story about the mutual enmity of two daughters, one who "made it" in America and the other who stayed behind; and Yanick Lahens's "Who Is That Man?" in which an innocent man gets caught in the middle of drug cartel business. Other standouts are Patrick Sylvain's "Odette" and Kettly Mars's "Paradise Inn." Many selections aren't especially noir, at least not in the way that most crime fiction readers would recognize, but Danticat has succeeded in assembling a group portrait of Haitian culture and resilience that is cause for celebration. (Jan.) (c) Copyright PWxyz, LLC. All rights reserved."
(c) Copyright PWxyz, LLC. All rights reserved
Additional Information
Series
Akashic Books Noir series


Book 82 written by Earl Lovelace and Robert Antoni


#1 - Brooklyn noir
#2 - Brooklyn noir 2
#3 - Chicago noir
#4 - San Francisco noir
#5 - D. C. noir
#6 - Dublin noir
#7 - Manhattan noir
#8 - Baltimore noir
#9 - Twin cities noir
#10 - London noir
#11 - Miami noir
#12 - New Orleans noir
#13 - Los Angeles noir
#14 - Wall Street noir
#15 - Bronx noir
#16 - Havana noir
#17 - Detroit noir
#18 - Queens noir
#19 - Toronto noir
#20 - Las Vegas noir
#21 - Brooklyn noir 3
#22 - Trinidad noir
#23 - Manhattan noir 2
#24 - Istanbul noir
#25 - Paris noir
#26 - Rome noir
#27 - San Francisco noir 2
#28 - Seattle noir
#29 - Portland noir
#30 - Delhi noir
#31 - D. C. noir 2
#32 - Boston noir
#33 - Phoenix noir
#34 - Mexico City noir
#35 - Richmond noir
#36 - Los Angeles noir 2
#37 - Orange County noir
#38 - Indian country noir
#39 - Moscow noir
#40 - Philadelphia noir
#41 - Lone star noir
#42 - Haiti noir
#43 - Copenhagan noir
#44 - Barcelona noir
#45 - Cape Cod noir
#46 - Pittsburgh noir
#47 - San Diego noir
#48 - New Jersey noir
#49 - Mumbai noir
#50 - Long Island noir
#51 - Venice noir
#52 - Kingston noir
#53 - St. Petersburg noir

Subjects
Noir fiction, French Translations into English
Short stories, Haitian Translations into English
Short stories, Haitian
Short stories, French Translations into English
Short stories, French
Noir fiction
Detective and mystery stories, French Translations into English
Detective and mystery stories
Mystery
Short Stories
Fiction
Haiti Fiction.
Noir fiction.
Detective and mystery fiction.
Short stories.
Translations into English.
Fiction.
Audiobooks.

Publisher

[Place of publication not identified] :Recorded Books, LLC,2011




Recorded Books, Inc.2011



Edition
Unabridged.
Contributors
Danticat, Edwidge, 1969-
Miles, Robin, narrator.
Fernandez, Peter Jay, narrator.
Leslie, Rachel, narrator.
OverDrive, Inc.

Participants/Performers

Narrated by Robin Miles, Peter Jay Fernandez, and Rachel Leslie.



Language

English



System Details

Mode of access: World Wide Web.




Format: OverDrive Listen




Format: OverDrive MP3 Audiobook




Requires OverDrive app 3.0 (Windows) / 1.0 (Mac) / 1.0 (Windows Mobile)



Description

1 audio file : digital



ISBN
9781464012952
9781464012952

Other
Classic View