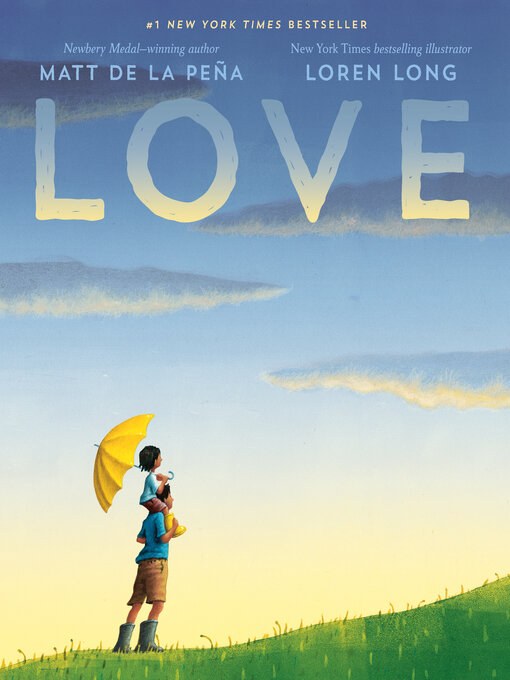 Love
Format:

OverDrive Read

2018

2018

Availability:

Available from OverDrive

2 of 2 copies
Summary
Illustrations and easy-to-read text celebrate the bonds of love that connect us all.

Published Reviews
Booklist Review:
"Newbery Award-winning de la Peña offers a lyrical ode to love in this stirring picture book. It opens with the loving coos of parents, gazing at their new baby, but the subsequent places where love can be found are less obvious: love emerges in the smell of crashing waves; the rustling leaves of a gnarled tree; in the made-up stories your uncles tell; and the face staring back in the bathroom mirror. In de la Peña's lines, love becomes not just an emotion between people but a feeling suffusing the world. It's not all sunshine, though; he also explores scary moments, when love seems to be missing, but even those can be mitigated by yet more love. In another's hands, this might seem saccharine, but here it's powerful, particularly when paired with deeply expressive, snapshot-like illustrations of people in a broad range of body types and skin tones. Though some of the individual lines might be confounding, the overall sense of comfort and hopefulness they elicit is deeply felt and genuinely uplifting. HIGH-DEMAND BACKSTORY: Long and De la Peña are each powerhouses on their own. Together, they'll be unstoppable.--Hunter, Sarah Copyright 2017 Booklist"
From Booklist, Copyright (c) American Library Association. Used with permission.
Publisher's Weekly Review:
"De la Peña's prose poem speaks right to young children. "In the beginning there is light/ and two wide-eyed figures standing/ near the foot of your bed,/ and the sound of their voices is love," he opens as an interracial couple looks down at a crib. The rest of de la Peña's poem is accompanied by images of families and friends of many different ages and appearances who live in cities and in rural or warm places, such as the group of men seen throwing horseshoes under palm trees. The expressions worn by Long's characters and the way their shoulders are stooped with care make them seem full of love, even when they're playing instruments or fishing. It's not always smooth sailing, and sometimes scary things happen ("One day you find your family/ nervously huddled around the TV"), but comfort is there. "It's okay, it's okay, it's love," says a grown-up offering a child an embrace. People often talk to children about love; in these pages, they can see and feel what it's like. And there's plenty for everybody. Ages 4-8. Agent: Steven Malk, Writers House. (Jan.) © Copyright PWxyz, LLC. All rights reserved."
(c) Copyright PWxyz, LLC. All rights reserved
Additional Information