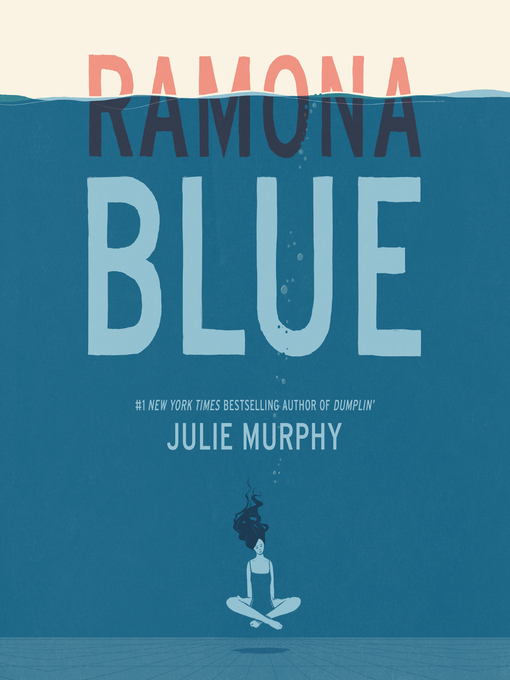 Ramona Blue
Format:

OverDrive MP3 Audiobook

2017

2017

OverDrive Listen

Availability:

Available from OverDrive

1 of 1 copy
Summary
From Julie Murphy, the #1 New York Times bestselling author of Dumplin' and Side Effects May Vary, comes another fearless heroine, Ramona Blue, in a gorgeously evocative novel about family, friendship, and how sometimes love can be more fluid than you first think. Perfect for fans of Rainbow Rowell and Morgan Matson. Ramona was only five years old when Hurricane Katrina changed her life forever. Since then, it's been Ramona and her family against the world. Standing over six feet tall with unmistakable blue hair, Ramona is sure of three things: she likes girls, she's fiercely devoted to her family, and she knows she's destined for something bigger than the trailer she calls home in Eulogy, Mississippi. But juggling multiple jobs, her flaky mom, and her well-meaning but ineffectual dad forces her to be the adult of the family. Now, with her sister, Hattie, pregnant, responsibility weighs more heavily than ever.The return of her childhood friend Freddie brings a welcome distraction. Ramona's friendship with the former competitive swimmer picks up exactly where it left off, and soon he's talked her into joining him for laps at the pool. But as Ramona falls in love with swimming, her feelings for Freddie begin to shift too, which is the last thing she expected. With her growing affection for Freddie making her question her sexual identity, Ramona begins to wonder if perhaps she likes girls and guys or if this new attraction is just a fluke. Either way, Ramona will discover that, for her, life and love are more fluid than they seem.

Published Reviews
Booklist Review:
"*Starred Review* Julie Murphy (Dumplin', 2015) knows a thing or two about navigating the worlds of girls on the brink of self-discovery. In Ramona Blue, that girl is Ramona Leroux, over six feet tall and sporting blue hair. She's also one of only two out lesbians in her little town of Eulogy, Mississippi, where she lives with her father and sister in the FEMA trailer they never left after Hurricane Katrina. Her sister, Hattie, recently pregnant, jokes that Ramona can do whatever she wants with her future, but Ramona has no such illusions. My sport she thinks, the special skill I've developed my whole life is surviving. Because of this pragmatism, Ramona has never doubted herself. It's not easy being gay in Eulogy, but it's a label she owns proudly, until her childhood friend Freddie moves back to town. Freddie's a straight guy, African American, and well off, but a love of swimming connects the two. Freddie talks Ramona into spending time at the pool, and as she falls more in love with the sport, she realizes she's falling in love with him, too, questioning everything she knows about herself everything she's fought to make her town and family accept. Murphy mines Ramona's inner workings with particular skill. Ramona's often-fraught relationships with her family are carefully, lovingly crafted, and her connection with Hattie is an especially important one. Her growing feelings for Freddie come slowly and organically, never feeling contrived. For many teens, Ramona will be a worthy companion as they undergo their own emotional journeys.--Reagan, Maggie Copyright 2017 Booklist"
From Booklist, Copyright (c) American Library Association. Used with permission.
Publisher's Weekly Review:
"There are two things Ramona knows: she likes girls, and she's the responsible one in her family, especially now that her sister, Hattie, is pregnant. The girls' mother left their coastal Mississippi town after Hurricane Katrina, they live in a trailer, and Ramona is juggling multiple jobs. As the book opens, Ramona is starting her senior year; with Grace, the tourist she has been dating, leaving, there isn't much to look forward to. Then Ramona's childhood friend Freddie moves back to town, and his grandmother adds Ramona to their YMCA membership. It turns out that Ramona has potential as a swimmer-as well as unexpected feelings for Freddie. In Eulogy, Miss., Murphy (Dumplin') creates a place that feels deeply real, a Gulf Coast vacation town that's racially and economically diverse: Ramona is white and poor, Freddie is black and middle class, and the biggest divide might be between the year-round residents and the summer visitors. It's a great setting for a coming-of-age story, as Ramona realizes that she's capable of more than she imagined and that some categories are more fluid than she'd thought. Ages 13-up. Agent: Molly Jaffa, Folio Literary Management. (May) © Copyright PWxyz, LLC. All rights reserved."
(c) Copyright PWxyz, LLC. All rights reserved
Additional Information