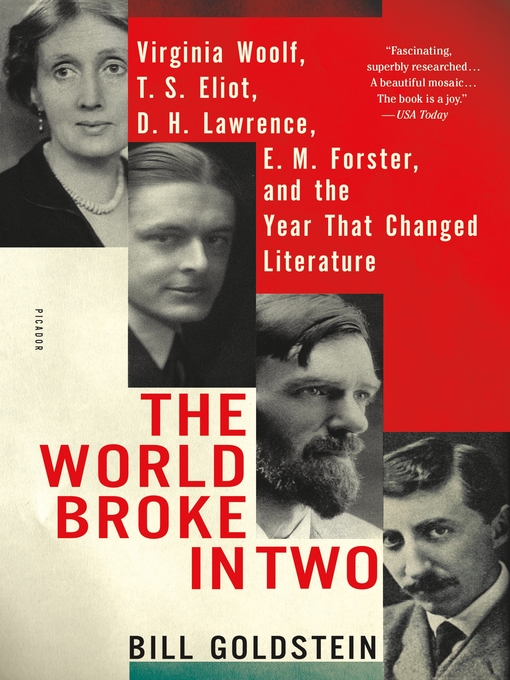 The world broke in two Virginia Woolf, T. S. Eliot, D. H. Lawrence, E. M. Forster and the year that changed literature
Format:

Kindle Book

2017

2017

Adobe EPUB ebook

OverDrive Read

Availability:

Available from OverDrive

1 of 1 copy
Summary
"A revelatory narrative of the intersecting lives and works of revered authors Virginia Woolf, T. S. Eliot, E. M. Forster and D. H. Lawrence during 1922, the birth year of modernism The World Broke in Two tells the fascinating story of the intellectual and personal journeys four legendary writers, Virginia Woolf, T. S. Eliot, E. M. Forster, and D. H. Lawrence, make over the course of one pivotal year. As 1922 begins, all four are literally at a loss for words, confronting an uncertain creative future despite success in the past. The literary ground is shifting, as Ulysses is published in February and Proust's In Search of Lost Time begins to be published in England in the autumn. Yet, dismal as their prospects seemed in January, by the end of the year Woolf has started Mrs. Dalloway, Forster has, for the first time in nearly a decade, returned to work on the novel that will become A Passage to India, Lawrence has written Kangaroo, his unjustly neglected and most autobiographical novel, and Eliot has finished--and published to acclaim--"The Waste Land." As Willa Cather put it, "The world broke in two in 1922 or thereabouts," and what these writers were struggling with that year was in fact the invention of modernism. Based on original research, The World Broke in Two captures both the literary breakthroughs and the intense personal dramas of these beloved writers as they strive for greatness. "--

Published Reviews
Booklist Review:
"Four radical writers battled illness, depression, domestic stress, heartbreak, and artistic paralysis as the year 1922 delivered two literary explosions: James Joyce's Ulysses and the first English translation of the first volume of Proust's In Search of Lost Time. These novels would serve as goads and polestars for T. S. Eliot, E. M. Forster, D. H. Lawrence, and Virginia Woolf. In an extensively researched, extraordinarily fine-grained and lucid literary history rich in biographical discoveries, Goldstein traces the synergy among this quartet and reveals both their anguish and esprit de corps. He extracts wisdom, wit, cattiness, and sympathy from diaries and letters as he charts the fitful creation of The Waste Land, A Passage to India, Kangaroo, and Mrs. Dalloway concurrent with Eliot's breakdowns and rest cures, Forster's unrequited love for men, Lawrence's fractious sojourn in Taos with Mabel Dodge Sterne, and Woolf's defiance of doctor's orders. Here, too, are publishing skirmishes and censorship cases. Goldstein's ardently detailed, many-faceted story of a pivotal literary year illuminates all that these tormented visionaries had to overcome to make the modern happen. --Seaman, Donna Copyright 2017 Booklist"
From Booklist, Copyright (c) American Library Association. Used with permission.
Publisher's Weekly Review:
"Goldstein, founding editor of the New York Times books website, offers an extensively annotated account of how four major authors invented modernism in 1922. Already a literary landmark for the publication of Joyce's Ulysses and the first appearance of Proust's A la recherche du temps perdu in English, 1922 is staked out by Goldstein as a "crucial year of change and outstanding creative renaissance" for his principals. Lawrence's Women in Love survived an obscenity lawsuit, Forster revived his career with A Passage to India, Eliot published The Waste Land to wide acclaim, and Woolf invented Mrs. Dalloway's inner world. For context, Goldstein dwells at length, and with frequent repetition, on his writers' challenges, disappointments, and jealousies. Lawrence whirls like a dervish over countries and continents, happy nowhere; Forster broods with loneliness and grief; Eliot waffles over his great poem in between rest cures; and Woolf battles illness and her own inclination toward elegant spite. Goldstein's plentiful digressions threaten to disjoint an already fragile narrative thread. Nonetheless, the intimate peek into the lives, rivalries, and heartbreaks of these celebrated writers sustains an entertaining story about how great literature is made, and will please scholars and hardcore fans alike. Agent: Joy Harris, Joy Harris Literary Agency. (July) © Copyright PWxyz, LLC. All rights reserved."
(c) Copyright PWxyz, LLC. All rights reserved
Additional Information
Subjects
Woolf, Virginia, 1882-1941 Criticism and interpretation
Eliot, T. S. (Thomas Stearns), 1888-1965 Criticism and interpretation
Lawrence, D. H. (David Herbert), 1885-1930 Criticism and interpretation
Forster, E. M. (Edward Morgan), 1879-1970 Criticism and interpretation
English fiction 20th century History and criticism
Nineteen twenty-two, A.D.
Modernism (Literature) Great Britain
Literature and society History 20th century
Biography & Autobiography
Literary Criticism
Nonfiction
Electronic books.
1882-1941
1888-1965
1885-1930
1879-1970
20th century
20th century.

Publisher

[Place of publication not identified] :Henry Holt and Co.,2017




Henry Holt and Co.2017



Contributors
OverDrive, Inc.

Language

English



System Details

Mode of access: World Wide Web.




Format: Adobe EPUB eBook




Format: Kindle Book




Format: OverDrive Read




Requires Adobe Digital Editions or Amazon Kindle



Description

1 online resource



Bibliography Notes

Includes bibliographical references.



ISBN
9781627795296
9781627795296

Other
Classic View