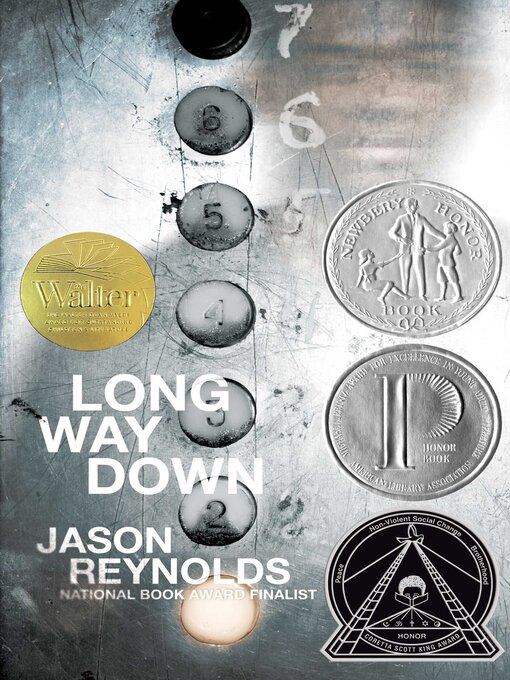 Long way down
Format:

Kindle Book

2017

2017

Adobe EPUB ebook

OverDrive Read

Availability:

Unavailable

0 of 1 copy
14 people on waitlist
Summary
There are three rules in the neighborhood: Don't cry ; Don't snitch ; Get revenge. Will takes his dead brother Shawn's gun, and gets in the elevator on the 7th floor. As the elevator stops on each floor, someone connected to Shawn gets on. Someone already dead. Dead by teenage gun violence. And each has something to share with Will.

Published Reviews
Booklist Review:
"*Starred Review* Spanning a mere one minute and seven seconds, Reynolds' new free-verse novel is an intense snapshot of the chain reaction caused by pulling a trigger. First, 15-year-old Will Holloman sets the scene by relating his brother Shawn's murder two days prior gunned down while buying soap for their mother. Next, he lays out The Rules: don't cry, don't snitch, always get revenge. Now that the reader is up to speed, Will tucks Shawn's gun into his waistband and steps into an elevator, steeled to execute rule number three and shoot his brother's killer. Yet, the simple seven-floor descent becomes a revelatory trip. At each floor, the doors open to admit someone killed by the same cycle of violence that Will's about to enter. He's properly freaked out, but as the seconds tick by and floors count down, each new occupant drops some knowledge and pushes Will to examine his plans for that gun. Reynolds' concise verses echo like shots against the white space of the page, their impact resounding. He peels back the individual stories that led to this moment in the elevator and exposes a culture inured to violence because poverty, gang life, or injustice has left them with no other option. In this all-too-real portrait of survival, Reynolds goes toe-to-toe with where, or even if, love and choice are allowed to exist. HIGH-DEMAND BACKSTORY: A noisy buzz always surrounds this critically acclaimed author's work, and the planned tour and promo campaign will boost this book's to a siren call.--Smith, Julia Copyright 2017 Booklist"
From Booklist, Copyright (c) American Library Association. Used with permission.
Publisher's Weekly Review:
"Will, 15, is following his neighborhood's well-established rules-don't cry, don't snitch, but do get revenge "if someone you love/ gets killed"-when he leaves his apartment, intent on killing whoever murdered his older brother, Shawn. He's emboldened by the gun tucked into his waistband: "I put my hand behind my back/ felt the imprint/ of the piece, like/ another piece/ of me/ an extra vertebra,/ some more/ backbone." As Will makes his way to the ground floor of his building, the elevator stops to accept passengers, each an important figure from his past, all victims of gun violence. Are these ghosts? Or is it Will's subconscious at work, forcing him to think about what he intends to do and what it will accomplish? The story unfolds in the time it takes for the elevator to descend, and it ends with a two-word question that hits like a punch to the gut. Written entirely in spare verse, this is a tour de force from a writer who continues to demonstrate his skill as an exceptionally perceptive chronicler of what it means to be a black teen in America. Ages 12-up. Agent: Elena Giovinazzo, Pippin Properties. (Oct.) © Copyright PWxyz, LLC. All rights reserved."
(c) Copyright PWxyz, LLC. All rights reserved
Additional Information