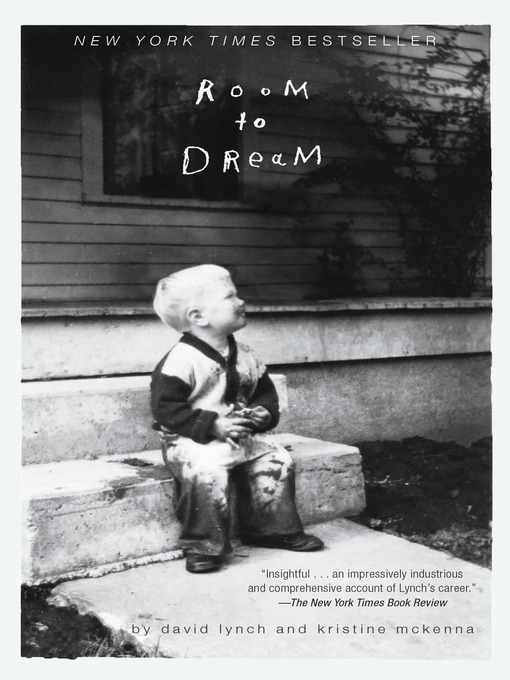 Room to dream
Format:

Kindle Book

2018

2018

Adobe EPUB ebook

OverDrive Read

Availability:

Available from OverDrive

1 of 2 copies
Summary
"The extraordinary, highly anticipated memoir from visionary filmmaker David Lynch In this memoir, David Lynch, co-creator of Twin Peaks and writer and director of groundbreaking films like Eraserhead, The Elephant Man, Blue Velvet and Mulholland Drive, opens up about a lifetime of extraordinary creativity, the friendships he has made along the way and the struggles he has faced--sometimes successful, sometimes not--to bring his projects to fruition. Part-memoir, part-biography, Room to Dream interweaves Lynch's own reflections on his life with the story of those times, as told by Kristine McKenna, drawing from extensive and explosive interviews with ninety of Lynch's friends, family members, actors, agents, musicians, and collaborators. Lynch responds to each recollection and reveals the inner story of the life behind the art"--

Contents
American pastoral
The art life
Smiling bags of death
Spike
The young American
Mesmerized
A suburban romance, only different
Wrapped in plastic
Finding love in Hell
People give up and then they go down
Next door to dark
A shot of white lightning and a chick
A slice of something
The happiest of happy endings
In the studio
My log is turning gold.
Published Reviews
Booklist Review:
"*Starred Review* As a personification of unconventionality, multimedia visionary David Lynch has combined memoir with biography to forge a strikingly multidimensional portrait of the artist. Coauthor McKenna, a journalist who has known Lynch for decades, presents the facts along with forthright recollections gleaned from extensive interviews with Lynch's family, ex-wives, friends, and colleagues. After each of her expository chapters, Lynch revisits the same time period, sharing his divergent memories and thoughts, thus creating an in-the-round view of his bucolic Idaho childhood, early and continued devotion to painting, and the mysterious occurrence that led him to movies. Multiple voices tell the mind-whirling stories behind Lynch's radically enigmatic, disquieting, covertly spiritual films, including crucial support from Mel Brooks for The Elephant Man (1980) and Dino De Laurentiis for Dune (1984) and Blue Velvet (1986), as well as the genesis of the different incarnations of Twin Peaks. Readers gain diverse perspectives on Lynch's sunny charisma, dark sensibility, receptivity to serendipity, painstaking craftsmanship, numerous relationships with women, deep rapport with actors, musical and photographic works, and long commitment to Transcendental Meditation. McKenna observes, the overarching theme in everything he's done is the issue of the dualities we live with and our efforts to reconcile them. An incandescently detailed and complexly enlightening chronicle of a fervent, uncompromising life devoted to pure creativity. --Seaman, Donna Copyright 2010 Booklist"
From Booklist, Copyright (c) American Library Association. Used with permission.
Publisher's Weekly Review:
"Filmmaker Lynch and coauthor McKenna both contribute their voices to this wonderfully entertaining audiobook about Lynch's life and his creative influences. The chapters alternate between first-person accounts from Lynch and more traditional biographical accounts written and read by McKenna. McKenna's reading style is clear and unembellished. She reads her portion of the book, which paints Lynch as a visionary artist whose creative genius is guided by a mix of intuition and impulsiveness, in a detached journalistic manner. Lynch hems and haws, often riffing on topics discussed in McKenna's chapters. His sections of the book are unpredictable yet strangely alluring as he moves breathlessly from one topic to the next. An anecdote about a meeting with comedian George Burns, for example, suddenly transforms into a discussion of the revival of Lynch's hit show Twin Peaks. In another section, he muses on the talents of actor Richard Farnsworth and then veers off into the adverse effects of genetically modified corn. While Lynch's sections no doubt steal the show, his entertaining style works in part because McKenna's sections give the book direction. A Random House hardcover. (June) © Copyright PWxyz, LLC. All rights reserved."
(c) Copyright PWxyz, LLC. All rights reserved
Additional Information