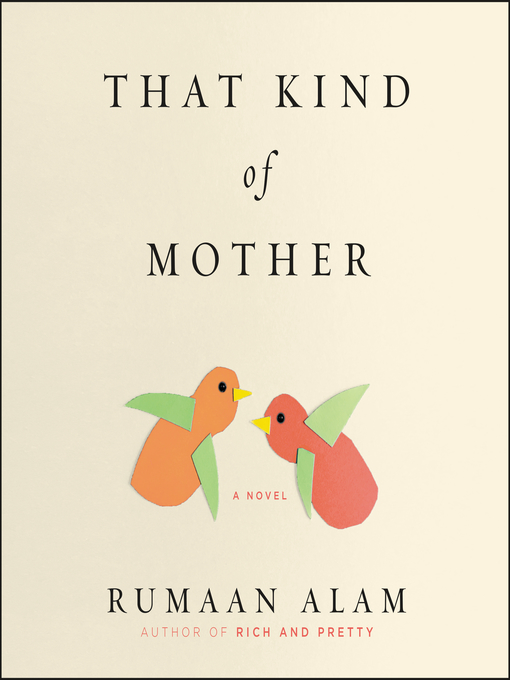 That kind of mother a novel
Format:

OverDrive MP3 Audiobook

2018

2018

OverDrive Listen

Availability:

Available from OverDrive

3 of 3 copies
Summary
"That Kind of Mother dives deep into big questions about parenthood, adoption, and race: Is mothering something learned, or that you're born to? How far can good intentions stretch? And most of all, can love can really overcome the boundaries of race and class? With his unerring eye for nuance and unsparing sense of irony, Rumaan Alam's second novel is both heartfelt and thought-provoking."--Celeste Ng, author of Little Fires Everywhere...From the celebrated author of Rich and Pretty, a novel about the families we fight to build and those we fight to keep...Like many first-time mothers, Rebecca Stone finds herself both deeply in love with her newborn son and deeply overwhelmed. Struggling to juggle the demands of motherhood with her own aspirations and feeling utterly alone in the process, she reaches out to the only person at the hospital who offers her any real help--Priscilla Johnson--and begs her to come home with them as her son's nanny. Priscilla's presence quickly does as much to shake up Rebecca's perception of the world as it does to stabilize her life. Rebecca is white, and Priscilla is black, and through their relationship, Rebecca finds herself confronting, for the first time, the blind spots of her own privilege. She feels profoundly connected to the woman who essentially taught her what it means to be a mother. When Priscilla dies unexpectedly in childbirth, Rebecca steps forward to adopt the baby. But she is unprepared for what it means to be a white mother with a black son. As she soon learns, navigating motherhood for her is a matter of learning how to raise two children whom she loves with equal ferocity, but whom the world is determined to treat differently. Written with the warmth and psychological acuity that defined his debut, Rumaan Alam has crafted a remarkable novel about the lives we choose, and the lives that are chosen for us"--

Published Reviews
Booklist Review:
"*Starred Review* Write what you know. This is one of the most common directives issued to writers, but Alam (Rich and Pretty, 2016) upends that old model in this quietly brilliant novel about motherhood, families, and race. Alam's protagonist, Rebecca Stone, unlike Alam, a gay man of Indian origin, is a white mother, yet his portrait is quite possibly the best peek at motherhood and its disorienting seesaw effects on a middle-class suburban woman that we have seen in a long while. Stone, the very definition of white privilege, is fumbling her way through motherhood when she makes an irrevocable, life-altering decision: to adopt a newly orphaned black baby. In narrating Rebecca's tale of gradual self-awareness, Alam's unerring yet unobtrusive eye asks uncomfortable questions: Can motherhood ever look beyond race? Can we learn to recognize the terrible blindness of our respective cultural perspectives? Even in seeking inspiration from Princess Diana, Rebecca proves to be an effective everywoman, quietly screaming at the cacophony that accompanies motherhood's thematic repetitions, while trying to do right by her husband and her sons as she navigates the loaded landscape of parenting and race in America. A stunning accomplishment.--Apte, Poornima Copyright 2018 Booklist"
From Booklist, Copyright (c) American Library Association. Used with permission.
Publisher's Weekly Review:
"Alam's second novel (following Rich and Pretty), an often incisive chronicle of an unconventional family, opens with the birth of poet Rebecca's first child, Jacob. In the hospital, the awed and rather intimidated new mother meets a proverbial savior, a pregnant nursing consultant named Priscilla, who becomes Rebecca's nanny. When Priscilla dies giving birth to her own child and her grown daughter, Cheryl, decides she cannot raise the child herself, the distraught and guilt-ridden Rebecca convinces her husband, Christopher, that they should adopt the child, a boy they name Andrew. Rebecca welcomes Cheryl into the life of her baby brother, but the husbands and parents of both Cheryl, who is black, and Rebecca, who is white, struggle to come to terms with the melding of the two families. Alam skillfully tackles issues of race and parenthood; in one searing scene, after Cheryl's husband is stopped by the police, Cheryl begs the bemused Rebecca to let them talk with Andrew about the perils faced by black men in America. While Rebecca's career as a prize-winning poet isn't convincing, readers will empathize with the herculean effort Rebecca puts into her vocation as a parent. The novel offers a memorable depiction of a mother's journey as her children grow and her marriage collapses. (May) © Copyright PWxyz, LLC. All rights reserved."
(c) Copyright PWxyz, LLC. All rights reserved
Additional Information