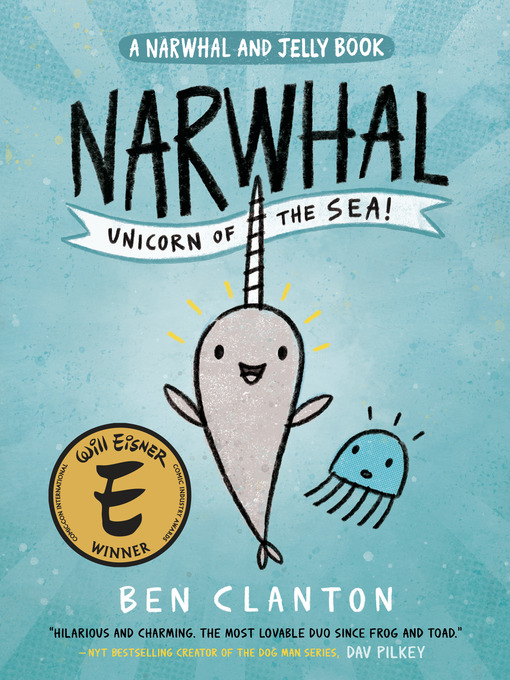 Narwhal unicorn of the sea
Format:

OverDrive Read

2016

2016

Availability:

Unavailable

0 of 3 copies
4 people on waitlist
Summary
Narwhal is a happy-go-lucky narwhal. Jelly is a no-nonsense jellyfish. The two might not have a lot in common, but they do they love waffles, parties and adventures. Join Narwhal and Jelly as they discover the whole wide ocean together.

Contents
Narwhal is really awesome
Narwhal's pod of awesomeness
Narwhal and the best book ever.
Published Reviews
Booklist Review:
"Cheerful Narwhal likes to make friends with other sea creatures, eat waffles, and have parties. Most young readers will know that narwhals don't really eat waffles, but that's okay. Narwhal makes friends with Jelly, a jellyfish, and in other stories they form their own pod with Shark, Turtle, Blowfish, and Octopus. Elsewhere, Narwhal and Jelly share the best book ever, in which they read the blank pages by creating their own fun stories with their imaginations. Teachers could use that part of the book as a class lesson, asking students to think about one of your favoritest things in the world. Clanton also provides readers with facts about real narwhals and jellyfish. He uses very simple panel arrangements, soft colors, a doodle-like drawing style, and just enough detail to identify the different characters, so new readers can easily follow along with the story. With easy-to-read panels, a cheery story, and even a few jokes for grown-ups to appreciate, this comical graphic novel will be a crowd-pleaser.--Kan, Kat Copyright 2016 Booklist"
From Booklist, Copyright (c) American Library Association. Used with permission.
Publisher's Weekly Review:
"Clanton (Something Extraordinary) introduces an imaginative and self-confident narwhal in a bubbly trio of comics. In the first story, Narwhal befriends Jelly, a jellyfish, even though Jelly has never met a narwhal and Narwhal has never met a jellyfish. "What is up with that horn?" asks a frowning Jelly. "It's actually more of a tusk-tooth," Narwhal replies good-naturedly. Clanton outlines his heroes in rough pencil and colors them digitally-Narwhal resembles a floating comma, Jelly a semicircle with dangly tentacles-creating a loose, off-the-cuff aquatic environment. The cast grows in the second tale as Narwhal amasses an eclectic pod of sea creatures who grin broadly as they get their honorary narwhal horns (sorry, tusk-teeth). Bantering dialogue entertains throughout, but the book's best moment might belong to the third story, when Narwhal lends Jelly his "favorite book in the whole wide water," which is blank (Clanton gives the joke maximum impact by including two blank pages). "It's an imagination book, Jelly!" Narwhal explains. Readers ready for underwater goofiness of the non-SpongeBob variety will be eager for more adventures from this duo. Ages 6-9. Agent: Marietta Zacker, Gallt & Zacker Literary. (Oct.) © Copyright PWxyz, LLC. All rights reserved."
(c) Copyright PWxyz, LLC. All rights reserved
Additional Information