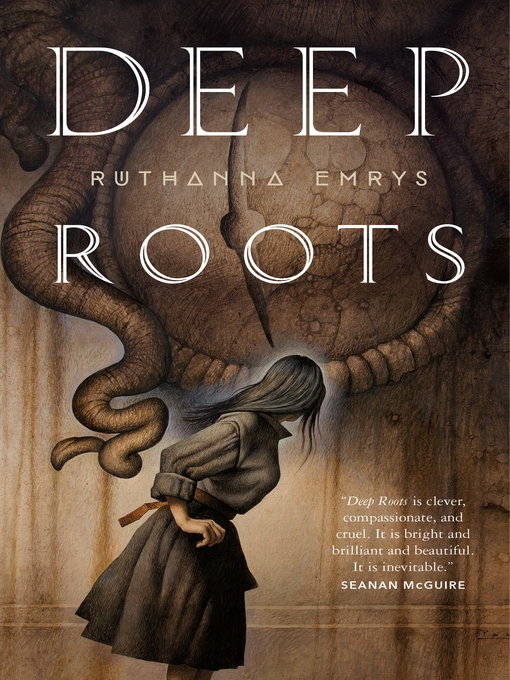 Deep roots
Format:

Kindle Book

2018

2018

Adobe EPUB ebook

OverDrive Read

Availability:

Available from OverDrive

1 of 1 copy
Summary
"Wicked for the Cthulhu Mythos" —Seanan McGuire on the Innsmouth LegacyA finalist for the Locus Award for Best Fantasy Novel and the Dragon Award for Best Fantasy NovelRuthanna Emrys' Innsmouth Legacy, which began with Winter Tide and continues with Deep Roots, confronts H. P. Lovecraft's Cthulhu Mythos head-on, boldly upturning his fear of the unknown with a heart-warming story of found family, acceptance, and perseverance in the face of human cruelty and the cosmic apathy of the universe. Emrys brings together a family of outsiders, bridging the gaps between the many people marginalized by the homogenizing pressure of 1940s America.Aphra Marsh, descendant of the People of the Water, has survived Deep One internment camps and made a grudging peace with the government that destroyed her home and exterminated her people on land. Deep Rootscontinues Aphra's journey to rebuild her life and family on land, as she tracks down long-lost relatives. She must repopulate Innsmouth or risk seeing it torn down by greedy developers, but as she searches she discovers that people have been going missing. She will have to unravel the mystery, or risk seeing her way of life slip away.The Innsmouth LegacyBook 1: Winter TideBook 2: Deep RootsAt the Publisher's request, this title is being sold without Digital Rights Management Software (DRM) applied.

Published Reviews
Booklist Review:
"Aphra Marsh of Winter Tide (2017) is back, continuing her search for others of her scattered people who will return to and live in their home town of Innsmouth before it is taken over by developers. Marsh's goal is not accomplished easily, and she is confronted by a cousin, Freddy, who is friends with an old enemy, the Outer Ones. Freddy, because of his friendship with the Outer Ones, does not want to listen to Marsh's warnings nor abandon his friends, even though he has begun to physically change as people of the sea do. Marsh must navigate the needs of her people and the Outer Ones' hold over Freddy and the Earth as well as the fact that her people are disappearing. Once more, Emrys is true to the the world of Lovecraft, and fans will appreciate her attentiveness to the Cthulhu mythos even as she takes the world and flips it on its head to fit her needs. Deep Roots is a marvel of a fantasy novel, with monsters fighting for their very existence and a place to call their own.--Whitmore, Emily Copyright 2010 Booklist"
From Booklist, Copyright (c) American Library Association. Used with permission.
Publisher's Weekly Review:
"Emrys extends her homage to H.P. Lovecraft's "The Shadow Over Innsmouth," begun in Winter Tide, with this absorbing continuation of that tale's treatment of cultural identities in conflict. Aphra Marsh, a descendent of amphibious folk who were routed by the Feds from their hometown of Innsmouth in 1929, returns to team up with FBI agent Ron Spector and his investigative team in Brooklyn, this time to track down runaway Freddy Laverne, a teenager whose developing "Innsmouth look" betrays his heritage. For Aphra, Freddy represents a hope for rebuilding Innsmouth and sustaining her people's bloodline. But Freddy has been seduced to the cause of the Outer Ones, otherworldly visitors whose cryptic plans to "save what can be saved of humanity" portend dire consequences for all Earth-inhabiting races. Emrys sets her tale in 1949, in the wake of World War II, and presents Aphra's poignant quest to save her race in the context of that era's many displaced persons and cultures. Fans will enjoy her numerous subtle references to Lovecraft's stories and her dexterous use of his tales' set pieces for her own imaginative goals. Agent: Cameron McClure, Donald Maass Literary. (July) © Copyright PWxyz, LLC. All rights reserved."
(c) Copyright PWxyz, LLC. All rights reserved
Additional Information