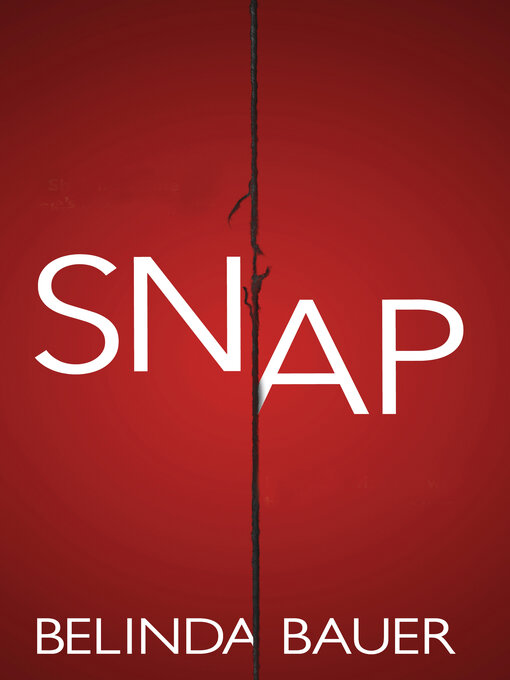 Snap
Format:

Kindle Book

2018

2018

Adobe EPUB ebook

OverDrive Read

Availability:

Available from OverDrive

1 of 2 copies
Summary
"From award-winning crime writer Belinda Bauer, "the true heir to the great Ruth Rendell" [Mail on Sunday (UK)], Snap is a gripping novel about a teenage boy's hunt for his mother's killer. Jack's in charge, said his mother as she disappeared up the road to get help. I won't be long. Now eleven-year-old Jack and his two sisters wait on the hard shoulder in their stifling, broken-down car, bickering and whining and playing I-Spy until she comes back. But their mother doesn't come back. She never comes back. And after that long, hot summer's day, nothing will ever be the same again. Three years later, Jack's fifteen now and still in charge . . . alone in the house. Meanwhile across town, a young woman called Catherine While wakes to find a knife beside her bed, and a note reading I could of killed you. The police are tracking a mysterious burglar they call Goldilocks, for his habit of sleeping in the beds of the houses he robs, but Catherine doesn't see the point of involving the police. And Jack, very suddenly, may be on the verge of finding out who killed his mother. A twisty, masterfully written novel that will have readers on the edge of their seats, Snap is Belinda Bauer at the height of her powers"--

Published Reviews
Booklist Review:
"*Starred Review* Bauer secures her place as a star in the British psychological-suspense firmament with this tightly written tale of Jack, a young boy who turns to crime after his mother's brutal murder. Jack and his two sisters, Joy and baby Merry, are left alone twice first, when their mother's car breaks down on the M5 motorway and she leaves them to find help, and again, three years later, when their father abandons the children, unable to cope with his grief. At 11 years old, Jack is now the man of the house, left to steal items he can sell to a petty-crime ringleader for cash to support his younger sisters. They get by just under the radar, but Joy is mentally unstable, Merry is unschooled, and the whole house is buried under thousands of newspapers that Joy scours for mentions of the unsolved crime that ruined their lives. When Jack is convinced he's found the weapon used to murder his mother in a home he's burgling, his already unraveling life descends further into chaos. Bauer's characters (including DCI John Marvel, who has appeared in some of her previous novels) are richly drawn and her plotting is impeccable. Even the most bizarre circumstances and red herrings make perfect sense. Readers who miss Ruth Rendell are sure to become fast Bauer fans.--Vnuk, Rebecca Copyright 2018 Booklist"
From Booklist, Copyright (c) American Library Association. Used with permission.
Publisher's Weekly Review:
"The gripping opening of this uneven thriller from Bauer (The Beautiful Dead) finds 11-year-old Jack Bright and his two younger sisters left in a car on a British motorway by their mother, Eileen, after a breakdown one summer day in 1998. Losing patience, Jack ventures out of the car in search of his mother only to find a phone booth with a receiver left dangling off the hook. When the police eventually rescue the three siblings, Jack learns that his mother's call for assistance was recorded, but her words were cut off abruptly after she reported that someone in a car was pulling over to help her. Eileen is later found stabbed to death. In 2001, pregnant Catherine While scares off a stranger who breaks into her West Country home; later, she finds a knife next to a birthday card her mother sent her. The message in the card had been crossed out and replaced with the words "I could have killed you." The plot lines predictably overlap, but in a way that feels contrived. Bauer fans will hope for a return to form next time. Agent: Jane Gregory, Gregory & Co. (U.K.). (July) © Copyright PWxyz, LLC. All rights reserved."
(c) Copyright PWxyz, LLC. All rights reserved
Additional Information