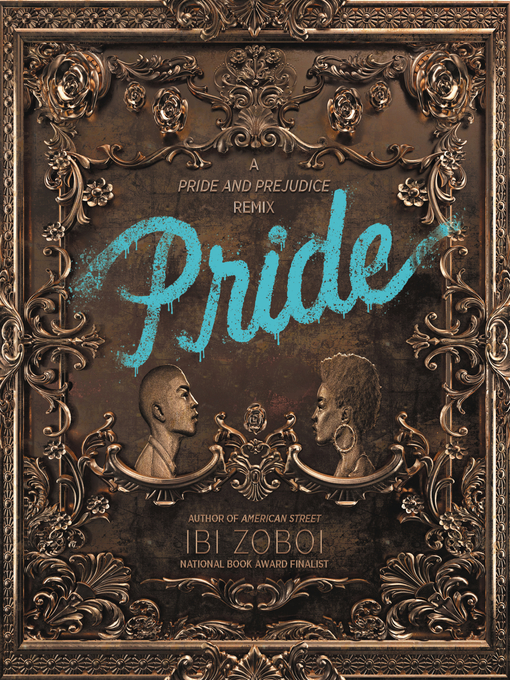 Pride
Format:

OverDrive MP3 Audiobook

2018

2018

OverDrive Listen

Availability:

Available from OverDrive

3 of 5 copies
Summary
Pride and Prejudice gets remixed in this smart, funny, gorgeous retelling of the classic, starring all characters of color, from Ibi Zoboi, National Book Award finalist and author of American Street.Zuri Benitez has pride. Brooklyn pride, family pride, and pride in her Afro-Latino roots. But pride might not be enough to save her rapidly gentrifying neighborhood from becoming unrecognizable. When the wealthy Darcy family moves in across the street, Zuri wants nothing to do with their two teenage sons, even as her older sister, Janae, starts to fall for the charming Ainsley. She especially can't stand the judgmental and arrogant Darius. Yet as Zuri and Darius are forced to find common ground, their initial dislike shifts into an unexpected understanding.But with four wild sisters pulling her in different directions, cute boy Warren vying for her attention, and college applications hovering on the horizon, Zuri fights to find her place in Bushwick's changing landscape, or lose it all. In a timely update of Jane Austen's Pride and Prejudice, critically acclaimed author Ibi Zoboi skillfully balances cultural identity, class, and gentrification against the heady magic of first love in her vibrant reimagining of this beloved classic.

Published Reviews
Booklist Review:
"Zoboi's debut, American Street (2017), garnered critical acclaim as a National Book Award finalist and Booklist's 2017 Top of the List pick. Now she returns with a razor-sharp remix of Jane Austen's Pride and Prejudice that deals in gentrification, racism, love, culture, and heritage, all helmed by intelligent teens in New York's Bushwick neighborhood. From the first sentence, It is a truth universally acknowledged that when rich people move into the hood . . . , the reader can anticipate a creative, clever retelling. All the key elements of Austen's beloved literary tome are here, from the five Benitez sisters, with differing opinions on love and dating, to Darius Darcy, the mysterious (and gorgeous) rich boy who just moved in across the street. Zuri Benitez pops with confidence, poetry, and, naturally, pride, and her transformation during the story will click with modern teens and culturally diverse readers, in particular. Afro-Latino and African American elements pulse throughout Zoboi's fresh, imaginative, and honest rendition of a timeless classic, giving its enduring themes renewed relevance and appeal.--Florence Simmons Copyright 2018 Booklist"
From Booklist, Copyright (c) American Library Association. Used with permission.
Publisher's Weekly Review:
""It's a truth universally acknowledged that when rich people move into the hood... the first thing they want to do is clean it up," begins this Pride and Prejudice retelling that stands solidly on its own while cleverly paralleling Austen's classic about five economically challenged sisters. In the role of sharp-tongued Lizzie Bennett is Zuri Benitez, who loves her family, her Haitian-Dominican heritage, and her ethnically diverse neighborhood: Brooklyn's Bushwick. She's less excited about the prospect of the neighborhood gentrifying, but the arrival of the handsome, wealthy black Darcy brothers, who move into a newly renovated mini-mansion on her block, catalyzes a plot studded with detailed nuances of culture clash. An ambitious poet with dreams of Howard University, Zuri (the family's "hard candy shell, the protector") fights her attraction to the younger Darius as her older sister, Janae, is swept up in Ainsley's attentions. Zoboi (American Street) skillfully depicts the vicissitudes of teenage relationships, and Zuri's outsize pride and poetic sensibility make her a sympathetic teenager in a contemporary story about race, gentrification, and young love. Ages 13-up. Agent: Ammi-Joan Paquette, Erin Murphy Literary. (Sept.) © Copyright PWxyz, LLC. All rights reserved."
(c) Copyright PWxyz, LLC. All rights reserved
Additional Information