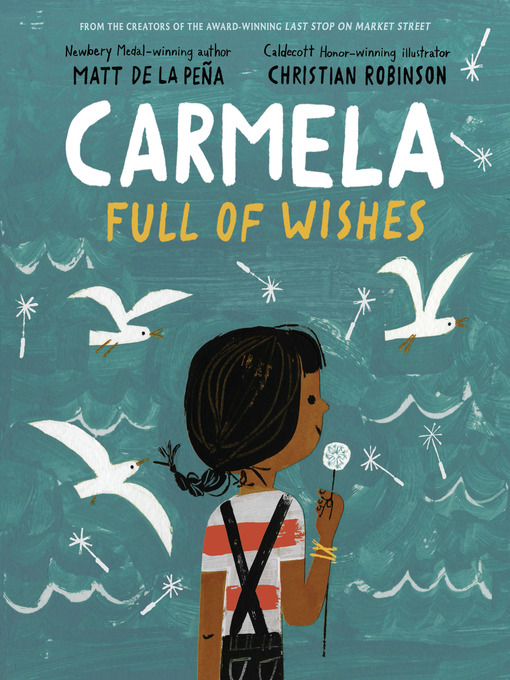 Carmela full of wishes
Format:

Kindle Book

2018

2018

OverDrive Read

Availability:

Unavailable

0 of 1 copy
Summary
Carmela, finally old enough to run errands with her brother, tries to think of the perfect wish, while his wish seems to be that she stayed home.

Published Reviews
Booklist Review:
"Carmela is excited for birthday pancakes and jingling and jangling bracelets as a gift. Best of all, she's now old enough to accompany her brother on her scooter to the laundromat, the bodega, and the locksmith. Carmela's sibling is disgruntled with her company, and he finds her noisy jewelery annoying. When she picks a dandelion that's gone to seed, he impatiently explains she should make a wish before blowing on it: Everyone knows that. While considering what to wish, the young girl holds her prize securely until there's an accident. Carmela sadly believes she's lost her chance to make things better for her family her mother is a hotel housekeeper and her father is waiting to get his papers fixed so he could finally be home. Big brother comes to the rescue by giving her the opportunity for a multitude of wishes. The acrylic paint, collage, and digitalized illustrations offer plenty of color and details to entertain children as even the youngest member of this close-knit Hispanic family does her part to improve their lives.--Maryann Owen Copyright 2018 Booklist"
From Booklist, Copyright (c) American Library Association. Used with permission.
Publisher's Weekly Review:
"It's Carmela's birthday, and she's finally old enough to accompany her big brother on his errands. On their way to the laundromat, Carmela finds a puffy white dandelion to blow. De la Peña captures with a fine ear the tone of their sibling dialogue: "Did you even make a wish?" her brother asks scornfully. With delicious inspiration, Robinson renders the wishes Carmela considers as papel picado decorations like those hung for her birthday. She wishes for a candy machine; she wishes her mother could sleep in one of the hotel beds she makes every day; she wishes her father could get his papers fixed "so he could finally be home." Carmela jingles her bracelets: "Why do you have to be so annoying?" her brother snaps. "It's a free country!" she retorts. But when she takes a tumble, crushing her dandelion, his impatience melts-"You okay?"-and they share a magical wish-making moment. The award-winning team behind Last Stop on Market Street portrays Carmela's Spanish-speaking community as a vibrant place of possibility, and Robinson's acrylic-and-cutout spreads introduce readers to street vendors, workers in the fields, and sweeping views of the sea. Sensitively conceived and exuberantly executed, Carmela's story shines. Ages 4-8. Author's and illustrator's agent: Steven Malk, Writers House. (Oct.) © Copyright PWxyz, LLC. All rights reserved."
(c) Copyright PWxyz, LLC. All rights reserved
Additional Information