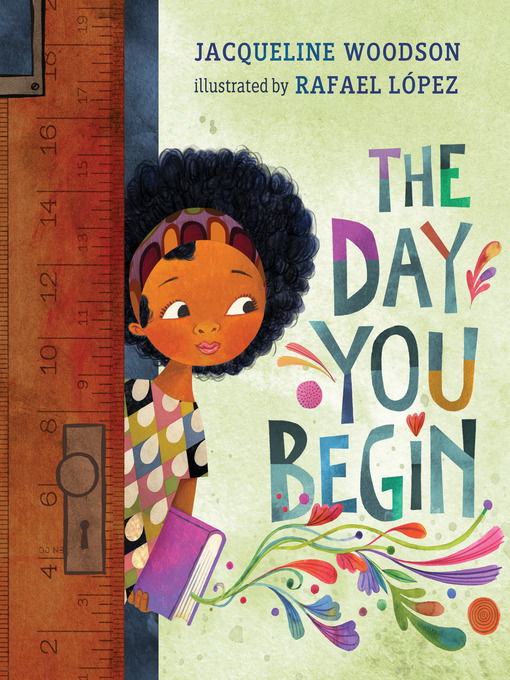 The day you begin
Format:

OverDrive Read

2018

2018

Availability:

Unavailable

0 of 1 copy
10 people on waitlist
Summary
Other students laugh when Rigoberto, an immigrant from Venezuela, introduces himself but later, he meets Angelina and discovers that he is not the only one who feels like an outsider.

Published Reviews
Booklist Review:
"A girl with honey-brown skin and curly hair waits outside a classroom: There will be times when you walk into a room and no one there is quite like you. The omniscient narrator continues that sometimes others won't understand your words or might turn up their noses at your lunch. But then a small thing say, you and a classmate have siblings who share the same name changes everything up. Woodson catches the uncertainty, even fear, that comes with new situations. But her lyrical language also captures the moment when confidence sparks and friendships are born. In one instance, the girl feels different because her classmates have brought souvenirs from their travels to France, India, and South Carolina, while she stayed home and read books. Of course, books can take you anywhere, a point well made, though not all readers will relate to the idea of far-flung travel. The bold, bright artwork features a diverse cast of kids, all with huge eyes. The important message plays out in a striking design that mixes the everyday with flights of fancy. HIGH-DEMAND BACKSTORY: Woodson, a recent National Ambassador for Young People's Literature, is one of kidlit's brightest stars, and this should find lots of eager hands.--Ilene Cooper Copyright 2018 Booklist"
From Booklist, Copyright (c) American Library Association. Used with permission.
Publisher's Weekly Review:
"Woodson (Brown Girl Dreaming) imagines being "an only" in the classroom-what it's like to be the only one with an accent ("No one understands the way words curl from your mouth"), the only one who stayed home during summer vacation ("What good is this/ when other students were flying/ and sailing"), the only one whose lunch box is filled with food "too strange or too unfamiliar for others to love as you do." Without prescribing sympathy, Woodson's poetic lines give power to each child's experience. She describes the moment when the girl who didn't go on vacation speaks her truth, her "voice stronger than it was a minute ago." She has cared for her sister all summer, she tells her classmates, reading and telling stories: "Even though we were right on our block it was like/ we got to go EVERYWHERE." And "all at once" in the seconds after sharing one's story, something shifts, common ground is revealed, and "the world opens itself up a little wider/ to make some space for you." López (Drum Dream Girl) paints the book's array of children as students in the same classroom; patterns and colors on the children's clothing and the growing things around them fill the spreads with life. Woodson's gentle, lilting story and López's artistry create a stirring portrait of the courage it takes to be oneself: "There will be times when you walk into a room and no one there is quite like you until the day you begin/ to share your stories." Ages 5-8. Author's agent: Kathleen Nishimoto, William Morris Endeavor. Illustrator's agent: Stefanie Von Borstel, Full Circle. (Aug.) © Copyright PWxyz, LLC. All rights reserved."
(c) Copyright PWxyz, LLC. All rights reserved
Additional Information