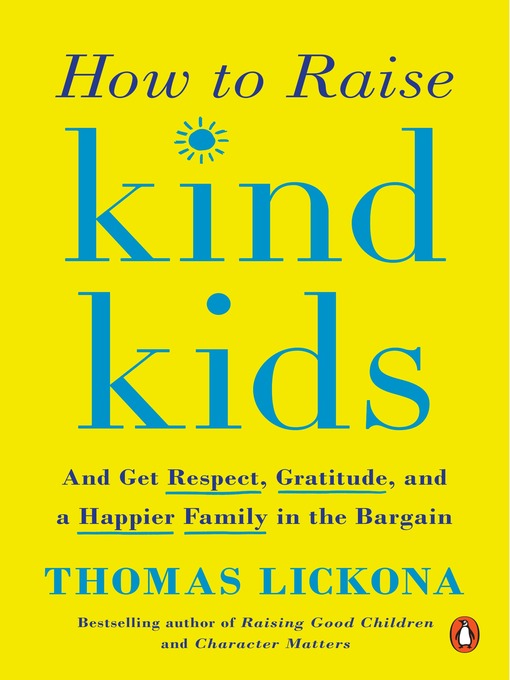 How to raise kind kids and get respect, gratitude, and a happier family in the bargain
Format:

Kindle Book

2018

2018

Adobe EPUB ebook

OverDrive Read

Availability:

Available from OverDrive

1 of 1 copy
Summary
"Can you teach a child to be kind? This vital question is taking on a new urgency as our culture grows ever more abrasive and divided. We all want our kids to be kind. But that is not the same as knowing what to do when you catch your son being unkind. A world-renowned developmental psychologist, Dr. Thomas Lickona has led the character education movement in schools for forty years. Now he shares with parents the vital tools they need to bring peace and foster cooperation at home. Kindness doesn't stand on its own. It needs a supporting cast of other essential virtues--like courage, self-control, respect, and gratitude. With concrete examples drawn from the many families Dr. Lickona has worked with over the years and clear tips you can act on tonight, How to Raise Kind Kids will help you give and get respect, hold family meetings to tackle persistent problems, discipline in a way that builds character, and improve the dynamic of your relationship with your children while putting them on the path to a happier and more fulfilling life"--

Contents
Why kindness matters
Does our culture cultivate kindness?
Kids' capacity for kindness
and cruelty
is there from the start
How to create a positive family culture: 6 key principles
10 essential virtues that help kids be kind
Respect and fairness
Discipline: what's in your toolbox?
Family meetings: working together to create a happier family
Getting control of screens
How to help your kids develop good habits (and break bad ones)
How to talk about things that matter
Cut the complaining! 10 ways to teach and practice gratitude
Using stories to teach kindness and other virtues
Schools that cultivate kindness
How to help your kids avoid the dangers of a hypersexualized culture
and find true love.
Published Reviews
Booklist Review:
"This latest from best-selling author Lickona (Character Matters, 2004) will be popular in parenting sections. Although Lickona is a respected academic, this book is ideal for all parents wondering how to compete with cultural factors that make raising kind kids a challenge.He presents those barriers that hinder kindness in our society a toxic political culture, entitlement, an overdose of screen time, and the sexualizing of culture and children and discusses them in depth. For example, the discussion of pornography may feel disarming to many parents; fortunately, there are very practical ways to address it with both boys and girls.After laying out the issues, Lickona creates a path toward teaching kindness, starting in the home and branching outward. In addition to supplying ways to teach the 10 virtues that lead to kindness, he offers lists of activities, conversation starters, and practical suggestions to put these ideals in place.This will be a useful read for any parents, including homeschoolers, regardless of their secular or theological curriculum or approach to parenting.--McIntosh, Joyce Copyright 2018 Booklist"
From Booklist, Copyright (c) American Library Association. Used with permission.
Publisher's Weekly Review:
"Lickona (Raising Good Children) offers practical if old-fashioned advice about raising kids with good character amid an increasingly politically toxic and entitled cultural context. Parents will be heartened by studies showing that kindness--a concern for the happiness of others, driven by goodness-is a human capacity from an early age. However, Lickona's alarmist just-say-no attitudes toward the challenges of electronic device use and teen sexuality limit his work's applicability to 21st-century problems. Similarly, one of his preferred teaching methods, stories with moral messages like the Narnia series, will be too heavy-handed for many modern kids. A long list of conversation starters for families feels significantly more timeless, and the author's general call to be more present for the other people in one's life would be well-heeded. Lickona does not throw much of a lifeline to families in crisis, but he projects a strong attitude, supported by a solid toolbox of ideas, to make kindness and its associated virtues a daily presence in homes and schools from the start, and to tweak already functional families into becoming the best people they can be. Agent: Robin Straus, Robin Straus Agency. (Apr.) © Copyright PWxyz, LLC. All rights reserved."
(c) Copyright PWxyz, LLC. All rights reserved
Additional Information