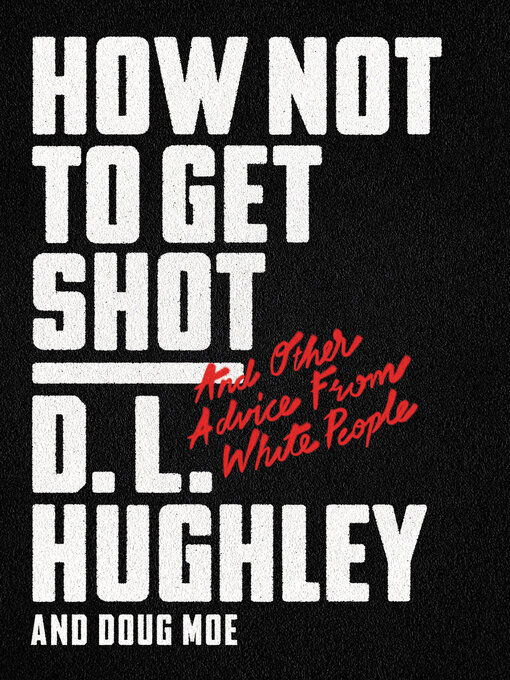 How not to get shot And other advice from white people
Format:

Kindle Book

2018

2018

Adobe EPUB ebook

OverDrive Read

Availability:

Available from OverDrive

2 of 2 copies
Summary
200 years ago, white people told black folks, "'I suggest you pick the cotton if you don't like getting whipped." Today, it's "comply with police orders if you don't want to get shot." Now legendary comedian/activist D. L. Hughley confronts and remixes white people's "advice" in this "satirical but apt addition to the culture's fraught conversation about race" (New York Times Book Review)In America, a black man is three times more likely to be killed in encounters with police than a white guy. If only he had complied with the cop, he might be alive today, pundits say in the aftermath of the latest shooting of an unarmed black man. Or, Maybe he shouldn't have worn that hoodie ... or, moved more slowly ... not been out so late ... Wait, why are black people allowed to drive, anyway? This isn't a new phenomenon. White people have been giving "advice" to black folks for as long as anyone can remember, telling them how to pick cotton, where to sit on a bus, what neighborhood to live in, when they can vote, and how to wear our pants. Despite centuries of whites' advice, it seems black people still aren't listening, and the results are tragic.Now, at last, activist, comedian, and New York Times bestselling author D. L. Hughley offers How Not to Get Shot, an illustrated how-to guide for black people, full of insight from white people, translated by one of the funniest black dudes on the planet. In these pages you will learn how to act, dress, speak, walk, and drive in the safest manner possible. You also will finally understand the white mind. It is a book that can save lives. Or at least laugh through the pain.Black people: Are you ready to not get shot! White people: Do you want to learn how to help the cause? Let's go!

Published Reviews
Publisher's Weekly Review:
"Comedian Hughley (Black Man, White House) pulls no punches in this caustic, maddening, and hilarious examination of the current state of race relations in the United States. Hughley observes how often black people are killed by police in the U.S. and pairs the often sanctimonious advice from clueless white people on ways to avoid such a fate (e.g., don't break the law, don't dress like a thug) with equally ridiculous advice from African-Americans (e.g., always drive with a white male friend, only wear khakis and a polo shirt). It's an effective way to highlight not only police brutality against African-Americans but also the casual racism of those who remain indifferent to or dismissive of the problem. Hughley is frequently funny in these pages, but he's not playing solely for laughs-in addition to lists of "'black names' with white alternatives" (Jada correlates to Kellyanne Conway), he debunks myths and misleading statistics about single-parent households in black communities and the effectiveness of body cameras at reducing police violence. Hughley's well-honed humor is filled with uncomfortable truths. (June) © Copyright PWxyz, LLC. All rights reserved."
Additional Information