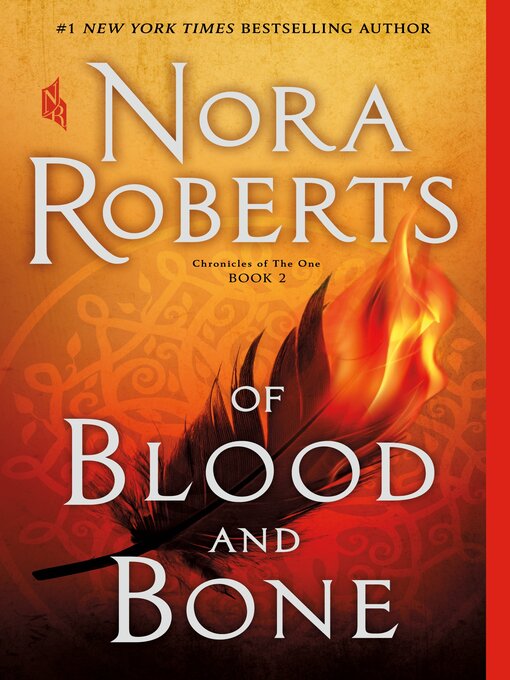 Of blood and bone
Format:

Kindle Book

2018

2018

Adobe EPUB ebook

OverDrive Read

Availability:

Available from OverDrive

1 of 3 copies
3 people on waitlist
Summary
"Fallon Swift, approaching her thirteenth birthday, barely knows the world that existed before--the city where her parents lived, now in ruins and reclaimed by nature since the Doom sickened and killed billions...[T]he time is coming when her true nature, her identity as The One, can no longer be hidden. In a mysterious shelter in the forest, her training is about to begin under the guidance of Mallick, whose skills have been honed over centuries. She will learn the old ways of healing; study and spar; encounter faeries and elves and shifters; and find powers within herself she never imagined. And when the time is right, she will take up the sword, and fight. For until she grows into the woman she was born to be, the world outside will never be whole again"--From publisher's description.

Published Reviews
Booklist Review:
"Ever since the virus Doom decimated most of the world's population more than a decade ago, the world has been waiting for someone to stop the madness. Now it seems fate has chosen Fallon Swift as its savior. On her thirteenth birthday, Fallon must leave her family her stepfather, Simon; her mother, Lana; and her stepbrothers behind and train with sorcerer Mallick to become The One: the person whose magical gifts can unite the forces of good left in the world to defeat the powers of darkness. So, no pressure on Fallon! With book two in her The One trilogy, following Year One (2017), Roberts successfully marshals her flair for crafting compelling characters and her skill at imaginative world building, on both a micro domestic scale and a macro dystopian global scale, to create a spellbinding story that will definitely delight her longtime fans as well as pique the interest of fantasy readers, who will want to see what she brings to their genre's literary table as she continues this exciting and relevant series. HIGH-DEMAND BACKSTORY: As always with Roberts, a massive print run, major marketing campaign, and enormous readership mean that no one needs otherworldly powers to predict that stocking this sure best-seller in multiples is the way to go.--John Charles Copyright 2018 Booklist"
From Booklist, Copyright (c) American Library Association. Used with permission.
Publisher's Weekly Review:
"Roberts's fun follow-up to 2017's Year One focuses on the training phase of mankind's chosen savior, 13-year-old Fallon Swift. After most of the world's population dies from a virus known as The Doom, people called Uncannys develop magical powers and separate into good and evil factions. Fallon's mother, Lana, is told by a man named Mallick that Fallon is destined to train with him for two years, beginning on her 13th birthday, to prepare for her role. Fallon decides to leave her family and moves with Mallick to an undisclosed location to hone her magic and fighting skills. While this isn't particularly new territory-a reluctant heroine butting heads with her square mentor, a series of quests to prove the heroine worthy, a meet-cute with a boy who will obviously play a greater role in her life-Roberts is a natural storyteller, and the narrative is consistently enjoyable. Fallon's training culminates with her attempts to raise an army, and an opportunity for her to save her mother's old pals and their kids in the colony of New Hope, which is targeted by evil Uncannys. Though it's the middle book in a planned trilogy, this can be read on its own and will appeal to fans of fast-paced dystopian tales with a strong heroine. 1,000,000-copy announced first printing. (Dec.) © Copyright PWxyz, LLC. All rights reserved."
(c) Copyright PWxyz, LLC. All rights reserved
Additional Information