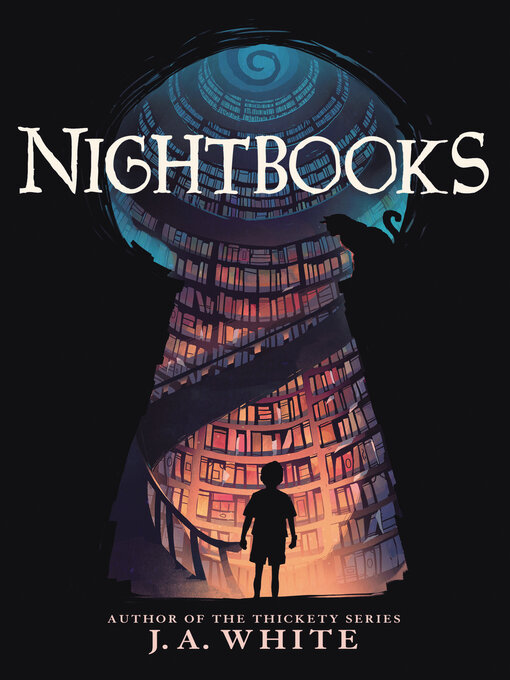 Nightbooks
Format:

Kindle Book

2018

2018

Adobe EPUB ebook

OverDrive Read

Availability:

Unavailable

0 of 1 copy
1 person on waitlist
Summary
Imprisoned by Natacha, a witch, in a New York apartment, Alex must tell her a new scary story every night in order to stay alive.

Published Reviews
Booklist Review:
"White leaves the dangerous forest of his Thickety series for an unassuming but equally perilous setting in his newest endeavor. Horror-buff Alex has always been kept at arm's length by his peers, and late one night, he decides he's through with not fitting in. To kick off his campaign for normalcy, he sneaks out of his apartment to burn his nightbooks, journals where he writes nightmarish short stories. On his way to the furnace, Alex is inexplicably drawn to another apartment, where he becomes magically imprisoned by the witch Natacha. Assured that escape is impossible and surviving is far from guaranteed, Alex buys time by reading to story-hungry Natacha from his nightbooks each evening. A tense and creepy atmosphere shrouds this intriguing blend of Baba Yaga and Shahrazad, but intrepid readers will revel in the enchanted apartment's secrets and whimsical touches, such as Natacha's grumpy feline familiar. As Alex plots escape, he bonds with fellow prisoner Yasmin, permitting kindness, self-confidence, and bravery to sprout in their dangerous confines. Readers who prefer their magic dark will be spellbound.--Smith, Julia Copyright 2018 Booklist"
From Booklist, Copyright (c) American Library Association. Used with permission.
Publisher's Weekly Review:
"In this clever synthesis of One Thousand and One Nights and "Hansel and Gretel," a boy captured by a witch must tell a different spooky story every night if he wishes to stay alive long enough to escape her clutches. But even though he has notebooks full of nightmare-inspired tales, Alex needs to come up with new material to appease his captor, whose impossibly large apartment is filled with lurking terrors. He finds a reluctant ally in Yasmin, a fellow captive, but even she may not be able to help him outwit the witch and return to the real world. Too bad he's suffering from writer's block. White (the Thickety series) skillfully interweaves Alex's peril with the stories he tells, which possess a juvenile gotcha horror in their own right. (Possessed teddy bears, ghost-filled playgrounds, and vampires who steal reflections all make appearances.) The blend of folk and fairy tale elements works extremely well under the circumstances, and the protagonists share an enjoyable camaraderie as they attempt to thwart their common enemy. Despite the dark premise, the narrative never quite crosses the line into horror, making it a safe bet for younger readers. Agent: Alexandra Machinist, ICM Partners. Ages: 8-12. (July) © Copyright PWxyz, LLC. All rights reserved."
(c) Copyright PWxyz, LLC. All rights reserved
Additional Information