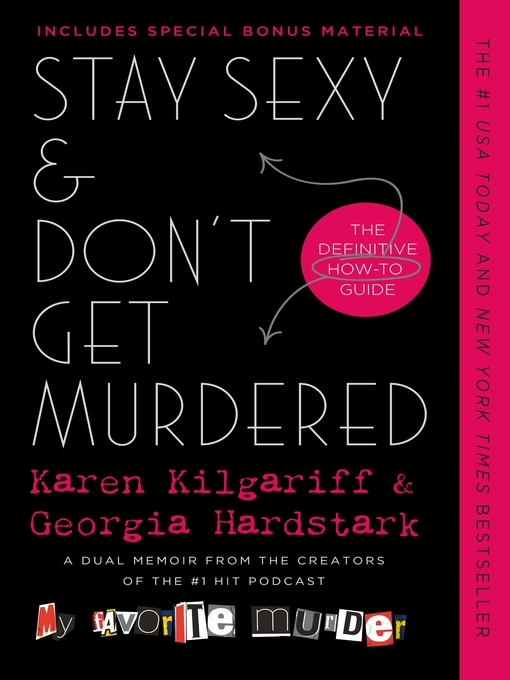 Stay sexy & don't get murdered The Definitive How-To Guide
Format:

Kindle Book

2019

2019

Adobe EPUB ebook

OverDrive Read

Availability:

Available from OverDrive

5 of 9 copies
1 person on waitlist
Summary
The highly anticipated first book by Karen Kilgariff and Georgia Hardstark, the voices behind the #1 hit podcast My Favorite Murder!Sharing never-before-heard stories ranging from their struggles with depression, eating disorders, and addiction, Karen and Georgia irreverently recount their biggest mistakes and deepest fears, reflecting on the formative life events that shaped them into two of the most followed voices in the nation.In Stay Sexy & Don't Get Murdered, Karen and Georgia focus on the importance of self-advocating and valuing personal safety over being 'nice' or 'helpful.' They delve into their own pasts, true crime stories, and beyond to discuss meaningful cultural and societal issues with fierce empathy and unapologetic frankness."My Favorite Murder started as a way for Karen Kilgariff and Georgia Hardstark to work through their fears. Now it's a worldwide community.... Even its darkest moments are lightened by Karen and Georgia's effortlessly funny banter and genuine empathy." —RollingStone.comAt the Publisher's request, this title is being sold without Digital Rights Management Software (DRM) applied.

Published Reviews
Booklist Review:
"Kilgariff and Hardstark, hosts of the true-crime comedy podcast My Favorite Murder, first bonded over a shared love of murder and self-help guru Brené Brown-inspired vulnerability. Their joint memoir leans more toward the latter, but, as fans of the podcast know, the two topics are inseparable, united by a fascination with human behavior. Framed by maxims learned while talking about horrific crimes (like Fuck Politeness, You're in a Cult, Call Your Dad, and Stay out of the Forest ), the essays are about misspent youth, self-esteem, self-care, and generally how to live in this shitty world. As on their podcast, the authors' two distinct voices Kilgariff's acerbic wit and Hardstark's earnestness come across vividly and perfectly complement each other. Standout essays include Georgia Gets Her Nipple Pierced for All the Right Reasons, in which she learns the life-saving value of reading, and Karen's Step-by-Step Guide on How to Be a Latchkey Kid, which captures the joy and horror of being home alone with just your older sister. But there is not a dud in the collection, and readers will be left feeling like they just had a kiki with two very funny, if slightly obsessed, friends.HIGH-DEMAND BACKSTORY: My Favorite Murder is consistently on iTunes' Top 10 Comedy Podcast charts, and their huge audience will be eagerly awaiting this book.--Susan Maguire Copyright 2019 Booklist"
From Booklist, Copyright (c) American Library Association. Used with permission.
Publisher's Weekly Review:
"The genres of true crime and self-help might seem like odd bedfellows, but Kilgariff and Hardstark, hosts of the humorous podcast My Favorite Murder, create a winningly quirky amalgamation of the two. Alternating chapters and writing in a conversational style that mimics their on-air banter, the authors reflect on their upbringings, turbulent adolescences, and how they've navigated their careers and relationship struggles. Hardstark describes how her early riot grrrl persona belied a deep vulnerability, recounting how the flattery of a stranger once led her to a "secluded mountaintop with a grown man I hardly knew," a circumstance not unlike those innocently entered into by countless female victims. With humor and poignancy, Kilgariff relays her experiences with substance abuse, self-sabotage, and recovery. The authors advise readers to eschew the myth of perfection and the reverence for politeness, in favor of dignity, agency, and self-preservation. Fans of the podcast-and those who recognize that it's as much about the cases discussed as the lives of the hosts-will be particularly engaged by this candid, personable dual memoir. (May) © Copyright PWxyz, LLC. All rights reserved."
(c) Copyright PWxyz, LLC. All rights reserved
Additional Information