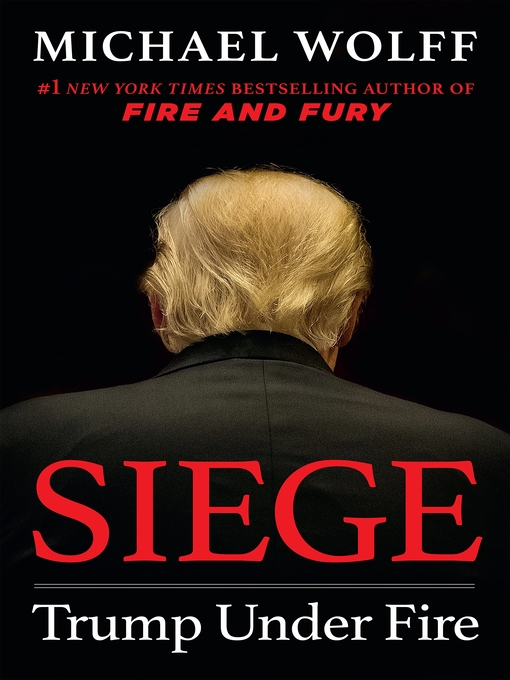 Siege Trump Under Fire.
Format:

Kindle Book

2019

2019

Adobe EPUB ebook

OverDrive Read

Availability:

Unavailable

0 of 5 copies
1 person on waitlist
Summary
Michael Wolff, author of the bombshell bestseller Fire and Fury, once again takes us inside the Trump presidency to reveal a White House under siege.With Fire and Fury, Michael Wolff defined the first phase of the Trump administration; now, in Siege, he has written an equally essential and explosive book about a presidency that is under fire from almost every side. A stunningly fresh narrative that begins just as Trump's second year as president is getting underway and ends with the delivery of the Mueller report, Siege reveals an administration that is perpetually beleaguered by investigations and a president who is increasingly volatile, erratic, and exposed.

Published Reviews
Publisher's Weekly Review:
"White House dysfunction, political failure, and personal craziness deepen in this caustic narrative of the second year of Donald Trump's presidency, a follow-up to the author's bestselling Fire and Fury. Journalist Wolff, who describes himself as having a "train-wreck fascination with Trump," depicts a president dogged by the Mueller probe--which drafted a criminal indictment of Trump, Wolff writes, but never issued it--and other investigations; looming Republican defeat in midterm elections; the stymieing of his immigration agenda and the fury of his base at his inability to deliver a border wall; and an incompetent, backstabbing administration that secretly undermined him. But Trump's worst enemy, in Wolff's acid-etched portrait, is Trump: a "volatile and uncertain president" with no ability to focus, Trump wallows in delusions of success, childish tantrums, schoolyard taunts (Wolff reports that he dubbed Supreme Court nominee Brett Kavanaugh a "virgin crybaby"), and other "extreme and disorienting behavior" that, Wolff writes, "repulsed a majority of the nation, as well as almost everybody who came into working contact with him." Short on policy analysis and long on intrigue and gleefully vicious (and entertaining) character sketches, Wolff's gossipy account relies, he admits, on not-unimpeachable sources with axes to grind, especially former Trump adviser and right-wing provocateur Steve Bannon, who is quoted so much that he is virtually a coauthor. Wolff dishes up juicy red meat to anti-Trumpers, but others will find his take partisan and unbalanced. (June)"
(c) Copyright PWxyz, LLC. All rights reserved
Additional Information