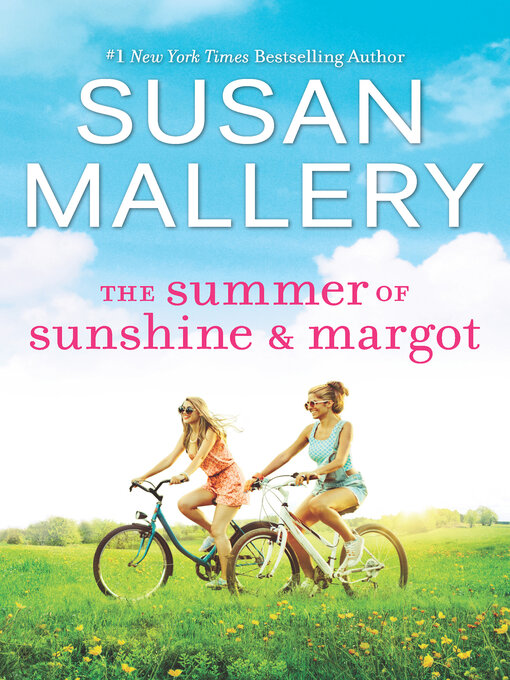 The Summer of Sunshine and Margot
Format:

Kindle Book

2019

2019

Adobe EPUB ebook

OverDrive Read

Availability:

Unavailable

0 of 15 copies
2 people on waitlist
Summary
The Baxter sisters come from a long line of women with disastrous luck in love. But this summer, Sunshine and Margot will turn disasters into destiny...As an etiquette coach, Margot teaches her clients to fit in. But she's never faced a client like Bianca, an aging movie star who gained fame—and notoriety—through a campaign of shock and awe. Schooling Bianca on the fine art of behaving like a proper diplomat's wife requires intensive lessons, forcing Margot to move into the monastery turned mansion owned by the actress's intensely private son. Like his incredible home, Alec's stony exterior hides secret depths Margot would love to explore. But will he trust her enough to let her in?Sunshine has always been the good-time sister, abandoning jobs to chase after guys who used her, then threw her away. No more. She refuses to be "that girl" again. This time, she'll finish college, dedicate herself to her job as a nanny, and she 100 per cent will not screw up her life again by falling for the wrong guy. Especially not the tempting single dad who also happens to be her boss.Master storyteller Susan Mallery weaves threads of family drama, humor, romance and a wish-you-were-there setting into one of the most satisfying books of the year!

Published Reviews
Booklist Review:
"In Mallery's latest, following California Girls (2019), Margot and Sunshine Baxter, fraternal twins, start new live-in jobs at the same time. Willowy Margot moves into a monastery-turned-mansion when she is hired by Alec, a wealthy scholar, to coach Bianca, his movie-star mother, in etiquette, so she doesn't ruin her diplomat fiancé's career. Curvy Sunshine is hired by widower Declan as nanny to his young ant-obsessed son. Neither of the 31-year-old twins has ever married. Sunshine's habit of leaving jobs and moving whenever she falls in love has kept her from establishing a career. Margot's on-again, off-again relationship with a German filmmaker has taken her all over the world, but he always leaves her and she always goes running back to him whenever he reappears. Now the sisters are determined to improve their lives. Sunshine enrolls in college and Margot refuses her former boyfriend's attempts to contact her. Mallery's approach to the alternating stories of the sisters and their attraction to their powerful employers makes for an enjoyable diversion, perfect for a summer read.--Diana Tixier Herald Copyright 2019 Booklist"
From Booklist, Copyright (c) American Library Association. Used with permission.
Publisher's Weekly Review:
"Mallery (California Girls) combines heat and sweet in a delicious tale destined for beach blankets. Fraternal twins Margot and Sunshine Baxter couldn't be closer, but they also couldn't be more different. Reserved, by-the-book Margot is a dedicated and responsible etiquette coach, and her younger-by-eight-minutes, free-spirited, bombshell sister Sunshine is a nanny for an adorable and mature 8-year-old, Connor. Sunshine also has a history of abruptly abandoning jobs to travel with unworthy boyfriends. Neither expects to find true love on the job, but soon Margot falls for Alec, the only son of the aging movie star she's tutoring, and Sunshine discovers incredible chemistry with Declan, the widowed father of her charge. As the sisters navigate the risks of mixing work with romance, Mallery skillfully weaves in tantalizing details from the sisters' pasts-romantic hurts, the emotional devastation of being abandoned by their mother when they were children-to make the heart-tugging happily-ever-after all the sweeter. Mallery's gift for creating relatable characters and lively pacing results in a satisfying tale that will win her even more fans. Agent: Annelise Robey, Jane Rotrosen Agency. (June) © Copyright PWxyz, LLC. All rights reserved."
(c) Copyright PWxyz, LLC. All rights reserved
Additional Information