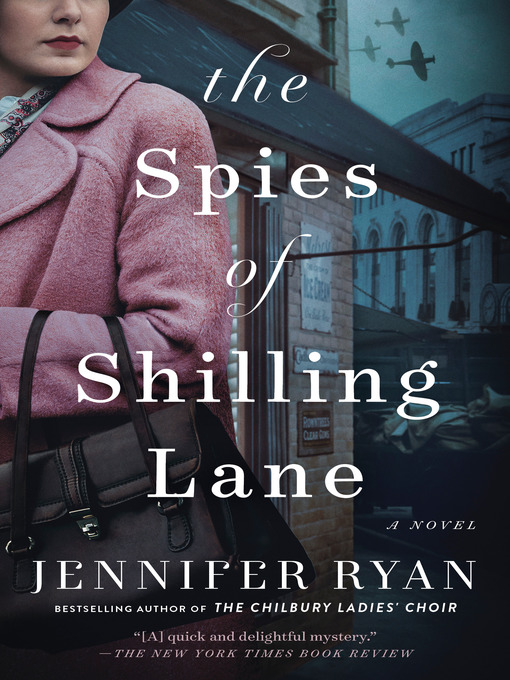 The Spies of Shilling Lane A Novel
Format:

OverDrive Read

2019.

Adobe EPUB ebook

Kindle Book

Availability:

Unavailable

0 of 5 copies
16 people on waitlist
Summary
From the bestselling author of The Chilbury Ladies' Choir comes a thrilling new WWII story about a village busybody--the mighty Mrs. Braithwaite--who resolves to find, and then rescue, her missing daughter

Mrs. Braithwaite, self-appointed queen of her English village, finds herself dethroned, despised, and dismissed following her husband's selfish divorce petition. Never deterred, the threat of a family secret being revealed sets her hot-foot to London to find the only person she has left--her clever daughter Betty, who took work there at the first rumbles of war.

But when she arrives, Betty's landlord, the timid Mr. Norris, informs her that Betty hasn't been home in days--with the chaos of the bombs, there's no telling what might have befallen her. Aghast, Mrs. Braithwaite sets her bullish determination to the task of finding her only daughter.

Storming into the London Blitz, Mrs. Braithwaite drags the reluctant Mr. Norris along as an unwitting sidekick as they piece together Betty's unexpectedly chaotic life. As she is thrown into the midst of danger and death, Mrs. Braithwaite is forced to rethink her old-fashioned notions of status, class, and reputation, and to reconsider the question that's been puzzling her since her world overturned: How do you measure the success of your life?

Readers will be charmed by the unforgettable Mrs. Braithwaite and her plucky, ruthless optimism, and find in The Spies of Shilling Lane a novel with surprising twists and turns, quiet humor, and a poignant examination of mothers and daughters and the secrets we keep.
Published Reviews
Booklist Review:
"War changes people,"" says one of the characters in the latest from Ryan (The Chilbury Ladies' Choir, 2017), and that's certainly true for Mrs. Braithwaite. Following her humiliating divorce and subsequent ouster from her position as head of the village Women's Voluntary Society, she takes off for London to find her estranged daughter, Betty. When she arrives at Betty's boarding house in Shilling Lane, however, Betty is nowhere to be found. Mrs. Braithwaite bullies the landlord, Mr. Norris, into helping her search for her daughter, never mind that Mr. Norris lacks ""oomph."" Betty works for MI5, and once she gets over her surprise that it's her mother who rescues her from the clutches of British fascists, mother (with Mr. Norris' increasingly effective assistance) and daughter play cat and mouse with Nazi sympathizers and double agents. Along the way, Mrs. Braithwaite learns lessons about the true measure of success. Even with sometimes-vivid descriptions of the horrors of the blitz, there is a good deal of fun in this cozy caper, and fans of The Chilbury Ladies' Choir will eat it up.--Mary Ellen Quinn Copyright 2019 Booklist"
From Booklist, Copyright (c) American Library Association. Used with permission.
Publisher's Weekly Review:
"Ryan (The Chilbury Ladies' Choir) again focuses on women braving the dangers of WWII in this exciting tale of espionage and love. In 1941, Mrs. Braithwaite is stripped of her vaunted village position as the leader of the Women's Voluntary Service for being too bossy. Mrs. Braithwaite, a woman of more gusto than height, heads to London to reconnect with her daughter, Betty, who she hasn't seen in two years. But when she gets to Betty's boarding house, no one has seen her in days; she also hasn't been to work at her listed employment for years. As Mrs. Braithwaite searches for answers, she makes a reluctant companion of Mr. Norris, Betty's landlord and a timid accountant who is worried Betty might be in trouble. Soon they discover Betty is working for British intelligence, and Mrs. Braithwaite and Mr. Norris become embroiled in a plot to root out Nazi-sympathizers in London. Mrs. Braithwaite shakes up Mr. Norris's life in unexpected, welcome ways as they form an unlikely friendship and almost get Betty captured while she is working undercover. With its eccentric, believable characters and plot of home front intrigue, this delightful drama will appeal to fans of Martha Hall Kelly. (June) © Copyright PWxyz, LLC. All rights reserved."
(c) Copyright PWxyz, LLC. All rights reserved
Additional Information