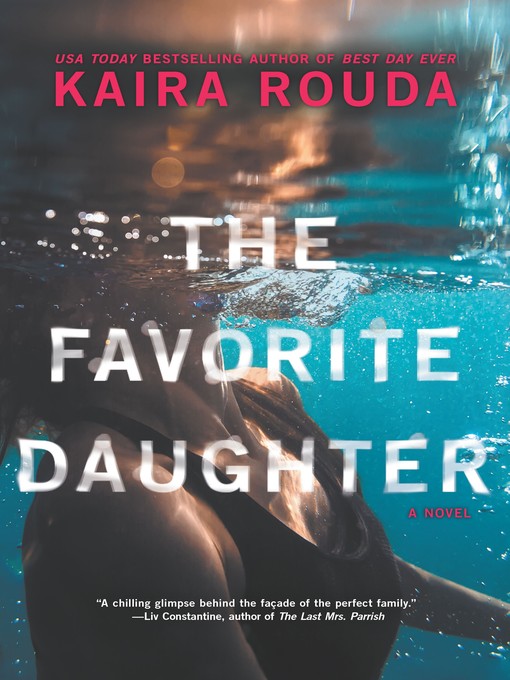 The Favorite daughter
Format:

Kindle Book

2019

2019

Adobe EPUB ebook

OverDrive Read

Availability:

Available from OverDrive

2 of 6 copies
Summary
The perfect home. The perfect family. The perfect lie. Jane Harris lives in a sparkling home in an oceanfront gated community in Orange County. It's a place that seems too beautiful to be touched by sadness. But exactly one year ago, Jane's oldest daughter, Mary, died in a tragic accident and Jane has been grief-stricken ever since. Lost in a haze of anti-depressants, she's barely even left the house. Now that's all about to change. It's time for Jane to reclaim her life and her family. Jane's husband, David, has planned a memorial service for Mary and three days later, their youngest daughter, Betsy, graduates high school. Yet as Jane reemerges into the world, it's clear her family has changed without her. Her husband has been working long days?and nights?at the office. Her daughter seems distant, even secretive. And her beloved Mary was always such a good girl?dutiful and loving. But does someone know more about Mary, and about her last day, than they've revealed? The bonds between mothers and daughters, and husbands and wives should never be broken. But you never know how far someone will go to keep a family together...

Published Reviews
Booklist Review:
"Jane Harris, a stay-at-home mom in an exclusive California oceanfront community, is emerging from a year of mourning the accidental death of her older and favorite daughter, Mary, when she gets stunning news. A day before the memorial service for Mary and three days before the high-school graduation of her other daughter, Betsy, Jane learns that Mary, who was adopted as an infant from Elizabeth James, her in-laws' servant, was actually fathered by Jane's husband, David, during their first year of marriage. Then she gets evidence that David has bought a new house to share with his younger assistant, Kylie Dorn, with whom he's having an affair. And then she receives the first of several anonymous notes: MARY'S DEATH WAS NOT AN ACCIDENT. JUST ASK BETSY. In her first-person account, Jane is not a particularly likable character, and it becomes increasingly clear that she's also an unreliable narrator. Tension mounts as Jane makes plans for Kylie, Betsy, David, and Elizabeth, along the way dropping glimpses into her past, until the truth is uncovered. Involving psychological suspense that reveals the cracks in what seems a perfect life.--Michele Leber Copyright 2019 Booklist"
From Booklist, Copyright (c) American Library Association. Used with permission.
Publisher's Weekly Review:
"Jane Harris, the unreliable narrator of this exceptional psychological thriller from Rouda (Best Day Ever), has sequestered herself in her gorgeous oceanfront home in a gated community in Orange County, Calif., overcome with grief following the death of her college-age daughter, Mary, in an accident a year earlier. Appearances are important to Jane-perfect house, perfect family, perfect image of mourning. Now that she has decided to move on, Jane finds her husband, David, distant, working long hours and avoiding her while younger daughter Betsy is wrapped up in her high school graduation, which is just four days away. Against Jane's wishes, David schedules a celebration of Mary's life before Betsy graduates. Rouda gradually shifts reader sympathy for Jane with her "complicated grief" to disgust at her toxic need for control. Selfish and judgmental, Jane has more than just boundary issues as she monitors her family's every move and email with the spyware she clandestinely installs. The stakes rise when Jane receives a note suggesting that Mary's death was no accident. Suspense fans will be amply rewarded. Agent: Katie Shea Boutillier, Donald Maass Literary. (May) © Copyright PWxyz, LLC. All rights reserved."
(c) Copyright PWxyz, LLC. All rights reserved
Additional Information