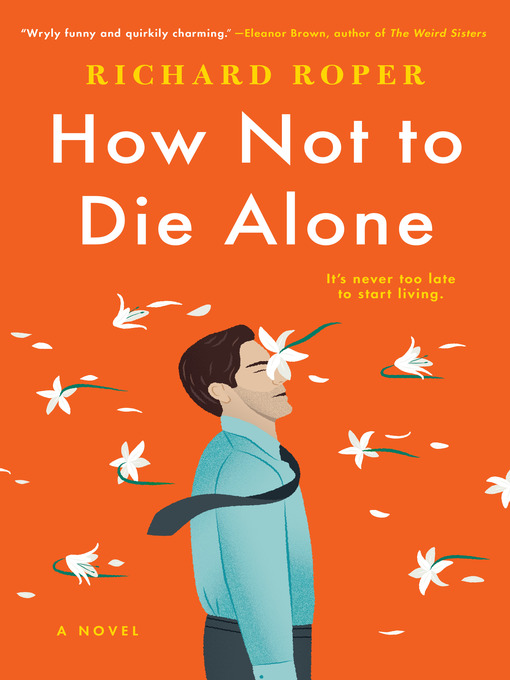 How not to die alone
Format:

Kindle Book

2019

2019

Adobe EPUB ebook

OverDrive Read

Availability:

Available from OverDrive

1 of 8 copies
3 people on waitlist
Summary
Andrew's day-to-day is a little grim, searching for next of kin for those who die alone. Thankfully, he has a loving family waiting for him when he gets home, to help wash the day's cares away. At least, that's what his coworkers believe. Andrew didn't mean for the misunderstanding to happen, yet he's become trapped in his own white lie. The fantasy of his wife and two kids has become a pleasant escape from his lonely one bedroom with only his Ella Fitzgerald records for company. But when new employee Peggy breezes into his life like a breath of fresh air, Andrew is shaken out of his routine. She doesn't notice the wall he's been safely hiding behind and their friendship promises to break it down. Andrew must choose: Does he tell the truth and start really living his life, but risk losing his friendship with Peggy? Or will he stay safe and alone, behind the façade? How Not to Die Alone is about the importance of taking a chance in those moments when we have the most to lose. Sharp and funny, warm and real, it's the kind of big-hearted story we all need.

Published Reviews
Booklist Review:
"Roper's debut is a tragic, sweet, and hopeful novel. Andrew has worked in public health for five years, helping to settle the affairs of those who have died alone. He's a little lonely, but he's got his Ella Fitzgerald records and his prized model trains, and that's all he needs in the world. But when Andrew finds himself smitten with his new colleague, Peggy, he starts to wonder if there's a way to change his life. Before he can do that, though, he'll have to come clean with his coworkers, who think he has a wife and family at home. While this novel will appeal to fans of Gail Honeyman's Eleanor Oliphant is Completely Fine (2017), Andrew himself is not a quirky protagonist his appeal comes from his sharp wit and repartee with Peggy. Readers won't feel sorry for him, but will root for him, wanting him to fully blossom into the connected, charming person he truly is. This is a story of healing, with a lot of humor along the way.--Cari Dubiel Copyright 2019 Booklist"
From Booklist, Copyright (c) American Library Association. Used with permission.
Publisher's Weekly Review:
"Roper's delightful debut is as funny as it is touching. Andrew is a 42-year-old single man whose life became complicated by an accidental lie about having a wife and children, told while interviewing for a job. After he's hired, the lie mushrooms, but he can't find a way to fix it during the following five years at the U.K.'s Death Administration Council, where his responsibilities include inspecting the homes of people who have died alone, and arranging their funerals. Not only do Andrew's annoying boss and two irritating coworkers ask casual, typical questions about his family, it's also decided that there will be dinners sponsored by each employee in his or her home. The plot becomes even more complicated for Andrew when he is put in charge of showing the ropes to a new employee, Peggy, a woman he's attracted to but who is married and has two daughters. As he grows closer to Peggy, Andrew's social awkwardness adds to his problems: he once finds himself so filled with trepidation about a planned encounter that he spontaneously apologizes after hearing a coworker sneeze. This story of a neurotic, tenderhearted man struggling to learn how not to be alone is irresistible. (May) © Copyright PWxyz, LLC. All rights reserved."
(c) Copyright PWxyz, LLC. All rights reserved
Additional Information