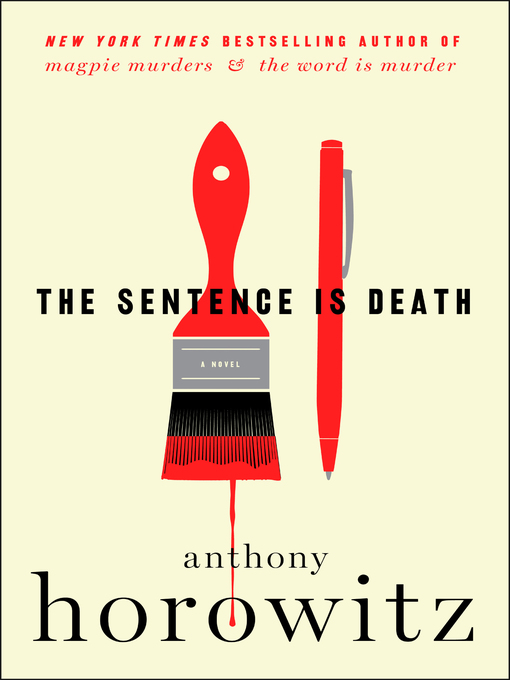 The sentence is death a novel
Format:

Kindle Book

2019

2019

Adobe EPUB ebook

OverDrive Read

Availability:

Unavailable

0 of 9 copies
1 person on waitlist
Summary
"You shouldn't be here. It's too late . . . " These, heard over the phone, were the last recorded words of successful celebrity-divorce lawyer Richard Pryce, found bludgeoned to death in his bachelor pad with a bottle of wine - a 1982 Chateau Lafite worth 3,000, to be precise. Odd, considering he didn't drink. Why this bottle? And why those words? And why was a three-digit number painted on the wall by the killer? And, most importantly, which of the man's many, many enemies did the deed? Baffled, the police are forced to bring in Private Investigator Daniel Hawthorne and his sidekick, the author Anthony, who's really getting rather good at this murder investigation business. But as Hawthorne takes on the case with characteristic relish, it becomes clear that he, too, has secrets to hide. As our reluctant narrator becomes ever more embroiled in the case, he realizes that these secrets must be exposed - even at the risk of death.--

Published Reviews
Booklist Review:
"Horowitz succeeds on all levels with book two in the Detective Daniel Hawthorne series. As in The Word Is Murder (2018), Horowitz inserts himself into the plot as a fictional (yet very real) version of himself, playing Watson to Hawthorne's Holmes, once again irresistibly drawn into a mystery. Suspects are hardly in short supply in this case of murder-by-wine-bottle: Richard Pryce, a lawyer specializing in celebrity divorces, has been bonked on the head with a 1982 Château Lafite worth £3,000. The police enlist the aid of PI Hawthorne, who quickly summons Horowitz to help. (The latter is in the middle of filming a Foyle's War episode, adding another meta element to the plot, which will delight Horowitz's fans.) Hawthorne continues to try the author's and the reader's patience with outlandish behavior, but there are hints this time that he has gone to extreme lengths to conceal an unfortunate past, making him a somewhat more sympathetic character than in the earlier tale. Readers will enjoy Horowitz's insights into the publishing world and rack their brains deciding which stories are true and which are fictional. Literary references abound within the text, too, including a three-digit number scrawled on a wall, nodding to Doyle's A Study in Scarlet, along with other Doyle and Christie references. Despite these allusions and the Holmesian frame story, the overall voice of the series is fresh and original, Horowitz writing with the effortless élan that distinguishes all of his work.HIGH-DEMAND BACKSTORY: Horowitz has the Midas touch, whether he is creating television series, writing children's books, or reinventing iconic crime-fiction characters, including those of Christie, Fleming, and Doyle.--Jane Murphy Copyright 2019 Booklist"
From Booklist, Copyright (c) American Library Association. Used with permission.
Publisher's Weekly Review:
"Bestseller Horowitz's doppelganger, also named Anthony Horowitz, once again plays Dr. Watson to PI Daniel Hawthorne's Sherlock Holmes in the British author's superb sequel to 2018's The Word Is Murder. This time the astute, if irritating, detective ropes Tony into helping him investigate the murder of high-powered London divorce lawyer Richard Pryce, who was struck on the head with a bottle of expensive wine in his home. The obvious suspect is prickly poet and novelist Akira Anno, who threatened to hit Pryce with a wine bottle in a restaurant where they ran into each other days before the murder. Pryce was representing Akira's husband in a divorce settlement in which she felt she was getting a raw deal. Other suspects emerge in the complicated case, which may have its roots in a caving expedition that Pryce and two close friends took 10 years before in Yorkshire; one of those friends died while trapped in a cave during a rainstorm. Leavening the grim story line are deliciously comic scenes in which Tony typically makes a wrong deduction or suffers a personal slight (Akira disdains him because he writes popular fiction). Horowitz plays fair with the reader all the way to the surprise reveal of the killer's identity. Fans of traditional puzzle mysteries will be enthralled. Agent: Jonathan Lloyd, Curtis Brown (U.K.). (May) © Copyright PWxyz, LLC. All rights reserved."
(c) Copyright PWxyz, LLC. All rights reserved
Additional Information