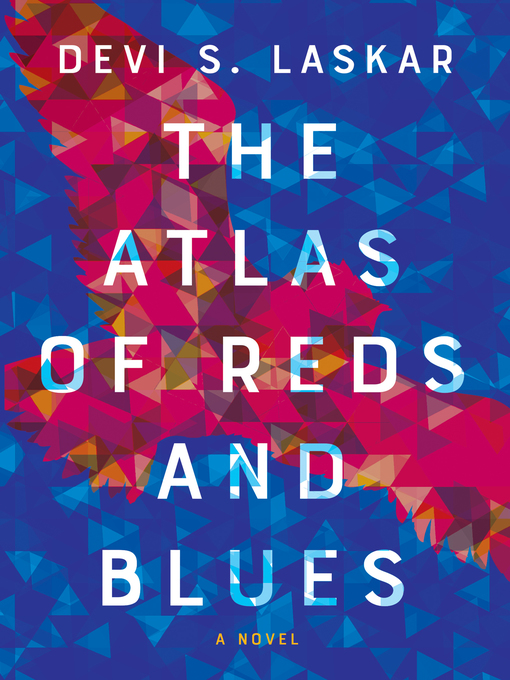 The atlas of reds and blues a novel
Format:

Kindle Book

2019

2019

Adobe EPUB ebook

OverDrive Read

Availability:

Unavailable

0 of 1 copy
2 people on waitlist
Summary
When a woman--known only as Mother--moves her family from Atlanta to its wealthy suburbs, she discovers that neither the times nor the people have changed since her childhood in a small Southern town. Despite the intervening decades, Mother is met with the same questions: Where are you from? No, where are you really from? The American-born daughter of Bengali immigrants, she finds that her answer-- Here --is never enough. Mother's simmering anger breaks through one morning, when, during a violent and unfounded police raid on her home, she finally refuses to be complacent. As she lies bleeding from a gunshot wound, her thoughts race from childhood games with her sister and visits to cousins in India, to her time in the newsroom before having her three daughters, to the early days of her relationship with a husband who now spends more time flying business class than at home. The Atlas of Reds and Blues grapples with the complexities of the second-generation American experience, what it means to be a woman of color in the workplace, and a sister, a wife, and a mother to daughters in today's America.

Published Reviews
Booklist Review:
"*Starred Review* It takes place in a morning; it covers a lifetime. Short, vivid chapters, like puzzle pieces, deliver the thoughts of a woman sprawled on the pavement, bleeding. She has just dropped off her three daughters at school and returned to her home in an Atlanta suburb. Born in North Carolina, this American of Bengali descent is nonetheless asked repeatedly where she is from because her skin is brown. She has faced discrimination, cruelty, and stupidity in routine circumstances and as a newspaper reporter. A policeman pulls her over day after day for phony traffic violations; a visit to the dry cleaner turns into a vicious confrontation. Her brown girls are harassed, even assaulted at school. Her white husband is perpetually away on business, unaware of his family's suffering. Now heavily armed government agents are searching her house; one has shot her, and no one is helping. A valiant woman of wit and irony, she thinks about Barbie dolls, her grandmothers, her beloved rescue dog, the mistreatment of a black classmate. Not only does Laskar bring her honed skills as a poet and journalist to her pulse-racing first novel about otherness and prejudice, she also draws on her own experience of a shocking raid on her home. Laskar's bravura drama of one woman pushed to the brink by racism is at once sharply relevant and tragically timeless.--Donna Seaman Copyright 2018 Booklist"
From Booklist, Copyright (c) American Library Association. Used with permission.
Publisher's Weekly Review:
"Laskar's stunning debut skillfully tackles hefty topics such as bullying, racism, and terrorism in a mosaic, lifeflashingbeforeone'seyes narrative. Set in 2017 near Atlanta, the novel centers on Mother, an IndianAmerican woman in her 40s with three daughters and a husband who travels internationally more than he's at home. One morning, after taking her children to school, Mother is gunned down in her driveway in an unexplained robbery; the narrative is told in discursive segments that jump around in time to present flashes of Mother's life, all while she lies dying. These short pieces cover her job as a former crime reporter demoted to obituaries; her North Carolina childhood and girlish fascination with Barbie dolls and their tainted concept of beauty; being asked, beginning as a child, where she was from, though she was born in the U.S.; her family's move to the Atlanta suburbs in an unwelcoming neighborhood where other kids torment her middle daughter and cops often question Mother about her husband's job. Laskar touchingly shows how Mother just wants to have a normal life with her family and rise above prejudice. Elevated by its roaming structure, this is a striking depiction of a single life. (Feb.) © Copyright PWxyz, LLC. All rights reserved."
(c) Copyright PWxyz, LLC. All rights reserved
Additional Information