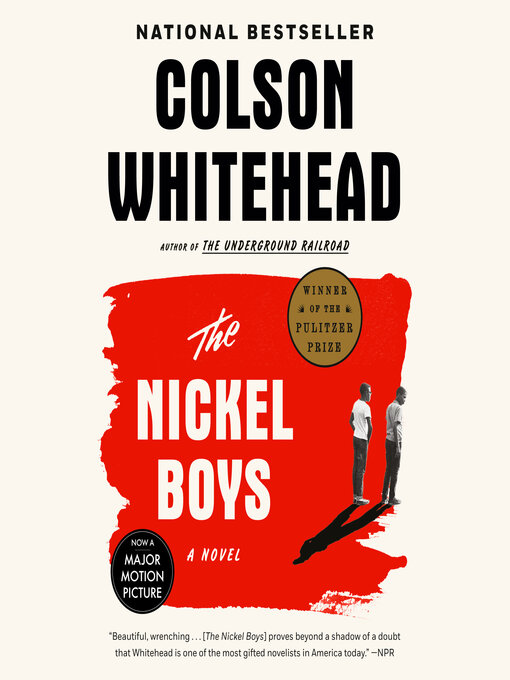 The Nickel boys A novel
Format:

OverDrive MP3 Audiobook

2019

2019

OverDrive Listen

Availability:

Available from OverDrive

5 of 35 copies
2 people on waitlist
Summary
NEW YORK TIMES BESTSELLERNATIONAL BOOK CRITICS CIRCLE AWARD FINALISTONE OF TIME MAGAZINE'S 10 BEST FICTION BOOKS OF THE DECADEWINNER OF THE KIRKUS PRIZELONGLISTED FOR THE NATIONAL BOOK AWARD In this bravura follow-up to the Pulitzer Prize, and National Book Award-winning #1 New York Times bestseller The Underground Railroad, Colson Whitehead brilliantly dramatizes another strand of American history through the story of two boys sentenced to a hellish reform school in Jim Crow-era Florida.As the Civil Rights movement begins to reach the black enclave of Frenchtown in segregated Tallahassee, Elwood Curtis takes the words of Dr. Martin Luther King to heart: He is "as good as anyone." Abandoned by his parents, but kept on the straight and narrow by his grandmother, Elwood is about to enroll in the local black college. But for a black boy in the Jim Crow South of the early 1960s, one innocent mistake is enough to destroy the future. Elwood is sentenced to a juvenile reformatory called the Nickel Academy, whose mission statement says it provides "physical, intellectual and moral training" so the delinquent boys in their charge can become "honorable and honest men."In reality, the Nickel Academy is a grotesque chamber of horrors where the sadistic staff beats and sexually abuses the students, corrupt officials and locals steal food and supplies, and any boy who resists is likely to disappear "out back." Stunned to find himself in such a vicious environment, Elwood tries to hold onto Dr. King's ringing assertion "Throw us in jail and we will still love you." His friend Turner thinks Elwood is worse than naive, that the world is crooked, and that the only way to survive is to scheme and avoid trouble. The tension between Elwood's ideals and Turner's skepticism leads to a decision whose repercussions will echo down the decades. Formed in the crucible of the evils Jim Crow wrought, the boys' fates will be determined by what they endured at the Nickel Academy.Based on the real story of a reform school in Florida that operated for one hundred and eleven years and warped the lives of thousands of children, The Nickel Boys is a devastating, driven narrative that showcases a great American novelist writing at the height of his powers.

Published Reviews
Booklist Review:
"There were rumors about Nickel Academy, a Florida reform school, but survivors kept their traumas to themselves until a university archaeology student discovered the secret graveyard. Whitehead follows his dynamic, highly awarded, best-selling Civil War saga, The Underground Railroad (2016), with a tautly focused and gripping portrait of two African American teens during the last vicious years of Jim Crow. There is no way Elwood Curtis would ever have become a Nickel Boy if he was white. Raised by his strict grandmother, Elwood, who cherishes his album of recorded Martin Luther King Jr. speeches, is an exemplary student who earns admission to early college classes. But trouble whips up out of thin air, and instead he is sent to Nickel, where the Black boys are barely fed, classes are a travesty, and the threat of sexual abuse and torture is endemic. As Elwood tries to emulate Dr. King's teachings of peace and forgiveness, he is befriended by the more worldly and pragmatic Turner, and together they try to expose the full extent of the brazenly racist, sadistic, sometimes fatal crimes against the Nickel Boys. Whitehead's magnetic characters exemplify stoicism and courage, and each supremely crafted scene smolders and flares with injustice and resistance, building to a staggering revelation. Inspired by an actual school, Whitehead's potently concentrated drama pinpoints the brutality and insidiousness of Jim Crow racism with compassion and protest.HIGH-DEMAND BACKSTORY: After the resounding triumph of Whitehead's previous novel, readers will avidly await this intense drama, a scorching work that will generate tremendous media coverage.--Donna Seaman Copyright 2019 Booklist"
From Booklist, Copyright (c) American Library Association. Used with permission.
Publisher's Weekly Review:
""As it had ever been with Nickel, no one believed them until someone else said it," Whitehead (The Underground Railroad) writes in the present-day prologue to this story, in which construction workers have dug up what appears to be a secret graveyard on the grounds of the juvenile reform school the Nickel Academy in Jackson County, Fla. Five decades prior, Elwood Curtis, a deeply principled, straight-A high school student from Tallahassee, Fla., who partakes in civil rights demonstrations against Jim Crow laws and was about to start taking classes at the local black college before being erroneously detained by police, has just arrived at Nickel. Elwood finds that, at odds with Nickel's upstanding reputation in the community, the staff is callous and corrupt, and the boys-especially the black boys-suffer from near-constant physical, verbal, and sexual abuse. Elwood befriends the cynical Turner, whose adolescent experiences of violence have made him deeply skeptical of the objectivity of justice. Elwood and Turner's struggles to survive and maintain their personhood are interspersed with chapters from Elwood's adult life, showing how the physical and emotional toll of his time at Nickel still affects him. Inspired by horrific events that transpired at the real-life Dozier School for Boys, Whitehead's brilliant examination of America's history of violence is a stunning novel of impeccable language and startling insight. (July) © Copyright PWxyz, LLC. All rights reserved."
(c) Copyright PWxyz, LLC. All rights reserved
Additional Information