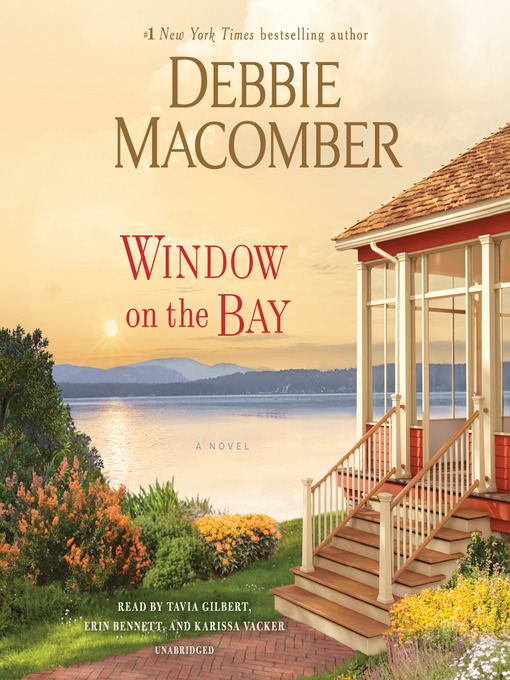 Window on the bay A novel
Format:

OverDrive MP3 Audiobook

2019

2019

OverDrive Listen

Availability:

Available from OverDrive

8 of 10 copies
Summary
NEW YORK TIMES BESTSELLERWhen a single mom becomes an empty nester, she spreads her wings to rediscover herself—and her passions—in this heartwarming novel from #1 New York Times bestselling author Debbie Macomber. Jenna Boltz's life is at a crossroads. After a messy divorce from her surgeon husband nearly twenty years ago, she raised her two children on her own, juggling motherhood with her beloved job as a Seattle intensive-care nurse. Now that Paul and Allie have gone to college and moved out, Jenna can't help but wonder what her future holds. Her best friend, Maureen, is excited for Jenna's newfound independence. Now is the perfect time to finally book the trip to Paris they've been dreaming of since their college days. But when it comes to life's other great adventure—dating—Jenna still isn't sure she's ready to let love in . . . until an unexpected encounter begins to change her mind.When Jenna's elderly mother breaks her hip, Dr. Rowan Lancaster saves the day. Despite his silent, stoic exterior, Rowan is immediately smitten with Jenna. And even though Jenna is hesitant about becoming involved with another surgeon, she has to admit that she's more than a little intrigued. But when Jenna's children approach her with shocking news, she realizes that she needs to have faith in love and embrace the unexpected—before the life she has always dreamed of passes her by.

Published Reviews
Booklist Review:
"When Jenna Boltz's youngest goes off to college, she thinks that she and her best friend, Maureen, can finally take that trip to Paris they've been planning since their own college days. Then Jenna's mom, Carol, takes a spill, and the trip is off. Fortunately, Carol is in the care of Dr. Rowan Lancaster. One of the best orthopedic surgeons in Seattle, he is kind and attentive, but tight-lipped about his personal life. Meanwhile, librarian Maureen has an easy enough time talking books with handsome construction worker Logan, but their outside-the-library lives seem too different for any romance to start. Two sensible women find themselves struggling to open up to later-in-life love: Jenna is scarred by her ex-husband's abandonment, and Maureen's amicable divorce left her assuming that romance was just not for her. Macomber's work is as comforting as ever, and the easy pace of her story is complemented by domestic details. But where Window on the Bay really shines is in its portrayal of women who are done raising their children, but are far from done with life.HIGH-DEMAND BACKSTORY: Macomber's books are as comforting as an old quilt; even hot summer weather won't keep her legion of fans away.--Susan Maguire Copyright 2019 Booklist"
From Booklist, Copyright (c) American Library Association. Used with permission.
Publisher's Weekly Review:
"Macomber (Cottage by the Sea) hits all the standard beats in this formulaic standalone double romance. University of Washington college buddies Jenna Boltz and Maureen Zelinski are now empty nesters and long since divorced. They are encouraged by their children, and by each other, to pursue new relationships. Jenna is charmed by Dr. Rowan Lancaster, the surgeon taking care of her mother after a fall-but, like her ex, he works at the Seattle hospital where she is a nurse, and the similarity makes her uncomfortable. Librarian Maureen gives in to the attention of construction worker Logan, who comes to her library from his worksite for book recommendations, but his working-class buddies and inability to enjoy ballet as well as football throw her off. Jenna and Maureen's emotional skills feel on par with a teenager's, and readers will find that the romances seem more like compromises than successes. Macomber's indubitable technical skill can't make up for the way her stock characters plod through their stock situations. Agent: Theresa Park, Park & Fine Literary. (July) © Copyright PWxyz, LLC. All rights reserved."
(c) Copyright PWxyz, LLC. All rights reserved
Additional Information
Subjects
Literature
Romance
Fiction
Romance fiction.
Audiobooks.

Publisher

[Place of publication not identified] :Penguin Random House Audio Publishing Group2019




2019



Contributors
OverDrive, Inc.

Participants/Performers

Tavia Gilbert.



Language

English



System Details

Mode of access: World Wide Web.




Format: OverDrive Listen




Format: OverDrive MP3 Audiobook




Requires OverDrive app 3.0 (Windows) / 1.0 (Mac) / 1.0 (Windows Mobile)



Description

1 audio file : digital



ISBN
9780525491682
9780525491682

Other
Classic View