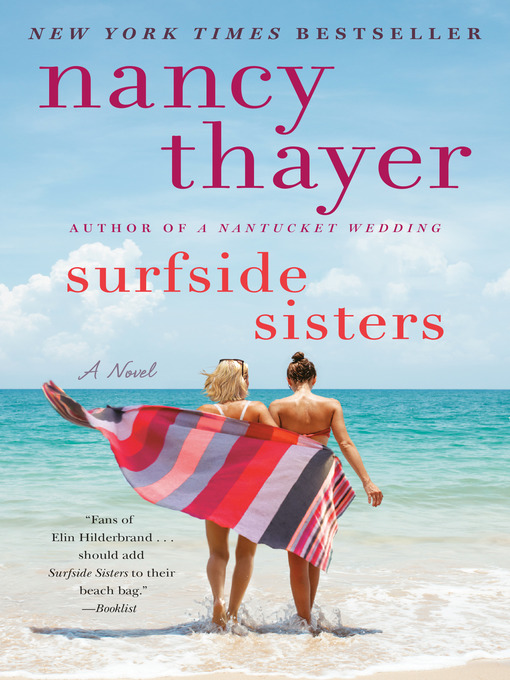 Surfside sisters A novel
Format:

Kindle Book

2019

2019

Adobe EPUB ebook

OverDrive Read

Availability:

Available from OverDrive

8 of 12 copies
Summary
A Nantucket woman returns home to find that reunions aren't always simple, in this heartwarming novel from the New York Times bestselling author of A Nantucket Wedding and Secrets in Summer."Nancy Thayer is the queen of beach books."—The Star-LedgerKeely Green always dreamed of leaving the beautiful shores of Nantucket to become a writer. Now she's a bestselling novelist living in New York City, attending glamorous cocktail parties and mingling with the literary elite. Keely is also dating a charming, perfectly fine pediatric surgeon who looks good on paper but isn't "the one." She just can't bear to break it off—until he declares his desire to settle down. Then Keely's editor rejects her latest novel. With her personal and professional lives suddenly in shambles, Keely longs for the soothing island way of life. Growing up, Keely and her best friend, Isabelle, were inseparable. Nothing could come between them—except, as it turned out, Keely's high school boyfriend, Tommy. Returning home would mean facing Isabelle's bitter betrayal and seeing for herself the family Tommy and Isabelle have created, the life that might have been Keely's. But when Keely's mother falls into a deep depression, Keely knows what she must do, even though she is reluctant to face her estranged friend. And encountering Isabelle's older brother, Sebastian—Keely's longtime crush—only complicates things. In one incredible summer, Keely must confront the mistakes of the past if she has any chance of finding true happiness in the place she will always call home. Nancy Thayer shines yet again in this uplifting tale of forgiveness and self-discovery.

Published Reviews
Booklist Review:
"Keely and Isabelle are inseparable growing up on Nantucket until some high school boy trouble causes a rift, and their friendship is never quite the same. Years later, the two still seem to be in competition with one another. Despite some setbacks, Keely is about to achieve her childhood dream of becoming a published author a dream that she once shared with Isabelle, whose boyfriend has just left her for another woman. As Keely's star rises, she leaves Nantucket for New York, where she makes new friends and meets a man who is perfect on paper. When a family crisis brings Keely back to Nantucket, she realizes that she is most at home on the island, but true happiness evades her until she reconnects with Isabelle. Thayer's latest is a tale of friendship lost and found, with light romantic elements and a touch of family drama. Keely is a relatable character whose personal and professional trajectory is wish fulfilment for fans of relationship fiction. Fans of Elin Hilderbrand and Shelley Noble should add Surfside Sisters to their beach bag.--Nanette Donohue Copyright 2019 Booklist"
From Booklist, Copyright (c) American Library Association. Used with permission.
Publisher's Weekly Review:
"Childhood best friends who bond over their shared desire to be writers deal with the ups and downs of life, love, and family in the soapy latest from Thayer (A Nantucket Wedding). As girls on Nantucket, Keely Green and Isabelle Maxwell do everything together: playing at Surfside Beach, sharing secrets, and dreaming of their futures as successful writers. But Keely does keep two things close to her chest: She's in love with Isabelle's older brother, and she can't help being envious of wealthy Isabelle's lifestyle. Responsible, good-hearted Keely works hard, applying herself to her writing and school while taking part-time jobs to help her working-class family. Eventually Keely and Isabelle's priorities lead them in different directions before returning them to the island they love. Peripheral characters are flat, and Thayer relies on long passages of exposition to move the story forward through the months and years. Despite this, readers who appreciate a busy, uplifting tale of friendship and romance will enjoy spending time on Thayer's Nantucket. Agent: Meg Ruley, Jane Rotrosen Agency. (July) © Copyright PWxyz, LLC. All rights reserved."
(c) Copyright PWxyz, LLC. All rights reserved
Additional Information