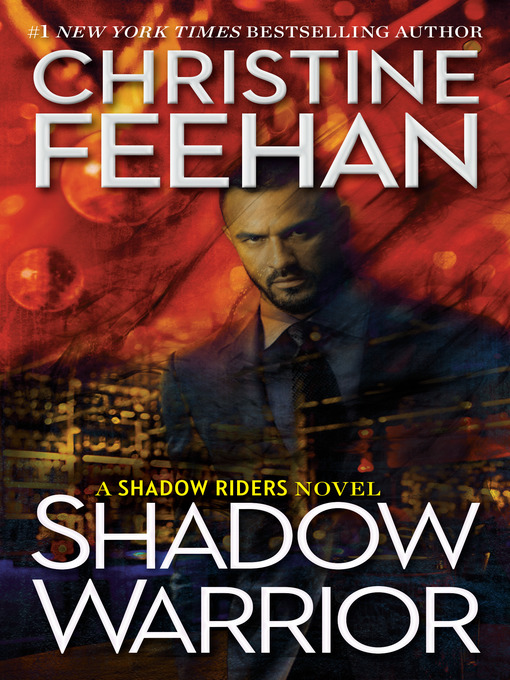 Shadow warrior Shadow Riders Series, Book 4
Format:

Kindle Book

2019

2019

Adobe EPUB ebook

OverDrive Read

Availability:

Available from OverDrive

3 of 9 copies
Summary
Vittorio Ferraro is a man whose family loyalty knows no bounds. He would die for his siblings and the people they love, but what he really wants is to start a family of his own. Deep down, Vittorio has always known finding a woman who could ride shadows would be nearly impossible--let alone one who could accept his particular needs--and he never expected to find her in the middle of a kidnapping ... Grace Murphy has always been drawn to Vittorio Ferraro--or at least to the billionaire's public bad-boy persona. Now that she's under his protection and the sole focus of his intense caring, she can't help wanting to get as close to him as possible. But Grace knows her presence is putting the entire Ferraro family in danger. Her monster of a brother will never let her go, but Vittorio has no intention of losing the woman whose shadow matches his own.

Published Reviews
Booklist Review:
"Vittorio Ferraro, international playboy, billionaire, and tabloid cover boy, is unhappy after returning from a secret mission to discover a couple of criminals from a rival crime family in the VIP section of his family's exclusive night club. On top of that, they are negotiating with Haydon, a diminutive master serial killer with an uncanny ability to live in secret in people's homes, who wants to basically sell a woman to cover his debts. When Vittorio steps in, it turns out that Grace Murphy was Haydon's foster sister. When Vittorio tries to save her life, he discovers that, like him, she is a shadow warrior and therefore a possible mate. Everyone and everything Grace has ever showed attachment to has been destroyed by Haydon, so she tries to resist falling in love with Vittorio. With a psychopathic serial killer and exquisitely described BDSM sexual encounters involving jeweled nipple clamps and chains of precious metal, Feehan entrances and pushes boundaries in the fourth entry in the Shadow Riders series.--Diana Tixier Herald Copyright 2019 Booklist"
From Booklist, Copyright (c) American Library Association. Used with permission.
Publisher's Weekly Review:
"Feehan gracelessly dives back into a world filled with family, suspense, and eroticism with the overheated fourth Shadow Riders novel (after Shadow Keeper). The Ferraro family has a secret: they ride tangible shadows and dispense their own brand of vigilante justice. Vittorio Ferraro is a rich playboy, devoted brother, and broody gothic hero. Enter Grace, a good-hearted event planner who has succeeded despite her difficult upbringing in an abusive foster home. When Grace's foster brother tries to shoot Vittorio and Grace jumps in front of the bullet, Vittorio's interest is piqued, even though getting involved with her means dragging her into a brewing war with a rival family. Feehan works in a heavily glorified depiction of sensual power play, complete with Vittorio emphasizing his alpha dominance by using his "gift" of a compelling voice to manipulate Grace against her will, and focuses intensely on the couple's kinky dynamic. The suspense subplots are well-written, but completely eclipsed by the book-length sexual fantasy. Agent: Steve Axelrod, Axelrod Agency. (June) © Copyright PWxyz, LLC. All rights reserved."
(c) Copyright PWxyz, LLC. All rights reserved
Additional Information