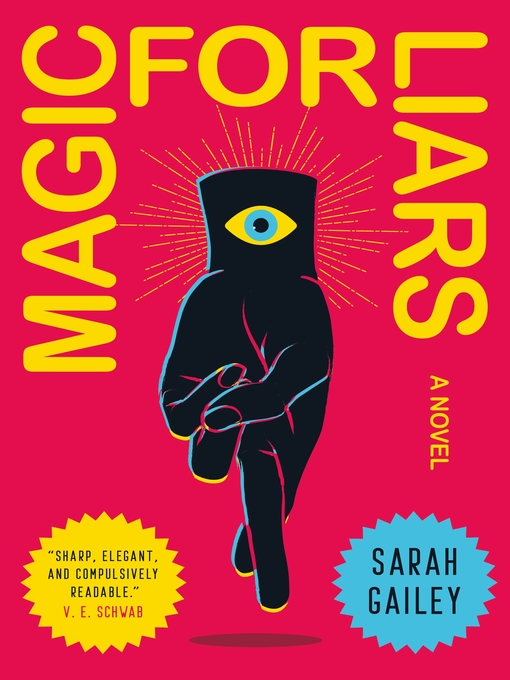 Magic for liars
Format:

OverDrive Read

2019.

Adobe EPUB ebook

Kindle Book

Availability:

Unavailable

0 of 7 copies
42 people on waitlist
Summary
Sharp, mainstream fantasy meets compelling thrills of investigative noir in Magic for Liars , a fantasy debut by rising star Sarah Gailey.

Ivy Gamble was born without magic and never wanted it.
Ivy Gamble is perfectly happy with her life - or at least, she's perfectly fine.
She doesn't in any way wish she was like Tabitha, her estranged, gifted twin sister.
Ivy Gamble is a liar.
When a gruesome murder is discovered at The Osthorne Academy of Young Mages, where her estranged twin sister teaches Theoretical Magic, reluctant detective Ivy Gamble is pulled into the world of untold power and dangerous secrets. She will have to find a murderer and reclaim her sister--without losing herself.
"An unmissable debut."--Adrienne Celt, author of Invitation to a Bonfire
At the Publisher's request, this title is being sold without Digital Rights Management Software (DRM) applied.
Published Reviews
Booklist Review:
"Private investigator Ivy Gamble does her work in the seedy underbelly of Oakland, California, alone and growing bored with adulterers and disability claims until the headmaster of the Osthorne Academy for Young Mages approaches her. A teacher at this magical school has died gruesomely, and the headmaster wants to know if it was murder. Ivy's twin sister works at the school, though they're estranged; Tabitha discovered her magic in high school, but Ivy doesn't have that power. Despite her reservations, Ivy plunges forward into the world that never wanted her. Gailey (River of Teeth, 2017) takes command of this story, from the arresting prologue to the final reveal. Ivy's relentless drive to solve the crime coupled with the unique setting will propel the reader through the narrative, but the many layers of theme and character set this novel apart. There's something for almost all readers here: family drama, romance, high-school gossip, fantasy-world building. Above all, Gailey shows us that humans are humans, even when they are magic, and they are still flawed, damaged, and oh so interesting.--Cari Dubiel Copyright 2019 Booklist"
From Booklist, Copyright (c) American Library Association. Used with permission.
Publisher's Weekly Review:
"In this clever and fast-paced magical mystery, Gailey (River of Teeth) introduces Bay Area PI Ivy Gamble, who usually tracks down adulterers and insurance scammers. Then, Marion Torres, headmaster at Osthorne Academy for Young Mages, walks into Ivy's office and asks her to solve a murder. Sylvia Capley, the school's health teacher, was found bisected head-to-toe in the library, and Marion does not agree with the findings of accidental death; she's certain it was murder and wants Ivy to prove it. Reluctantly, Ivy visits the school-where her magically gifted twin, Tabitha, whom Ivy greatly envies and resents, happens to teach. To Ivy's surprise, it's just like a regular high school, except that the kids are armed with magical arsenals. One student stands out: Alexandria DeCambray, whose brother believes he is the chosen one foretold in a prophecy. As Ivy continues her investigation, she ruminates on her past choices, especially as she tries to rebuild her relationship with Tabitha. A budding romance with one of the school's teachers also complicates matters. Petty, petulant Ivy is hard to like, but her story is a wonderfully quirky mystery filled with inviting characters and gripping surprise twists. Agent: DongWon Song, Howard Morhaim Literary. (June) © Copyright PWxyz, LLC. All rights reserved."
(c) Copyright PWxyz, LLC. All rights reserved
Additional Information