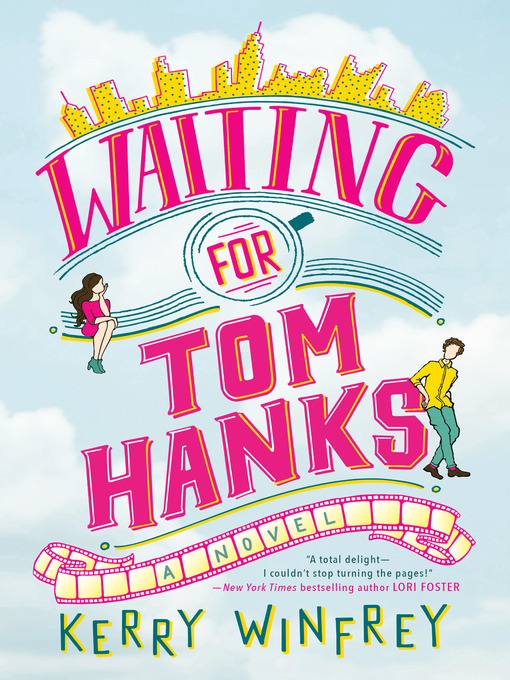 Waiting for Tom Hanks
Format:

Kindle Book

2019

2019

Adobe EPUB ebook

OverDrive Read

Availability:

Available from OverDrive

4 of 10 copies
Summary
"Romantic-comedy-obsessed Annie Cassidy dreams of being the next Nora Ephron. She spends her days writing internet content, rewatching Sleepless in Seattle, and waiting for her movie-perfect meet cute. If she could just find her own Tom Hanks--a man who's sweet, sensitive, and possibly owns a houseboat--her problems would disappear and her life would be perfect. But Tom Hanks is nowhere in sight. When a movie starts filming in her neighborhood and Annie gets a job on set, it seems like a sign. Then Annie meets the lead actor, Drew Danforth, a cocky prankster who couldn't be less like Tom Hanks if he tried. Their meet-cute is more of a meet annoying, but soon Annie finds herself sharing some classic rom-com moments with Drew. Her Tom Hanks can't be an actor who's leaving town in a matter of days...can he? Drew may not be what she imagined, but Annie soon learns that real life doesn't always go according to script"--

Published Reviews
Booklist Review:
"Annie Cassidy spends her days as a freelancer writing content to boost online sales of products including hemorrhoid cream and diaper pails, while secretly writing her own screenplay on the side. Single and obsessed with rom-coms, she is just waiting for her Tom Hanks-inspired man; bonus points if he has a houseboat. When a movie begins filming in her neighborhood, she uses a family connection to get a job on set. The meet-cute she has been dreaming of, however, involves her spilling coffee on heartthrob and leading man, Drew Danforth. A prankster and pratfall expert, Drew is everything Annie is not looking for, but when he starts taking an interest in her, she begins to wonder if she's the star of her very own rom-com. Winfrey's sweet, hilarious novel is full of klutzy and charming characters, heartwarming moments, and laugh-out-loud one-liners. This quick read is sure to delight readers looking for an escape of everyday life, especially fans of Mary Ann Marlow and Helena Hunting.--Erin Holt Copyright 2019 Booklist"
From Booklist, Copyright (c) American Library Association. Used with permission.
Publisher's Weekly Review:
"An endearing, klutzy heroine elevates this utterly charming romance by Winfrey (Things Jolie Needs to Do Before She Bites It). Aspiring screenwriter Annie Cassidy yearns for a Tom Hanks-like leading man lover, but her depressing state of Hankslessness seems unlikely to change-even after she learns that a romantic comedy will be filming in her neighborhood. Her subsequent job as the director's assistant puts her in daily contact with the hunky, albeit annoying star of the movie, Drew Danforth. Spilling coffee on him doesn't help their relationship, nor does his constant teasing, and yet Annie finds herself drawn to the enigmatic star. She also goes on several dates with a gaffer on the set; supports her BFF, Chloe, through starting a relationship with Nick, who runs the coffee shop where Chloe works; wonders what exactly is going on between her nerdy Uncle Don and a mysterious fellow nerd named Tyler; and tries to develop a screenplay of her own. The chemistry between Annie and Drew is irresistible, and the plot's many moving pieces add complexity. Chloe, lovable Uncle Don, and the local coffee shop's colorful characters provide humor and heart in just the right places. Agent: Stephen Barbara, InkWell Literary Management. (June) © Copyright PWxyz, LLC. All rights reserved."
(c) Copyright PWxyz, LLC. All rights reserved
Additional Information