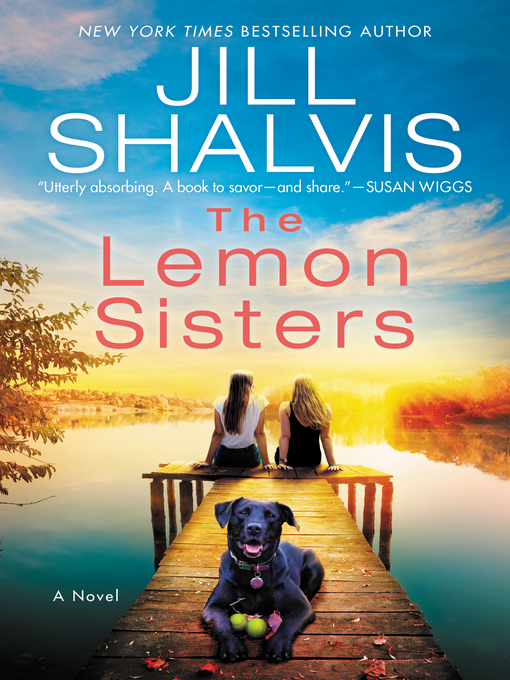 The Lemon sisters a novel
Format:

OverDrive Read

2019.

Adobe EPUB ebook

Kindle Book

Availability:

Unavailable

0 of 13 copies
75 people on waitlist
Summary
"A book to savor--and share." --Susan Wiggs, New York Times Bestselling Author
The New York Times bestselling author of Rainy Day Friends and Lost and Found Sisters returns to Wildstone, California...
Brooke Lemon has always led the life she wanted, wild adventures--and mistakes--included, something her perfect sister, Mindy, never understood. So when Mindy shows up on Brooke's doorstep in the throes of a break-down with her three little kids in tow, Brooke's shocked.
Wanting to make amends, Brooke agrees to trade places, taking the kids back to Wildstone for a few days so Mindy can pick up the pieces and put herself back together. What Brooke doesn't admit is she's just as broken . . . Also how does one go home after seven years away? It doesn't take long for Brooke to come face-to-face with her past, in the form of one tall, dark, sexy mistake. But Garrett's no longer interested. Only his words don't match his actions, leaving Brooke feeling things she'd shoved deep.
Soon the sisters begin to wonder: Are they lemons in life? In love? All they know is that neither seems to be able to run far enough to outpace her demons. And when secrets surface, they'll have to learn that sometimes the one person who can help you the most is the one you never thought to ask.
Published Reviews
Booklist Review:
"Brooke Lemon is the adventurous sister, while older sister Mindy is known as being steady and reliable. When Mindy shows up on Brooke's doorstep sobbing about needing a break, Brooke knows her sister has cracked. Brooke offers to help out by trading lives: Brooke will head back home to Wildstone, California to take over mom duty so Mindy can take a couple of days to clear her head. Brooke hopes that being back in Wildstone will also clear her own head, as she hasn't been the same since a devastating crash seven years earlier. But coming home means facing her past, including her first love, Garrett. At the first sign of trouble, Brooke's usual routine is to run will she finally be able to put down roots for good? The Lemon Sisters is full of Shalvis' signature verve and wit; it touches on sisterhood and forgiveness while also serving up plenty of romance. The perfect beach read for any romance reader.--LynnDee Wathen Copyright 2019 Booklist"
From Booklist, Copyright (c) American Library Association. Used with permission.
Publisher's Weekly Review:
"Shalvis's sensuous third Wildstone contemporary romantic novel (after Rainy Day Friends) reunites former lovers. Brooke Lemon lives in Los Angeles and is a producer of documentaries. When Brooke's older sister, Mindy, shows up at her door after a year out of contact, Brooke is stunned. Normally very put together, Mindy is disheveled and has her three young children with her. She recites a litany of woes, including business troubles, potty training, and the disappearance of her sex life. Brooke offers to take Mindy's children so Mindy can stay in L.A. for a few days and get some much-needed rest. Mindy agrees, and Brooke takes her niece and nephews back to Mindy's house in their hometown of Wildstone, on California's central coast. As Brooke bonds with the kids, she reunites with Garrett Montgomery, the boyfriend she left behind seven years before after a helicopter crash that caused her to miscarry their baby. Though she has never forgotten Garrett, she knows that her departure devastated him. Brooke and Garrett's discovery that their attraction is stronger than ever leads them to explore getting back together. Flawed, believable characters and plenty of sizzling love scenes make this an enjoyable outing. Agent: Robin Rue, Writers House. (June) © Copyright PWxyz, LLC. All rights reserved."
(c) Copyright PWxyz, LLC. All rights reserved
Additional Information