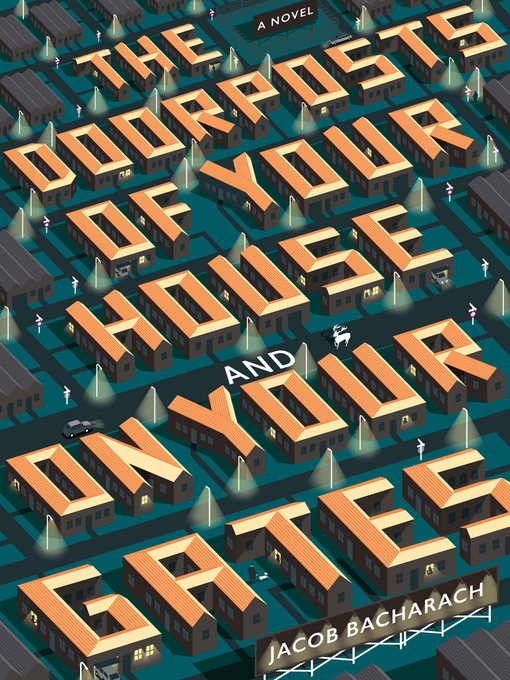 The doorposts of your house and on your gates a novel
Format:

Kindle Book

2017

2017

Adobe EPUB ebook

OverDrive Read

Availability:

Unavailable

0 of 2 copies
Summary
The biblical story of Abraham and Isaac is humorously transposed into modern time as Isabel accepts a job at an underachieving nonprofit where she insinuates herself into the lives of Isaac and his real estate developer father.

Published Reviews
Booklist Review:
"This biblically titled (from Deuteronomy) and occasionally humorous novel is a retelling of the story of Abraham and Isaac (set mainly in modern Pittsburgh and environs) by the author of The Bend of the World (2014). It centers on the characters of Abbot (Abbie) Mayer, a once-prominent architect, who occasionally has divine visions, and his gay son, Isaac. It possesses an overly involved secondary theme of real-estate development, political corruption, and ecology (fracking figures in); an interspersed quasi-judicial transcript, though funny, is mainly distracting. There is a large, interesting (if often confusing) cast of other characters (real-estate people, friends, arbitrators), and the plot shifts around (also sometimes confoundingly) in time. The whole makes for tough going but is at times compelling. In the end, the novel will prove worth the slog for literary-fiction readers willing to exert the necessary effort.--Levine, Mark Copyright 2017 Booklist"
From Booklist, Copyright (c) American Library Association. Used with permission.
Publisher's Weekly Review:
"It's the 1980s and, while in synagogue, New York architect Abbie Mayer hears the voice of God speaking to him, which causes him to pack up and move to Pittsburgh. Or maybe the move is really engendered by the fact that Abbie got his mistress pregnant and is seeking a fresh start with his wife, Sarah. Motivations such as these are muddled in a novel that is shot through with vagueness. In Pittsburgh, Abbie becomes involved in a land grab scheme with his sister, Veronica. Some time later, 38-year-old Isabel moves to Pittsburgh to escape a failed relationship and meets Abbie's gay son, Isaac. As Isabel insinuates herself into the lives of Abbie and his family, past and present collide, but no plot detail is ever really clear. The novel takes incisively limned characters and sharp insights into civic corruption and embeds them in what is supposed to be a contemporary retelling of the biblical story of Abraham, patriarch of the Jews. But it's really just a strained account of real estate shenanigans gone wrong, adding up to little. Of course, Bacharach (The Bend of the World) furthers the biblical allusions by including a scene where Abbie goes after Isaac with a knife, but in the end, the only sacrifice made here is the reader's time spent on this frustratingly incoherent novel. (Mar.) © Copyright PWxyz, LLC. All rights reserved."
(c) Copyright PWxyz, LLC. All rights reserved
Additional Information